Michelle Margaret Fairley (born July 11, 1964; age 56) is a Northern Irish stage, television, and film actress who starred as Margot Al-Harazi, a British national and the widow of a notorious terrorist, in 24: Live Another Day. She was cast in the role after the departure of previous actress Judy Davis due to family issues.
Originally from Coleraine, Derry, Fairley attended a Roman Catholic grammar school and first started acting as a member of the Ulster Youth Theatre. Upon graduating, she moved to Belfast and gained experience working with the repertory company Fringe Benefits. Her stage roles include productions of Othello, Macbeth, and, on Broadway, The Weir and Scenes from the Big Picture, among others.
Fairley has appeared in numerous British television series, including Casualty (1993), The Bill (1995), Inspector Morse (1995), Holby City (2003), and Misfits (2009). Her film roles include parts in Hidden Agenda (1990), A Soldier's Daughter Never Cries (1998, with Isaach De Bankole), Hideous Kinky (1998), The Others (2001), and Chatroom (2010). In 2011, Fairley starred as Hermione Granger's mother in a brief but memorable scene in Harry Potter and the Deathly Hallows - Part 1, also starring Rade Serbedzija.
Fairley is most widely known for her acclaimed role in HBO's Game of Thrones (2011-2013) as Lady Catelyn Stark, matriarch of the ill-fated House Stark. In 2013, she appeared in a significant recurring role as business magnate Ava Hessington in the USA Network series Suits, starring Gina Torres. Other recent projects include Ralph Fiennes' The Invisible Woman and Philomena (with Mare Winningham).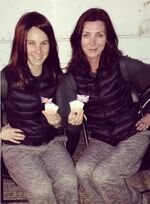 In the Heart of the Sea (2015)
Philomena (2013)
Chatroom (2010)
Hideous Kinky (1998)
Hidden City (1987)
Television appearances
The Feed (2019)
Fortitude (2017)
Resurrection (2014-2015)
Suits (2013)
Game of Thrones (2011-2013)
Misfits (2009)
Holby City (2003)
The Broker's Man (1997)
Casualty (1991, 1993)
4 Play (1990)
Community content is available under
CC-BY-SA
unless otherwise noted.