Molly O'Connor was a Secret Service agent active during Day 8.
Agent Molly O'Connor was at the United Nations to help with the evacuation of President Omar Hassan. He received Jack Bauer and Renee Walker, sent by CTU to lead the operation. O'Connor then explained to Renee the procedure they would follow while Jack talked with Hassan. They then headed to the underground tunnel that would lead them to their transport.
As they got out of the tunnel, O'Connor was met by Agent Swofford, who told her that they weren't able to bring the transport closer due to a construction. They then started walking towards it, but in the middle of the way, Bauer ordered them to turn back after sensing something was wrong.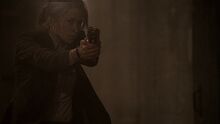 As they were heading back to the tunnel, a team of mercenaries started shooting at them. O'Connor and her men returned fire while Renee took Hassan and his family away from danger.
As Jack sought cover with O'Connor, she convinced him to leave with Hassan as well. She then reloaded her weapon and ordered her remaining men to advance. She then headed towards the mercenaries herself while shooting at them to give Jack and Renee time.
Background information and notes
[
edit
|
edit source
]
O'Connor's first name can be seen in the Secret Service detail viewed by Rob Weiss and General David Brucker, as well as in the fox.com episode recap and press release.
Molly O'Connor was also the name of a Secret Service agent on the NBC television series The West Wing, who was killed while guarding Zoey Bartlet, daughter of President Josiah Bartlet.
Agent O'Connor's handgun was the SIG Sauer P229 semi-automatic pistol. She is, to date, the only Secret Service agent to appear on 24 with the actual standard sidearm of the U.S. Secret Service.
Season 8
"4:00pm-5:00pm"

"5:00pm-6:00pm"

"6:00pm-7:00pm"

"7:00pm-8:00pm"

"8:00pm-9:00pm"

"9:00pm-10:00pm"

"10:00pm-11:00pm"

"11:00pm-12:00am"

"12:00am-1:00am"

"1:00am-2:00am"

"2:00am-3:00am"

"3:00am-4:00am"

"4:00am-5:00am"

"5:00am-6:00am"

"6:00am-7:00am"

"7:00am-8:00am"

"8:00am-9:00am"

"9:00am-10:00am"

"10:00am-11:00am"

"11:00am-12:00pm"

"12:00pm-1:00pm"

"1:00pm-2:00pm"

"2:00pm-3:00pm"

"3:00pm-4:00pm"

Chloe's Arrest
Community content is available under
CC-BY-SA
unless otherwise noted.