Nakul was an ATU agent active during Day 1.
After Kiran and Trisha Rathod were rescued from Yakub Syed and brought back to the ATU, Abhilasha Grewal introduced them to agents Nakul and Veena, who took them to the hospital for treatment. Nikita Rai joined them there, and Nakul introduced her to agent Mathur who claimed to be from RAW with orders to escort the Rathods home. However, Nikita found out he was an impostor, and sent Nakul to look for him while she moved Kiran and Trisha to a safe house. Nakul was unable to locate Mathur, and so left for the Madh Island safe house. ("1:00pm-2:00pm")
Nakul and Veena arrived before the Rathods, and were joined by agents Chandrashekhar Rao, Dibakar Pandit and Omar Sheikh who Nakul directed in guarding the property. Nakul joined Nikita inside to arrange the debrief of the Rathods. Shortly after 3pm, Nakul received pictures of the potential assassins from the ATU, and passed them on to Veena to circulate among the other agents. Jai Singh Rathod called Nakul and warned him that the suspects could be very dangerous. ("2:00pm-3:00pm", "3:00pm-4:00pm")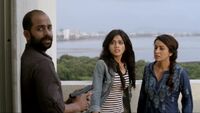 At 3:20pm, Nikita decided to leave and had Nakul finish the debrief of the Rathods. He showed them several pictures of suspects, including Nepali and Qureshi, and Nakul took a break to make a hot chocolate. However, when he got no response from Omar Sheikh on the radio he went outside to investigate, and found Omar's body in the pool. He ran inside, ushering the Rathods out of the building, and giving Kiran his gun for protection. He managed to get them to a car outside, but as he drove away Gajavathanan shot him as he left. He careered off the road and died. ("3:00pm-4:00pm")
Background information and notes
Edit
Nakul is based on Ted Paulson from the original series.
Live appearances
Edit
Season 1
| | | | | | |
| --- | --- | --- | --- | --- | --- |
| "12:00am-1:00am" | "1:00am-2:00am" | "2:00am-3:00am" | "3:00am-4:00am" | "4:00am-5:00am" | "5:00am-6:00am" |
| "6:00am-7:00am" | "7:00am-8:00am" | "8:00am-9:00am" | "9:00am-10:00am" | "10:00am-11:00am" | "11:00am-12:00pm" |
| "12:00pm-1:00pm" | "1:00pm-2:00pm" | "2:00pm-3:00pm" | "3:00pm-4:00pm" | "4:00pm-5:00pm" * | "5:00pm-6:00pm" * |
| "6:00pm-7:00pm" | "7:00pm-8:00pm" | "8:00pm-9:00pm" | "9:00pm-10:00pm" | "10:00pm-11:00pm" | "11:00pm-12:00am" |
* —
Corpse only
Community content is available under
CC-BY-SA
unless otherwise noted.