Navid Negahban (born June 2, 1968; age 50) played the role of Abdullah during Season 4 and Jamot during Season 8.
Biography
Edit
Navid was born in Iran and is also a producer, stuntman, and designer. He speaks fluent English and Persian, and is conversational in German.
He has appeared in JAG, The Shield, The West Wing, Alias, Lost, and Las Vegas. He also appeared in an episode of CSI: Miami, alongside his Day 8 co-star Necar Zadegan, who played his wife and killer. The episode also co-starred Assaf Cohen, Evan Ellingson, Jeff Kober and Ethan Rains.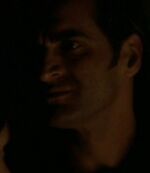 In 2011, he teamed up again with Howard Gordon and Alex Gansa for the show Homeland, which also features Omid Abtahi, Hrach Titizian, Jonah Lotan, and Diego Klattenhoff.
Role on 24 Edit
Navid first appeared as Abdullah during Season 4, one of Habib Marwan's men. His role lasted only one episode and was fairly small. He appeared again in Season 8, this time as Jamot, a minister for the Islamic Republic of Kamistan. This time, his role was larger, lasting eight episodes.
24 credits Edit
Abdullah
Jamot
Selected filmography
Edit
Sand Castle (2017)
Carving a Life (2016)
American Sniper (2014)
Atlas Shrugged: Part I (2011)
Brothers (2009)
Broken (2006)
Soulgain (2004)
Woman on Fire (2002)
Television appearances
Legion (2018)
Mistresses (2016)
Veep (2015)
Law & Order: Special Victims Unit (2007, 2015)
Person of Interest (2014)
Homeland (2011-2013)
Covert Affairs (2011)
Fringe (2009)
NCIS (2007)
Alias (2006)
Over There (2005)
Lost (2004)
The Agency (2003)
The Shield (2003)
See also
Edit
External links
Edit