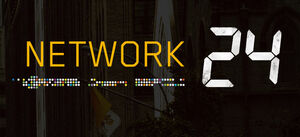 Network 24 was the name of the redesigned online community at the official 24 website. As well as the forum that was featured there, Network 24 also had several features that were new that came with the release of Season 8.
Features
[
]
Crew Cam
[
]
Interviews with different members of the Season 8 cast were featured on the page.
Crew Blogs
[
]
Members of the 24 crew posted blogs every few days and uploaded them to the site.
24 Community
[
]
The forum still existed on the website, allowing fans of 24 to discuss the show with each other, and well as occasionally getting the opportunity to talk to members of the crew who stopped in from time to time.
External links
[
]