"Chloe's Authority" is the twenty-eighth blog post on Network 24. It was posted by Mary Lynn Rajskub, April 14, 2010, at 8:00pm CST
The blog was a video of Mary Lynn Rajskub and Milan Cheylov.
Blog
[
]
24 Director Milan Chelov and I discuss an important scene.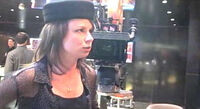 Milan Cheylov: So you're coming down the stairs here with Hastings after your chat. Hastings is going to go round there, and you're going to come here. This is where this is where he is handing over all of this to you. You're going to be in charge. This is the moment. Maybe in the five or six years you've been here, the biggest moment that's ever happened.
Mary Lynn Rajskub: Yeah, like I'm in charge of everything.
Milan Cheylov: You're in charge of this entire thing. It's a big responsibility. A huge leap for you.
Mary Lynn Rajskub: I was thinking about this. Maybe at the moment when I take over, I just put on this hat, [she comically puts on a hat] then everyone knows I'm in charge.
Milan Cheylov: You want to put on the hat the moment he gives you charge of CTU.
Mary Lynn Rajskub: Yeah so just be like, "head of CTU when you see this hat".
Milan Cheylov: That might be the single stupidest idea I've ever heard in my entire life. This is bad, this is bullshit. [he storms off]
Mary Lynn Rajskub: I thought it was a pretty good idea.
External links
[
]