"Mr. Bauer, this is Brian Hastings..." is the ninth blog post on Network 24. It was posted by Shauna McGarry, February 8, 2010, 7:51pm.
The blog was an interview with Mykelti Williamson.
Blog
[
]
Geoff and I were privileged enough to chat with Mykelti Williamson recently. He was still in his suit and CTU nametag when he came in to talk to us about playing CTU Director, Brian Hastings.
Everyone in the crew really loves Mykelti. Word is, he's a contactor on the side and even spent all weekend a while back helping one of our Grips, Richie Metcalfe and his wife, Jenny Kay, our Assistant Publicity Director, tile their kitchen. How awesome is that?
Hastings champions the heavy technological advances he helped put into place at CTU while disagreeing with Chloe and Jack fairly frequently, who often follow their dead-on instinct over computers. Sometimes, Hastings is right, sometimes he's not – but such choices and consequences make for good drama.
Q: What has the general experience of working on "24" been like? What have been some of the challenges?
A: It's been mostly good. It's a huge responsibility to come on to a show that's been on the air for seven seasons, and you come in on the eighth season. There's a lot to live up to. So it's tremendous pressure.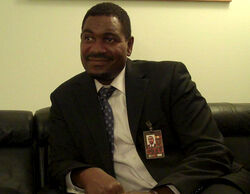 There's a lot of techno-talk which is very challenging. A lot of exposition. We have to tell the audience what's going on and try to make it look as real as possible.
I prefer relationship-based acting. I enjoy days like today when I work with Kiefer. It's great. He brings an energy and a sensibility to the set that spills over into everybody else's life. When I get relationship scenes, I love it so much. Because acting is behaving. It's not talking. You can act with no words, and bring people to laughter or tears without a single word. The words can actually get in the way of the really great acting.
Q: What scenes have been rewarding in that way? The scene where Hastings and Chloe comes to mind, where Hastings has to apologize to her?
A: Well, that was great. That's relationship. That's what I love. And working with Mary Lynn, she's a free spirit. As an actor, she's not rigid. She's flexible. She can respond and do anything, anything, that you would require her to do as a director or a writer.
And working with Kiefer -- When my character, Hastings, and Jack Bauer bump heads and Hastings realizes he needs Bauer, that's relationship. That stuff is great. It's really meaty. It's wonderful.
I would say most of the experience has been good. We have to really go, we don't have a lot of time to mess around. So it's stressful. But the crew is cool. It's been enjoyable.
Q: What was the process of you joining the cast of 24?
A: It's been a long time coming. Kiefer and I talked Season One about my joining the cast. But I prefer movies over television. I like television a lot but in movies I can change characters and move onto something new. I'm not the same guy year after year. So, I didn't join up Season One but it's nice that it came back around and I get to work with Kiefer again. He's one of my dearest friends and I respect him on every single level.
Q: Have you worked with Kiefer before?
A: We worked on a film that a friend of ours, Brad Mirman, wrote called "Truth or Consequences, New Mexico." Kiefer directed. It was an ensemble piece. Kevin Pollak, Vincent Gallo, Kiefer, other amazing actors, Martin Sheen, and the list goes on. We shot that on location in Utah, Arizona and Nevada. And Kiefer was the director. He was great.
Q: How did you prepare for the role of Hastings?
A: I learned the words first, read the material and talked in depth with Brad Turner, Executive Producer and Director. Brad was very instrumental in guiding me along with this character. Like I said, it's a great responsibility coming in eight seasons later and doing your thing. You have to really make it work. I leaned on Brad a lot. He's largely responsible for the character people see.
Q: What's a typical Mykelti "24" day? Most of your days are 6:00 AM calls or around there, right?
A: I'm up at four o'clock AM. My clothes are prepped. Quick shower, jump in my clothes. I'm on the highway by 4:30. I live fifty-five miles away from the set. I work all day. I try to make certain that I get into work early so that I can come in with a clean spirit. So if anyone's having a bad day, it doesn't rub off on me. Then I'm completely free to do what I need to do.
Q: What's your impression of the '24' crew?
A: I've always been really partial to crew members. I'll hang out with crew before I hang out with other cast members. I understand each department and what they're doing and I admire them. They've embraced me like a new family member. That's probably been the biggest reward on the show. That you walk into a pre-set family with seven years of history and they accept you.
Q: Do you have any advice for the young actors watching this show, who want to get into this business?
A: I got my screen actors guild card when I was nine years old, it was my ninth birthday present. So I've been working as an actor since I was eight.
My advice to young people that want to do this: Always be true to yourself and remember that what you do is not who you are. That's just what you do. Don't get caught up in it. It's a real business but it never feels like a real job. Because it's a gift. So if you get to do it, just remember how gifted you are. Be good to people. Be good to yourself. And then prepare. Prepare. Prepare. Prepare. Because when preparation meets opportunity, that's when things work out. That's what we called luck.
External links
[
]