Omicron International was a major Department of Defense contractor that manufactured the Sentox VX nerve gas. Its headquarters were located in La Cañada Flintridge, Los Angeles. Omicron had a subsidiary called Terra-Dyne headquartered on their premises.
Day 5
[
]
After receiving a chip from James Nathanson, Jack Bauer discovered that the name of former CTU Director of Field Operations Christopher Henderson was on it. Henderson was working as a Senior Vice President at Omicron, and Jack decided to question him at Omicron's headquarters.
With the help of Audrey Raines, Jack managed to deceive both the security guard and a secretary, Joanna Tandy, and entered Henderson's office. Once inside the threshold, he was stunned by Henderson using a stun gun. After Henderson used smelling salts to wake him up, Jack demanded answers from Henderson to see if he was involved with the disappearance of the nerve gas canisters and the attack on the Sunrise Hills Shopping Mall. Henderson disavowed any knowledge of the crimes, and took Jack to the Sentox Project bunker where all the research was done. There, Henderson revealed that Alan Burkett and at least two other Sentox scientists died under suspicious circumstances. Henderson then left and locked Jack in the bunker, and unsuccessfully attempted to kill him with a hidden bomb.
Scott Evans was the lead pilot for Omicron, until he was apprehended by CTU for conspiring with Henderson.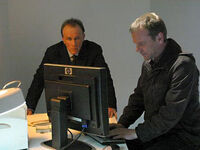 Personnel
[
]
Omicron had a subsidiary company called Terra-Dyne, with an executive board made up of Omicron employees that worked from their building. Terra-Dyne's executive roster was:
Other employees of Omicron included:
Appearances
[
]
Season 5
Prequel

"7:00am-8:00am"

"8:00am-9:00am"

"9:00am-10:00am"

"10:00am-11:00am"

"11:00am-12:00pm"

"12:00pm-1:00pm"

"1:00pm-2:00pm"

"2:00pm-3:00pm"

"3:00pm-4:00pm"

"4:00pm-5:00pm"
"5:00pm-6:00pm"

"6:00pm-7:00pm"

"7:00pm-8:00pm"

"8:00pm-9:00pm"

"9:00pm-10:00pm"

"10:00pm-11:00pm"

"11:00pm-12:00am"

"12:00am-1:00am"

"1:00am-2:00am"

"2:00am-3:00am"

"3:00am-4:00am"

"4:00am-5:00am"

"5:00am-6:00am"

"6:00am-7:00am"