Line 2:
Line 2:
 

{{spoiler-lad}}

 

{{spoiler-lad}}

 

[[File:Open-Cell.org.jpg|250px|thumb|right|Open-Cell.org as of April 2014]]

 

[[File:Open-Cell.org.jpg|250px|thumb|right|Open-Cell.org as of April 2014]]

−

'''Open-Cell.org''' is a viral-marketing ''[[24]]'' site launched by [[Fox]] in advance of the premiere of ''[[24: Live Another Day]]''. The site was first referenced in an {{d|April|11|2014}} TV spot in which [[Chloe O'Brian]] told viewers to stop hunting [[Jack Bauer]] and directed them to "get the truth" at the site's URL. It purports to be the official web presence of [[Open Cell]], a hacker group devoted to uncovering government misdeeds.

+

'''Open-Cell.org''' is a viral-marketing ''[[24]]'' site launched by [[Fox]] in advance of the premiere of ''[[24: Live Another Day]]''. The site was first referenced in an {{d|April|11|2014}} TV spot in which [[Chloe O'Brian]] viewers [[Jack Bauer]] and them to "get the truth" at the site's URL. It purports to be the official web presence of [[Open Cell]], a hacker group devoted to uncovering government misdeeds.

 
 
 

== Posts ==

 

== Posts ==
---
Revision as of 21:17, 11 April 2014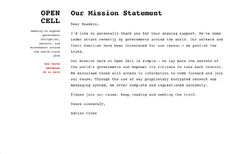 Open-Cell.org is a viral-marketing 24 site launched by Fox in advance of the premiere of 24: Live Another Day. The site was first referenced in an April 11, 2014 TV spot in which Chloe O'Brian tells viewers that Jack Bauer is innocent and directs them to "get the truth" at the site's URL. It purports to be the official web presence of Open Cell, a hacker group devoted to uncovering government misdeeds.
Posts
CIA Agent in Custody Commits Suicide
CIA OFFICER FOUND DEAD
LANGLEY, VIRGINIA – A high level CIA Operations Officer, Adam Morgan, was found dead in an apparent suicide yesterday. Morgan was a respected agent, but was recently disgraced after being indicted for selling state secrets to the Russian Federation. He was being held in protective custody at the time.
Controversy has surrounded this case from the outset. Court records released today indicate that federal prosecutors were seeking treason charges and a maximum sentence of life in prison. Morgan pleaded innocent to the charges and vehemently denied his involvement. Representatives for the CIA declined to comment. Morgan is survived by his wife, Kate Morgan, who lives in London.

Leaked White House Schedule of Heller's London Trip
SCHEDULE OF THE PRESIDENT
FOR
32nd President of the United States Visit to London
American Hero Wanted For Treason
U.S. President Causes Uproar in London
Our Mission Statement
Dear Readers,
I'd like to personally thank you for your ongoing support. We've come under attack recently by governments around the world. Our workers and their families have been threatened for one reason – we publish the truth.
Our mission here at Open Cell is simple – to lay bare the secrets of the world's governments and empower its citizens to take back control. We encourage those with access to information to come forward and join our cause. Through the use of our proprietary encrypted network and messaging system, we offer complete and unquestioned anonymity.
Please join our cause. Keep reading and seeking the truth.
Yours sincerely,
CIA In Worldwide Manhunt
External links
Community content is available under
CC-BY-SA
unless otherwise noted.