Randy Gunter was the property master for 24. He had been with the show since Season 2. He also had one brief cameo appearance during Season 4.
Biography and Career
[
]
Randy Gunter started in the film and television industry in 1979. In the early 80's Randy worked on his first movie, 10 to Midnight (starring Charles Bronson). He continued working on a variety of movies, and in 1987 he was hired as an assistant prop master on Witches of Eastwick. Randy then worked as a prop/PA with Mark Wade on Top Gun (starring Tom Cruise).
Randy Gunter
Birthdate:
March 28
Role:
Property Master
Avi
Randy continued working on feature films for years, until he was hired to do props on 24 (starring Kiefer Sutherland), and continued working in TV, on shows such as, Touch (developed by Howard Gordon as well as 24). Since 2005, Randy has been working as a Property Master on a variety of shows, and is currently on NCIS Hawai'i Season 1.
Role on 24

[

]
Randy Gunter was the Property Master on 24. He worked with the show from Season 2 to Season 8.
Aside from his position as Property Master, Randy had one brief cameo appearance on the show: as "Avi"(Marwan thug), who was shot and killed by Jack Bauer) in "Day 4 : 11:00pm - 12:00am".  
Additionally, one background character appeared with Randy's name, although this character was played by another actor. R. Gunter was a Metro Police officer on duty during Day 7.
The character appeared with Randy's name, arrived at the crash site of Iké Dubaku and Marika Donoso with other police officers and made a debrief report with Jack Bauer.  This character shares the name with another LAPD officer. They are both named after Property Master Randy Gunter.
[

]
Gallery of Roles
[
]
Trivia
[
]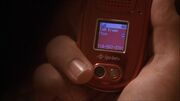 Randy Gunter's Personal Cell phone turns into Fan phone in Season 4. An insert was used to call an actresses' prop phone. His personal cell phone was used to make the incoming call, his number 310-597-3781 appeared on the phone's display. After the episode was aired, his phone was ringing off the hook. He realized what happened, and told the director Jon Cassar. They immediately decided to use Randy's phone on the set as a FAN Phone, and when the calls would come in, they would pass the phone around to the actors and have them speak live to their 24 fans.
Selected filmography
[
]
Property Master
[
]
NCIS Hawai'i (2021)
Magnum PI (2019)
Lethal Weapon (2018)
TOMMY (2018)
S.W.A.T. (pilot 2017)
Blood Father (2016)
Supergirl (2015)
Battle Creek (2015)
Gang Related (2014)
Touch (2013)
Daybreak (Webisode 2012)
American Horror Story (2011)
Criminal Minds (2011)
24 Redemption (2008)
24 (2003 - 2010)
Washington Field (2009)
Sons of Anarchy (2008)
Arya (2008)
Showtime (2002)
Dr. Dolittle 2 (2001)
Body Shots (1999)
Enemy of the State (1998)
Primary Colors (1998)
Speed 2: Cruise Control (1997)
Con Air (1997)
Turbulence (1997)
The Fan (1996)
Executive Decision (1996)
Birdcage (1996)
Crimson Tide (1995)
My Girl 2 (1994)
Hook (1991)
Days of Thunder (1990)
An Innocent Man (1989)
Broadcast News (1987)
Made in Heaven (1987)
The Witches of Eastwick (1987)
External links
[
]