Reynaldo "Rey" Gallegos (born October 22) is an actor who appeared in two roles on 24. He played CHP Sergeant Devlin during Season 1, and Agent Mizelli during Season 7.
Gallegos has had recurring roles on shows such as Sons of Anarchy, Gang Related, and Animal Kingdom (with Lourdes Benedicto). He has also had guest roles on shows like This Is Us, Rosewood, NCIS: Los Angeles, and Numb3rs (with Navi Rawat and Peter MacNicol), among many others.
Aside of TV, Gallegos has appeared in movies such as 2008's Rambo (where he was doubled by Edward Fernandez and co-stared with Paul Schulze and Graham McTavish), and Clint Eastwood's American Sniper (with Leonard Roberts, Sammy Sheik, Tim Griffin, Navid Negahban, Fahim Fazli, Assaf Cohen and Mido Hamada). In 2019, he appeared in Netflix's Triple Frontier.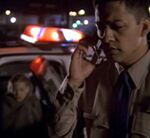 Gallegos first appeared in 24 during Season 1. He played Devlin, a California police sergeant, during the last episode of the season. During his scene, he identifies himself as "Devlin", although his name tag reads "Sgt. Newman". This was probably because the name tag was reused from another character, or his character's full name could've been "Devlin Newman". Gallegos was credited as a co-star for this episode.
In Season 7, Gallegos appeared as Mizelli, an FBI agent in Washington. He appeared during two episodes and was credited as a guest star.
Devlin
Mizelli
Triple Frontier (2019)
Logan (2017)
American Sniper (2014)
Hansel & Gretel Get Baked (2013)
Rambo (2008)
Spider-Man 3 (2007)
Television appearances
Animal Kingdom (2018-2020)
S.W.A.T. (2018)
Ice (2016-2017)
Graceland (2015)
Gang Related (2014)
Sons of Anarchy (2012-2014)
CSI: Crime Scene Investigation (2009, 2011)
24 (2002, 2009)
Prison Break (2007-2008)
Numb3rs (2008)
CSI: NY (2006)
Monk (2005)
NYPD Blue (2002)
Angel (2001)
Community content is available under
CC-BY-SA
unless otherwise noted.