Ronald Winston Yuan (born February 20, 1973; age 47) played an unnamed Chinese mercenary during Season 6 of 24.
Ron Yuan was born in New York City. He began his career in the early 90's as both an actor and a stunts performer. In addition to more than eighty acting roles (including many action/fight films), Ron has also worked as a crew member and producer for a variety of films and TV shows, as well as an actor/voice actor for a number of video games.
Yuan starred in Timecop: The Berlin Decision (with Mary Page Keller, Joe Sabatino, Kenneth Choi, and Tava Smiley), Cradle 2 the Grave (with Simon Rhee, Erik Betts, Arnold Chon, Marcus Young and Jalil Jay Lynch), Olympus Has Fallen (again with Simon Rhee and Chon) and From Mexico with Love (with Henry Kingi, Sr.), which he also choreographed.
In 2012, Yuan appeared with main star Kiefer Sutherland in an episode of Touch directed by Milan Cheylov portraying a pickpocket with a heart of gold.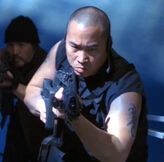 Yuan played one of Zhou Yong's Chinese mercenaries during Season 6 of 24. He placed the explosive charges to gain access to CTU building and cornered Jack, Marilyn, and Josh on their way out. His character was the last one killed before Cheng escaped. Yuan appeared in two episodes and was credited as a guest star.
Beyond White Space (2018)
The Accountant (2016)
Olympus Has Fallen (2013)
The Girl from the Naked Eye (2012)
Timecop: The Berlin Decision (2003)
Cradle 2 The Grave (2003)
Kung Pow: Enter the Fist (2002)
The Art of War (2000)
Jade (1995)
Television appearances
Siren (2018)
Marco Polo (2016)
Sons of Anarchy (2014)
Touch (2012)
NCIS: Los Angeles (2011)
Prison Break (2008)
Cold Case (2007)
Sleeper Cell (2005)
CSI: NY (2005)
Alias (2002, 2005)
The Agency (2003)
V.I.P. (1998-2001)
JAG (2000)
Walker, Texas Ranger (1997)
The Pretender (1997)
Video Games
Mortal Kombat 11 (2019)
Star Wars: The Old Republic (2011-2016)
Call of Duty: Black Ops III (2015)
Battlefield 4 (2014)
Saints Row IV (2013)
Sleeping Dogs (2012)
Resident Evil 6 (2012)
Halo 4 (2012)
Spider-Man: Edge of Time (2011)
Fallout: New Vegas (2010)
SOCOM: U.S. Navy SEALS Fireteam Bravo 3 (2010)
The Chronicles of Riddick: Assault on Dark Athena (2009)
Command & Conquer: Red Alert 3 (2008-2009)
Spider-Man 3 (2007)
Command & Conquer 3: Tiberium Wars (2007)
Full Spectrum Warrior: Ten Hammers (2006)
S.W.A.T. 4 (2005-2006)
Narc (2005)
Chronicles of Riddick: Escape From Butcher Bay (2004)
GoldenEye: Rogue Agent (2004)
Community content is available under
CC-BY-SA
unless otherwise noted.