Sarah Wynter (born February 15, 1973; age 49) played Kate Warner during Season 2 of 24 and voiced the same character in 24: The Game. She also appeared as Kate in the first episode of Season 3.
Biography
[
]
Sarah Wynter was born in Newcastle, Australia. Her mother was a worker in Newcastle's registry of the Family Court of Australia, and her father was a physician. In 1984, Wynter's father killed his second wife and Sarah's half-sister before killing himself.
Wynter debuted on the 1998 film Species II (with James Cromwell and Michael Madsen). After that, she appeared on films like Race Against Time (with Cas Anvar), The 6th Day (with Wendy Crewson), Farewell, My Love (with Gabrielle Fitzpatrick and Phillip Rhys), and Dead Like Me: Life After Death (with Henry Ian Cusick). Her 2005 movie, Three Dollars, is the first she has made in Australia.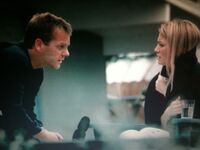 She has also appeared on TV series like Sex and the City (as the first person to ever have sex on the series; she co-starred with Jeffrey Nordling and Laura Harris, who coincidentally played her sister in that episode as well) and Night Man. After her appearance on 24, she had recurring roles on The Dead Zone and Windfall (with Lana Parrilla, Channon Roe, and Dean Norris). Also, like Alan Dale and Mary Lynn Rajskub, Wynter guest starred in the second season of Flight of the Conchords.
On August 20, 2005 Wynter married American magazine editor Dan Peres in Sydney, Australia. Their first son was born on 2008.
Wynter was ranked 81 in Stuff Magazines's "102 Sexiest Women In The World" (2002).
24 credits

[

]
[

]
Selected filmography
[
]
Bad Art (2019)
Worst Friends (2014)
Circadian Rhythm (2005)
Three Dollars (2005)
The 6th Day (2000)
Species II (1998)
Television appearances
Lincoln Rhyme: Hunt for the Bone Collector (2020)
The Blacklist (2017)
Goliath (2016)
American Odyssey (2015)
Californication (2013)
Person of Interest (2010)
Damages (2010)
Windfall (2006)
Sex and the City (1998)
The City (1995)
External links
[
]