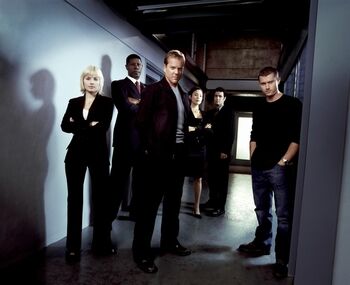 Season 3 of 24 premiered in the United States on October 28, 2003 on the Fox Network with a commercial-free presentation sponsored by Ford (as with Season 2).
24: Season Three was released on DVD in the US and Canada on December 7, 2004.
Summary
[
]
This time, another day begins for Jack Bauer as bioterrorists are attempting to release viral capsules into Los Angeles and eventually throughout the United States. President Palmer must deal with a scandal as he seeks re-election against a Republican senator, John Keeler. Jack is again thrust into action as he tries to tie Ramon Salazar to the viral threat; however, presumed-dead Operation Nightfall operative Stephen Saunders turns out to be the mastermind behind the release of the Cordilla virus.
Timeline
[
]
Day 3 begins at 1:00pm PDT (4:00pm EDT) on a Thursday, taking place 3 years after Day 2 and 4 years and 6 months after Day 1. It is likely Day 3 takes place in late September, around the time that the first presidential debates are held in election years in the United States.
24: The Game takes place in-between this season and Season 2.
Format
[
]
The overall storyline of this season revolves around attempts by CTU to safely contain the Cordilla virus. The season can essentially be broken up into two acts:
The first act revolves around a complex sting operation that culminates in drug kingpin Ramon Salazar being released from prison to allow Jack Bauer to gain his trust, so that he can investigate a bioterrorist in Mexico selling the virus to Salazar's crime syndicate. The main antagonists in this act are Michael Amador, Ramon Salazar, Hector Salazar, and Nina Myers. (1:00pm–1:00am)
During the second act, CTU tracks down the real purchaser of the virus who uses it during his call to vengeance against the United States for abandoning him on a covert mission. The main antagonists in this act are Stephen Saunders and his group, including Marcus Alvers and Arthur Rabens. (1:00am–1:00pm)
Major subplots
[
]
Impacts on future seasons
[
]
Cast
[
]
Main article: Season 3 cast
See also: Recurring characters, Character appearances for Season 3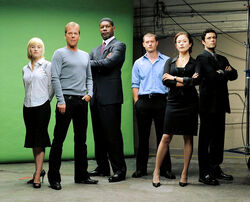 Guest starring
[
]
Crew
[
]
Main article: 24 production staff § Season 3
| | | |
| --- | --- | --- |
| Producers | Writers | Directors |
Episodes
[
]
Picture
Title
Number
Production Code
Original Airdate
"1:00pm-2:00pm"
49
3AFF01
October 28, 2003
A body infected with a deadly virus is dumped outside the National Health Services. President Palmer returns to Los Angeles for the first time since the attempt on his life. Kim is working at CTU and secretly dating Jack's partner, Chase. Jack, the head of Field Ops, deals with his addiction problems.
"2:00pm-3:00pm"
50
3AFF02
November 4, 2003
Chase and Jack argue about the former's relationship with Kim. Kyle Singer's girlfriend leaves him when she finds out he's dealing drugs. Wayne Palmer approaches the President with potentially damaging information about his girlfriend. Someone at CTU isn't who they seem to be.
"3:00pm-4:00pm"
51
3AFF03
November 11, 2003
Chase Edmunds finds himself on the sidelines when CTU and Hector Salazar both search for Kyle Singer. Tony leads an operation to bring Kyle in, but things take a disastrous turn when Salazar's man gets there first.
"4:00pm-5:00pm"
52
3AFF04
November 18, 2003
Kyle and Linda are abducted by Hector's men. Michelle struggles between her personal and professional obligations. Wayne offers Palmer an "opportunity". Jack takes drastic action in response to the Salazars' threat, but Chase gets in the way and complicates matters.
"5:00pm-6:00pm"
53
3AFF05
November 25, 2003
Jack and Ramon's plan hits a snag when a group of inmates takes them hostage. Chloe discovers Jack's addiction and reveals his secret to Kim and Michelle. Palmer begins his debate with John Keeler. Kyle decides to kill himself to save Linda. CTU saves the two, but Jack has already escaped with Ramon.
"6:00pm-7:00pm"
54
3AFF06
December 2, 2003
President Palmer postpones the debate because of the prison break. Jack and Ramon continue to evade CTU and the police. Doctors reveal a startling revelation about Kyle's health. Kim discovers Gael's secret, but she isn't able to warn Michelle in time.
"7:00pm-8:00pm"
55
3AFF07
December 9, 2003
Ramon wants to kill Jack on the way to Mexico, but learns that Jack and Hector are working together. Adam Kaufman rescues Kim while Gael is captured as he tries to escape from CTU. Chase heads for Mexico to rescue Jack. Tony stops Gael's interrogation and reveals that Gael is part of a secret operation.
"8:00pm-9:00pm"
56
3AFF08
December 16, 2003
Hector tries to convince Ramon to let Jack live in order to purchase the virus. Claudia Hernandez expresses her fury about being left behind when Jack arrested Ramon. Anne ends her relationship with President Palmer after her ex-husband commits suicide. Hector's men capture Chase and Ramon forces Jack to prove his loyalty.
"9:00pm-10:00pm"
57
3AFF09
January 6, 2004
President Palmer learns of a conflict involving one of his biggest contributors and his own brother. Kim and Michelle question Tony's ability to make decisions. Jack and the Salazars face an unexpected competitor when they pursue to buy the virus.
"10:00pm-11:00pm"
58
3AFF10
January 13, 2004
Jack and Ramon decide to intercept the virus. Chloe's work at CTU is disrupted by a baby. Claudia helps Chase escape, but tragedy strikes during their getaway. President Palmer asks Sherry Palmer to help him deal with Alan Milliken.
"11:00pm-12:00am"
59
3AFF11
January 27, 2004
President Palmer meets with Sherry, who agrees to help him with Milliken. Jack convinces Nina to work with him to get the virus from Michael Amador. Hector wants to pull out of the deal after Claudia's death.
"12:00am-1:00am"
60
3AFF12
February 3, 2004
Kim becomes suspicious of Chloe when her backstory about the baby doesn't check out. Sherry discovers a witness who can damage Milliken. A firefight ensues as Jack, Ramon, Nina and Chase all attempt to secure the virus. They soon discover that Amador intends all of them dead, and the auction is just a trick.
"1:00am-2:00am"
61
3AFF13
February 10, 2004
Nina gives CTU a phone number that ends up initiating a computer worm. Chappelle detains Chloe O'Brian when she refuses to discuss matters about the baby, but releases her to deal with the computer crisis. Sherry goes to see Julia, but ends up confronting Alan, leading to his death. Kim Bauer learns the baby's real identity.
"2:00am-3:00am"
62
3AFF14
February 17, 2004
Chappelle insists that Jack undergo a medical exam because of his addiction. President Palmer confronts Sherry about Alan Milliken's death. Julia Milliken asks Wayne for help. Tony questions Nina about Marcus Alvers, but before she can say more, she attempts to escape.
"3:00am-4:00am"
63
3AFF15
February 24, 2004
Jack is almost removed from the investigation for killing a material witness. CTU sends a tactical team to the hotel where the virus is scheduled to be released. Gael Ortega finds the armed mechanism that contains the virus, but wasn't able disarm it in time.
"4:00am-5:00am"
64
3AFF16
March 30, 2004
Jack and Chase allow Amador to escape, hoping that he will lead them to the man behind the virus attack. Sherry blackmails President Palmer and forces him to support alibi during the time of Milliken's death. Michelle deals with mass hysteria at the hotel.
"5:00am-6:00am"
65
3AFF17
April 6, 2004
After Michael Amador's death, Stephen Saunders threatens to release more vials if President Palmer doesn't comply with his demands, and one of his requests tests CTU on how far they are willing to go to stop the virus from being released. Jack and Chase pursue a lead to get info on Saunders. Michelle proposes a solution to the suffering at the hotel after Gael dies.
"6:00am-7:00am"
66
3AFF18
April 18, 2004
CTU races to capture Saunders before 7:00, the deadline for his latest ultimatum: the death of Ryan Chappelle. Michelle initiates a frantic search when she discovers that a potentially infected hotel guest may have slipped through her fingers. Palmer rests on Jack's hands an unbearable execution.
"7:00am-8:00am"
67
3AFF19
April 20, 2004
Kim goes undercover in a mission that may help CTU gain a bargaining tool for Saunders. Chase finds the man who left the hotel. CTU learns that the virus has begun to spread to the general public. Saunders makes another demand to the president.
"8:00am-9:00am"
68
3AFF20
April 27, 2004
Michelle finds out the results of her test as Adam finds out the virus has infected someone he knows. Jack tries to use Jane Saunders as leverage to force Saunders to surrender. Tony commits treason when Saunders exploits his only weakness.
"9:00am-10:00am"
69
3AFF21
May 4, 2004
Tony attempts to free Jane from CTU before Saunders' men hurt Michelle, but Jack and Chloe become suspicious of his behavior. Sherry offers Senator Keeler a chance to guarantee victory in the Presidential elections.
"10:00am-11:00am"
70
3AFF22
May 11, 2004
Jack catches Tony and forces him to work with CTU on the hostage exchange. Senator Keeler meets with President Palmer and demands his resignation. Wayne participates in a covert operation to recover Sherry's incriminating evidence.
"11:00am-12:00pm"
71
3AFF23
May 18, 2004
The tables are turned as Jack exploits Saunders' weakness to disclose the location of the other vials. President Palmer meets with Sherry to work something out, but she becomes suspicious of his offer and leaves. Tony faces a harsh sentence as a result of saving Michelle. Julia and Sherry square off, leading to unexpected deaths.
"12:00pm-1:00pm"
72
3AFF24
May 25, 2004
Jack and Chase track down the last vial of the virus, Chase making an incredible sacrifice. Gael's devastated wife visits CTU and seeks vengeance on Saunders. President Palmer makes an unexpected announcement after Sherry's death. The day's events take a toll on Jack.
See also
[
]