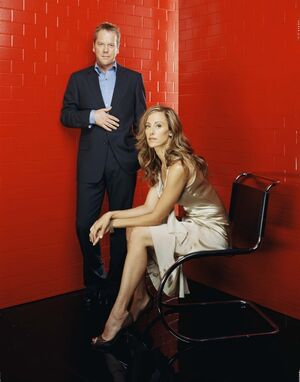 "If he thinks he can quit now... He's dead wrong."
— Season 4 promotion
Season 4 of 24 debuted in the United States with a 2-night, 4-hour premiere on Sunday and Monday, January 9 and 10, 2005 on the Fox Network. In New Zealand, Season 4 premiered with a three-hour four-episode bout, and one-hour episodes after, with a two-hour finale.
24: Season 4 was released on DVD in North America on December 6, 2005.
Season overview
[
]
Day 4 sees Jack, now working for Secretary of Defense James Heller after being fired by Erin Driscoll, Special Agent In Charge of CTU, caught up in an elaborate terrorist plot which involves both men and the daughter of Heller, Audrey Raines, who doubles as her father's chief policy assistant and Jack's lover (whilst married to another man, but separated). Jack must work with CTU and Driscoll to uncover what is happening. Again, one or more moles is revealed to inhabit CTU, aiding the terrorists.
Timeline
[
]
Day 4 begins and ends at 7:00am PT (10:00am ET), taking place about eighteen months after Day 3 and approximately six years after Day 1.
It is likely that Day 4 took place on a weekend or during school vacation, because Behrooz Araz and Debbie Pendleton do not go to school that morning and in "11:00pm-12:00am," Jason Girard mentions that he and his wife had been on a weekend camping trip.
Format
[
]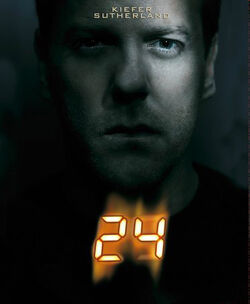 Unlike previous and later seasons, which typically focus on multiple enemies with varying degrees of connection to one another, this season is based around one main antagonist; a Turkish terrorist named Habib Marwan who leads a large count of terrorists and mercenaries that launch multiple attacks against the United States.
In addition, this season (aside the mass, unseen deaths during Day 3) shows much more on-screen deaths than any before, and also has the second-highest count of On-screen kills by Jack Bauer (surpassed only by Day 6); in fact, the only episode in this season that depicts no deaths is "6:00pm-7:00pm."
This season can be divided into four acts, based on which terror plot the CTU is focusing on taking down:
Major subplots
[
]
CTU is now under the command of Erin Driscoll, the woman who fired Jack, and has now gained several members including Sarah Gavin, Curtis Manning and Edgar Stiles.
Araz family son Behrooz Araz begins to rebel against his parents who are involved in Marwan's plan.
Chloe O'Brian is fired from CTU for covertly assisting Jack against Driscoll's orders.
Romantic tensions flare between the husband and current lover of the Secretary of Defenses' daughter, Audrey Raines. The secretary's son is also accused of complicity in his father's kidnapping.
Marianne Taylor is a Mole working inside CTU.
Tony is reinstated into CTU after a period of divorce, alcoholism and joblessness following his imprisonment caused by his actions during Day 3.

Michelle and Tony come face to face for the first time in months and begin to reevaluate their relationship.

Tragedy strikes after Driscoll's daughter Maya is brought into CTU after a violent outburst at home.
The White House undergoes a massive change in authority, which conflicts with CTU's attempts to capture the terrorists.
Impacts on future seasons
[
]
In order to prevent himself from being handed over to the Chinese government, Jack Bauer conspires with David Palmer, Tony Almeida, Michelle Dessler, and Chloe O'Brian to fake his own death, leading everyone else (including his daughter, Kim, and Audrey Raines) to believe he is dead. This initiates the long-lasting rivalry between Bauer and Cheng Zhi.
The introductions of CTU head Bill Buchanan, Secretary of Defense James Heller and his daughter Audrey Raines, CTU field agent Curtis Manning and CTU analyst Edgar Stiles.
After rekindling their relationship, Tony and Michelle decide to leave CTU and start a new life.
The attack on Air Force One renders John Keeler unable to continue serving as president, forcing Charles Logan to complete the remainder of his term.

The introduction of Logan's Chief of Staff Walt Cummings, who is responsible for deciding to have Jack executed rather than handed over to the Chinese.
Cast
[
]
Main article: Season 4 cast
See also: Recurring characters, Character appearances for Season 4
Guest starring
[
]
Crew
[
]
Main article: 24 production staff § Season 4
| | | |
| --- | --- | --- |
| Producers | Writers | Directors |
Episodes
[
]
Picture
Title
Number
Production Code
Original Airdate
Season 4 Prequel
Season 3 DVD
The new Director of CTU Los Angeles, Erin Driscoll, fires Jack because of his former heroin addiction. A terrorist crosses the border into the United States. Jack finds love with Audrey Raines. Then Day 4 begins…
"7:00am-8:00am"
73
4AFF01
January 9, 2005
A train is bombed in Santa Clarita, killing dozens of civilians. While at CTU for a budget meeting, ex-agent Jack Bauer becomes involved in the attempt to stop the terrorist group responsible for the bombing after learning that their next target is his new boss, Secretary of Defense James Heller and his new girlfriend, Audrey Raines.
"8:00am-9:00am"
74
4AFF02
January 9, 2005
Jack is reinstated to CTU and tries to find Chloe's friend, Andrew Paige, who discovered a hidden code on the Internet which may be connected to the terrorist attacks. The terrorists broadcast a video of Secretary Heller being held hostage. The Araz family advances their participation in the attack.
"9:00am-10:00am"
75
4AFF03
January 10, 2005
Chloe secretly helps Jack track one of the terrorists. Navi and Dina Araz order Behrooz to bring his girlfriend, Debbie Pendleton, to their home to find out what she knows. Curtis is forced to interrogate Secretary Heller's son, Richard to see if he was involved in his father's kidnapping.
"10:00am-11:00am"
76
4AFF04
January 10, 2005
Chloe is detained after Driscoll discovers she's been covertly helping Jack, who is forced to hold up a convenience store to detain the terrorist he is tracking. Behrooz Araz realizes how far his parents are willing to go to ensure that the terrorist attacks are successful when his girlfriend Debbie comes over to their house.
"11:00am-12:00pm"
77
4AFF05
January 17, 2005
Driscoll agrees to work with Jack as he continues to follow the terrorists with the help of the local police. Secretary Heller and Audrey decide to take their fate into their own hands. Audrey recognizes a man who would later become a valuable lead. Curtis continues to be hostile towards Marianne. Edgar bids goodbye to Chloe. Meanwhile, the Araz family encounters another problem in their cover-up.
"12:00pm-1:00pm"
78
4AFF06
January 24, 2005
Jack successfully rescues Secretary Heller and Audrey. CTU realizes that the train bombing and the kidnapping were cover ups for a much larger attack. Dina's commitment to her cause is tested when Navi Araz reveals his plans for Behrooz. A mole is revealed to have infiltrated CTU.
"1:00pm-2:00pm"
79
4AFF07
January 31, 2005
Jack and Audrey find themselves in danger while trying to identify a suspect, and Jack must turn to the only person he can trust. Edgar works to avoid a potential nuclear disaster by hacking into the kernel of the override. Dina and Behrooz run from Navi, and Dina is shot.
"2:00pm-3:00pm"
80
4AFF08
February 7, 2005
Jack and Audrey hide out with Tony Almeida, who has been left by Michelle, while Jack tries to figure out which CTU employee is working with the terrorists. Behrooz and Dina go to a hospital, but leave when the police are called. CTU discovers a security breach which was why Jack and Audrey were endangered.
"3:00pm-4:00pm"
81
4AFF09
February 14, 2005
Jack and Tony track down Dina, who agrees to help them in exchange for a Presidential pardon for Behrooz. Edgar Stiles realizes his mother is in the radiation zone of one of the plants that is melting down. Behrooz goes to another hospital to get medicine for Dina's arm and Navi closes in on him before CTU can.
"4:00pm-5:00pm"
82
4AFF10
February 21, 2005
Audrey learns that her estranged husband is somehow involved with the terrorists. Navi is willing to kill Behrooz to guarantee that Marwan's plans succeed. Marianne tries to bargain with Curtis for a reduced sentence by helping CTU get intel on the override, but the terrorists are a step ahead and are out for blood.
"5:00pm-6:00pm"
83
4AFF11
February 28, 2005
CTU tracks down the override device and learns the identity of the man behind all of the day's terrorist attacks. Curtis and Jack try to apprehend the suspect before the nuclear plants melt down. At CTU, Driscoll deals with a personal crisis with her daughter.
"6:00pm-7:00pm"
84
4AFF12
March 7, 2005
Jack and Paul visit a defense contractor where Marwan worked, and the company goes to drastic lengths to protect itself by setting off an electromagnetic pulse bomb. Driscoll steps down as head of CTU. Tony, who is appointed interim director, is shocked when the permanent replacement arrives.
"7:00pm-8:00pm"
85
4AFF13
March 14, 2005
Jack and Paul enlist civilian help after finding themselves the target of a search-and-destroy mission amidst the blackout caused by the EMP. Tony and Michelle are uncomfortable working together having not seen each other in months. With all of the nuclear plants stable, Marwan launches the next phase of his plan.
"8:00pm-9:00pm"
86
4AFF14
March 21, 2005
Jack makes a deal with Dina Araz to put her and Behrooz in a witness protection program in exchange for infiltrating one of Marwan's terrorist cells. Chloe is called in by Michelle and is reinstated into CTU. Audrey realizes that she may still love Paul. Mitch Anderson sneaks onto an Air Force base.
"9:00pm-10:00pm"
87
4AFF15
March 28, 2005
Marwan offers to trade Jack for Behrooz in order to distract CTU from possibly investigating the death of an Air Force family. Mitch Anderson runs into problems at the Air Force Base. Meanwhile, on Air Force One, President Keeler is having problems finding a suitable way to address the nation after such a trying day.
"10:00pm-11:00pm"
88
4AFF16
April 4, 2005
Jack finds out that Marwan's plans involve a stolen stealth fighter. Tony becomes suspicious of Michelle's personal life upon the arrival of Bill Buchanan from Division. As Mitch Anderson closes in on his target, CTU realizes that President Keeler is in serious danger.
"11:00pm-12:00am"
89
4AFF17
April 11, 2005
After Air Force One is shot down by Mitch Anderson, CTU requests the help of two civilians, Jason and Kelly Girard who witnessed the crash. Mike Novick presses for the Vice President to be sworn in. Marwan and Jack both attempt to secure the nuclear football, a briefcase containing the launch codes for the entire US nuclear arsenal.
"12:00am-1:00am"
90
4AFF18
April 18, 2005
President Charles Logan's advisors question his ability to lead the country in this time of crisis following President Keeler's incapacitation. Curtis brings in a suspect named Joe Prado who may have information on Marwan, but before the man can talk, his lawyer arrives suspiciously fast. Jack eventually draws information out of Prado.
"1:00am-2:00am"
91
4AFF19
April 25, 2005
A nuclear warhead is stolen in Central Iowa. CTU's efforts to apprehend Marwan are botched when the Secret Service arrives to arrest Jack for torturing Joe Prado. After the president realizes his mistake, Mike Novick suggests bringing in someone who has experience dealing with terrorist attacks. Chloe O'Brian is forced into the field to draw intel from a computer when a woman reports that her boyfriend may be part of the terrorist conspiracy. Chloe and the informant race for their lives as the hostile pursue them.
"2:00am-3:00am"
92
4AFF20
May 2, 2005
Former President David Palmer sanctions a covert mission to raid the Chinese Consulate to capture a suspect who has had recent contact with Marwan. Michelle and Tony question each other about their personal lives. After the raid on the consulate, Jack makes a decision that may destroy his relationship with Audrey.
"3:00am-4:00am"
93
4AFF21
May 9, 2005
CTU attempts to create an alibi when a Chinese representative produces evidence of their involvement in the assault on their Consulate. President Logan is enraged by Palmer's decision to raid the consulate. Jack and Curtis close in on Marwan, but he refuses to give any information on the whereabouts of the warhead.
"4:00am-5:00am"
94
4AFF22
May 16, 2005
The nuclear warhead is launched from Iowa via a cruise missile. Marwan escapes. Edgar uncovers incriminating evidence against Richard Heller. Tony and Michelle decide to give their relationship another try, but their hopes for the future are put at risk when Mandy, a woman that attempted to assassinate Palmer in the past, enters the game and takes Tony hostage.
"5:00am-6:00am"
95
4AFF23
May 23, 2005
The Chinese launch their own kidnapping of Howard Bern to find out who led the attack on their Consulate. Mandy uses Tony as leverage to try to force Michelle to aid in her escape. President Logan and CTU realize that they are running out of time to find and stop the missile before it reaches its unknown target.
"6:00am-7:00am"
96
4AFF24
May 23, 2005
Jack finds Marwan and stops the missile, which was heading to Los Angeles. Logan decides to hand Jack over to the Chinese, but Walt Cummings decides to take matters into his own hands. Jack's life changes forever as Palmer, Tony, Michelle, and Chloe help him evade a trap set for him by Secret Service to prevent him from being handed over to the Chinese.
See also
[
]