m

Line 203:
Line 203:
 
 
 

[[Category:24]]

 

[[Category:24]]

−

[[Category:Day 4]]

+

[[Category:Day 4]]

 
+

[[Category:Seasons|4]]
---
Revision as of 06:37, 7 August 2006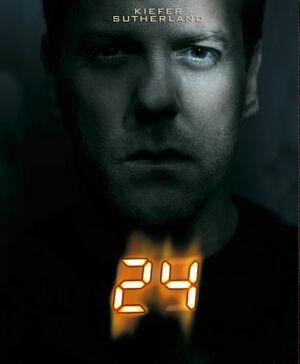 Season 4 debuted in the United States with a 2-night, 4-hour premiere on Sunday and Monday, January 9 and 10, 2005 on the Fox Network.
24: Season 4 was released on DVD in North America on December 6, 2005.
Season Overview
Day 4 is set 18 months after Day 3 and sees Jack, now working for Secretary of Defense James Heller after being fired by CTU, caught up in an elaborate terrorist plot which involves both men and the daughter of Heller, Audrey Raines, who doubles as her father's chief policy assistant and Jack's lover (whilst married to another man, but separated). Jack must work with CTU and Erin Driscoll, the new Chief Director of CTU and woman who fired him, to uncover what is happening. Again, one or more moles is revealed to inhabit CTU, aiding the terrorists.
Unlike previous seasons, which focused on a singular threat and multiple enemies, this season is based around one main enemy, a Turkish terrorist named Habib Marwan who controls a series of Middle Eastern terrorist cells that launch a series of attacks against the United States.
Though much more scattered than previous seasons, this season can also be, loosely, divided into three acts:
1. A multi-layered terrorist threat is revealed in which the bombing of a commuter train is used as a diversion to kidnap the Secretary of Defense, which is used as a diversion to initiate 104 nuclear meltdowns.
2. CTU tries to track down the architect of the days events, who is planning to bomb Air Force One.
3. In the final act the terrorists use the nuclear football to launch a nuclear warhead towards the West Coast by means of a ballistic missile.
Major subplots
CTU is now under the command of Erin Driscoll, the woman who fired Jack.
Chloe O'Brian is fired from CTU for covertly assisting Jack against Driscoll's orders.
Romantic tensions flare between Jack and Paul Raines, Audrey's husband.
Mole Marianne Taylor.
After divorcing in the aftermath of Day 3, Michelle and Tony come face to face for the first time in months.
The White House undergoes a massive change in authority, which conflicts with CTU's attempts to capture the terrorists.
Main Cast
Episodes
Picture
Time
Episode Number
Production Code
Original Airdate
Season 4 Prequel
Season 3 DVD
The new Director of CTU Los Angeles, Erin Driscoll, fires Jack because of his former heroin addition. A terrorist crosses the border into the United States. Jack finds love with Audrey Raines. Then Day 4 begins...
7:00am-8:00am
73
4AFF01
January 9, 2005
While at CTU for a meeting, ex-agent Jack Bauer becomes involved in the attempt to stop a terrorist group after learning that the terrorists are targeting his new boss, Secretary of Defense James Heller.
8:00am-9:00am
74
4AFF02
January 9, 2005
Jack tries to find Chloe's friend, Andrew Paige, who discovered a hidden code on the internet which may be connected to the terrorist attacks. The terrorists broadcast a video of Secretary Heller being held hostage.
9:00am-10:00am
75
4AFF03
January 10, 2005
Chloe secretly helps Jack track one of the terrorists. Navi and Dina Araz order Behrooz to bring his girlfriend, Debbie, to their home to find out what she knows. Curtis is forced to interrogate Secretary Heller's son, Richard.
10:00am-11:00am
76
4AFF04
January 10, 2005
Chloe is detained after Driscoll discovers she's been helping Jack. Behrooz realizes how far his parents are willing to go to ensure that the terrorist attacks are successful.
11:00am-12:00pm
77
4AFF05
January 17, 2005
Driscoll agrees to work with Jack. Secretary Heller and Audrey decide to take their fate into their own hands. The Araz family encounters another problem in their cover-up.
12:00pm-1:00pm
78
4AFF06
January 24, 2005
Jack rescues Secretary Heller and Audrey, but CTU realizes that the terrorists have another attack planned. Dina's commitment to her cause is tested when Navi reveals his plans for Behrooz.
1:00pm-2:00pm
79
4AFF07
January 31, 2005
Jack and Audrey find themselves in danger while trying to identify a suspect, and Jack must turn to the only person he can trust. Edgar works to avoid a potential nuclear disaster. Dina and Behrooz run from Navi, and Dina is shot.
2:00pm-3:00pm
80
4AFF08
February 7, 2005
Jack and Audrey hide out with Tony while Jack tries to figure out which CTU employee is working with the terrorists. Behrooz and Dina go to a hospital, but leave when the police are called. CTU discovers the mole who endangered Jack and Audrey.
150px
3:00pm-4:00pm
81
4AFF09
February 14, 2005
Jack and Tony track down Dina, who agrees to help them in exchange for immunity for Behrooz. Edgar realizes his mother is in danger. Behrooz goes to another hospital to get medicine for Dina, and Navi closes in on him.
150px
4:00pm-5:00pm
82
4AFF10
February 21, 2005
Audrey learns that her estranged husband is somehow involved with the terrorists. Navi is willing to kill Behrooz to guarantee that Marwan's plans succeed. Marianne tries to bargain with Curtis for a reduced sentence.
5:00pm-6:00pm
83
4AFF11
February 28, 2005
CTU tracks down the override device and learns the identity of the man behind the day's attacks. Curtis and Jack try to apprehend the suspect before the nuclear plants melt down. Driscoll deals with a personal crisis with her daughter.
6:00pm-7:00pm
84
4AFF12
March 7, 2005
Jack and Paul visit a defense contractor where Marwan worked, and the company goes to drastic lengths to protect itself. Driscoll steps down as head of CTU. Tony, who is appointed interim director, is shocked when the permanent replacement arrives.
7:00pm-8:00pm
85
4AFF13
March 14, 2005
Jack and Paul enlist civilian help after finding themselves the target of a search-and-destroy mission. Tony and Michelle are uncomfortable working together. Marwan launches the next phase of his plan.
8:00pm-9:00pm
86
4AFF14
March 21, 2005
Jack and Dina infiltrate one of Marwan's other terrorist cells. Michelle asks Chloe to return to CTU. Audrey realizes that she may still love Paul. Mitch Anderson sneaks onto an Air Force base.
9:00pm-10:00pm
87
4AFF15
March 28, 2005
Marwan offers to trade Jack for Behrooz in order to distract CTU from possibly investigating the death of an Air Force family.
10:00pm-11:00pm
88
4AFF16
April 4, 2005
Jack believes that Marwan's plans involve a stolen stealth fighter. Tony becomes suspicious of Michelle's personal life. CTU realizes that President Keeler may be in danger.
11:00pm-12:00am
89
4AFF17
April 11, 2005
After Air Force One is shot down, CTU requests the help of two civilians who witnessed the crash. Mike Novick presses for the VP to be sworn in as President. Marwan and Jack both attempt to secure the briefcase containing the launch codes for the entire US nuclear arsenal.
12:00am-1:00am
90
4AFF18
April 18, 2005
President Logan's advisors question his ability to lead the country in this time of crisis. Curtis brings in a suspect who may have information on Marwan, but before the man can talk, his lawyer mysteriously arrives.
1:00am-2:00am
91
4AFF19
April 25, 2005
Chloe is forced into the field when a woman reports that her boyfriend may be part of the terrorist conspiracy. CTU's efforts to apprehend Marwan are botched when the Secret Service arrives to arrest Jack. Mike Novick brings in someone who has experience dealing with terrorists.
2:00am-3:00am
92
4AFF20
May 2, 2005
Former President David Palmer sanctions a covert mission to raid the Chinese Consulate to capture a suspect. Michelle and Tony question each other about their personal lives. Jack makes a decision that may destroy his relationship with Audrey.
3:00am-4:00am
93
4AFF21
May 9, 2005
CTU attempts to create an alibi when a Chinese representative produces evidence of their involvement in the assault on their Consulate. Presidents Palmer and Logan argue about Palmer's decisions. Jack and Curtis close in on Marwan.
4:00am-5:00am
94
4AFF22
May 16, 2005
Edgar uncovers incriminating evidence against Richard Heller. Tony and Michelle decide to give their relationship another try, but their hopes for the future are put at risk when someone from Palmer's past enters the game and takes a hostage.
5:00am-6:00am
95
4AFF23
May 23, 2005
The Chinese launch their own kidnapping to find out who led the attack on their Consulate. Mandy uses Tony as leverage to try to force Michelle to aid in her escape. President Logan and CTU realize that they are running out of time to find and stop the missile.
6:00am-7:00am
96
4AFF24
May 23, 2005
Jack finds Marwan and stops the missile. Logan decides to hand Jack over to the Chinese, but an advisor decides to take matters into his own hands. Jack's life changes forever as Tony, Michelle and Chloe help him evade the trap set for him by Secret Service.
Community content is available under
CC-BY-SA
unless otherwise noted.