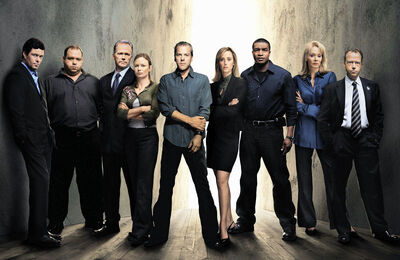 "Jack Bauer is dead... but soon he'll become the most wanted man alive... The non-stop, action-packed fifth season begins."
— Season 5 promotion
Season 5 of 24 debuted in the United States on Sunday, January 15, 2006 on Fox. The premiere was a 2 night, 4 hour event (January 15 and 16), and debuted in the United Kingdom on Sunday, February 12, 2006 on Sky One. In New Zealand, Episodes 14-24 were screened at approximately 11.00 pm for two hours, a timeslot that was occupied by repeat screenings. The show was moved from 8:30 pm Friday nights to 11:00 pm Saturday.
The 24: Season Five DVD Collection was released in the UK on November 6, 2006. 24: Season 5 was released on DVD in the U.S. and Canada on December 5, 2006.
Season overview
[
]
Eighteen months after faking his death, Jack Bauer is living under the alias Frank Flynn and renting a room from a single mother and her son. Soon after Former President David Palmer is assassinated, and a car bomb kills Michelle Dessler and leaves Tony Almeida in critical condition. Jack gets a frantic call for help from Chloe O'Brian and he realizes that the four people who know he is still alive are being targeted. Jack returns to CTU Los Angeles to figure out who is really behind the assassination of David Palmer, and uncovers a plot involving deadly nerve gas and people inside President Logan's administration. As Jack searches for the people involved and tries to stop the nerve gas from being released, he discovers that the conspiracy goes higher than anyone could have ever imagined.
Timeline
[
]
Day 5 begins at 7:00am PT (10:00am ET), taking place 18 months after Day 4 and 7 years and 6 months after Day 1.
For clues given in this season about the date, see the timeline page.
Format
[
]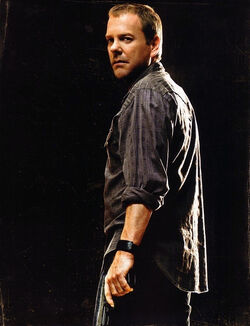 Day 5 can be split into three acts:
An assassin frames Jack for the murders of David Palmer and Michelle Dessler and the attempted murders of Tony Almeida and Chloe O'Brian, the only people who he confided in as being alive. This forces Jack to come out of hiding and return to L.A. to clear his name, just as a hostage situation at the Ontario Airport erupts. The main antagonists in this act are Conrad Haas, Walt Cummings, James Nathanson and Anton Beresch. (7:00am–11:00am)
Jack discovers a conspiracy that allowed the Russian separatists to acquire the highly lethal Sentox nerve gas. After the plan to bug the canisters fails, the separatists begin using the nerve gas in Los Angeles as retaliation for the US's allegiance with Russia, while Jack targets the conspirators who are racing to cover-up their plot. The main antagonists among the separatists for this act are Vladimir Bierko, Ivan Erwich, Ostroff and Collette Stenger. The main antagonists among the conspirators for this act are Walt Cummings and Christopher Henderson. (11:00am–10:00pm)
Jack discovers just how high up the conspiracy goes, and fights for his life as he tries to protect the only evidence that can bring its mastermind to justice, while protecting the nation from the separatists' final stand. As the day ends, Jack re-encounters an old enemy. The main antagonists in this act are Charles Logan, Vladimir Bierko, Christopher Henderson, Graem Bauer and Cheng Zhi. (10:00pm–7:00am)
Major subplots
[
]
Impacts on future seasons
[
]
Ratings
[
]
Season 5 had the highest audience ratings in the series. The show improved its overall audience by 14% over its fourth season and by 12 percent in the age 18-49 demographic, averaging a total audience of 13.8 millions, therefore ranking #24 for the 2005-2006 Nielsen TV Season. Even more important, 24 performed particularly well in the key age 18-49 demographic ranking #15 with an average rating of 5.7/13.
Due to the high ratings, Fox decided to re-air Season 5 on Fridays during the summer, showing two episodes per week. However, ratings for the repeated episodes were not as high as expected, so Fox discontinued them.
Along with high ratings, 24 Season 5 was successful at the Emmy's winning Outstanding Drama Series and Kiefer Sutherland winning Outstanding Lead Actor in a Drama Series.
Cast
[
]
Main article: Season 5 cast
See also: Recurring characters, Character appearances for Season 5
Special guest stars
[
]
Special guest appearance by
[
]
Guest starring
[
]
Crew
[
]
Main article: 24 production staff § Season 5
| | | |
| --- | --- | --- |
| Producers | Writers | Directors |
Episodes
[
]
Picture
Title
Number
Production Code
Original Airdate
Season 5 Prequel
Season 4 DVD
A year after the events of Day 4, Jack meets Chloe in a remote area of Chicago and learns that Chloe's computer files were hacked and that someone else knows that he's still alive. An unidentified man chases Jack, but Jack is able to escape. Then Day 5 begins...
"7:00am-8:00am"
97
5AFF01
January 15, 2006
Eighteen months after faking his death, Jack Bauer, who's assumed the name Frank Flynn, returns to Los Angeles after the four people who know he's alive come under attack. President Logan prepares to sign an important arms treaty with the President of Russia. First Lady Martha Logan is disturbed about the morning's events. Jack learns that he's being framed for the attacks.
"8:00am-9:00am"
98
5AFF02
January 15, 2006
Jack and Chloe infiltrate Wayne Palmer's penthouse at the hotel in hopes of finding a lead. Martha tries to convince her husband that she had a conversation with Palmer the night before. Cummings' ally — James Nathanson — launches the next phase of his plan at the Ontario Airport.
"9:00am-10:00am"
99
5AFF03
January 16, 2006
Jack conceals himself in the airport hangar, surveying the Russian separatists and feeding information to Curtis and his assault team. The terrorists continue to execute hostages in an attempt to make President Logan give in to their demands to nullify the treaty. Martha discovers that all the traces of her conversation with David Palmer might not have been erased. Jack surrenders when Derek Huxley's life is put in danger.
"10:00am-11:00am"
100
5AFF04
January 16, 2006
Jack is captured by the terrorists, who use Derek as leverage to force him to compromise CTU's assault team. Logan refuses to give in to the terrorists' demands. However, the airport incident turns out to be a diversionary cover for an arms deal. Martha continues to try convince her husband that the phone call was real, but Walt interferes. A new representative from Division — Lynn McGill — arrives at CTU and begins to undermine Buchanan's authority.
"11:00am-12:00pm"
101
5AFF05
January 23, 2006
Jack returns to CTU and has an emotional reunion with Audrey, while Curtis tracks the Russians and the stolen military-grade Sentox nerve gas. Cummings sends in an assassin to silence Jack. Chloe discovers that Spenser Wolff has his own agenda at CTU. Walt convinces Logan to send Martha to be institutionalized when she tells them of the attacks against her.
"12:00pm-1:00pm"
102
5AFF06
January 30, 2006
Jack meets with Mike Novick in hopes of gathering evidence against Cummings. Martha begs Aaron for help while Walt thinks that he is forcing Logan into aiding him with his complicity with the terrorists. Buchanan butts heads with Lynn over a decision to violate the President's orders, while the Russian separatists attempt to escape with the nerve gas.
"1:00pm-2:00pm"
103
5AFF07
February 6, 2006
Jack learns of a man named Jacob Rossler, who has links to Ivan Erwich. Charles Logan, Mike Novick and Martha Logan discuss the best way to handle the Walt Cummings situation. Erwich tries to get the canisters to open. Lynn has personal problems that draw him away from work and Chloe O'Brian fires Spenser.
"2:00pm-3:00pm"
104
5AFF08
February 13, 2006
Jack poses as Rossler, the programmer, and manages to trace one of the Sentox nerve gas canisters, but he goes against the President's orders when the terrorists target a shopping mall. President Logan and Martha argue when she learns that he intends to cover up the real reason for Walt Cummings's suicide.
"3:00pm-4:00pm"
105
5AFF09
February 20, 2006
Vladimir Bierko kills Ivan Erwich. Jack obtains a data chip from Nathanson, Cummings' middleman. Chloe finds the name Omicron International on the chip. Lynn figures out that everyone at CTU is working behind his back and has Buchanan taken into custody. Logan decides to give Bierko the route to the Suvarovs' motorcade. Martha jumps in their car at the last moment.
"4:00pm-5:00pm"
106
5AFF10
February 27, 2006
Jack meets Christopher Henderson at Omicron and almost gets blown up. Audrey convinces Curtis to have Lynn held on the grounds that he is mentally unfit to run CTU. Bierko attacks the Suvarovs, but Aaron Pierce saves them and the First Lady. Bierko and Logan talk for the last time, the former promising retaliation.
"5:00pm-6:00pm"
107
5AFF11
March 6, 2006
Jack Bauer interrogates Henderson's wife at their home. Lynn tries to get his keycard back from his sister and her boyfriend. Terrorists plan to release the nerve gas in a hospital and Curtis tries to stop them. Tony wakes up and asks about Michelle's fate. Meanwhile the First Lady tries to avoid the President.
"6:00pm-7:00pm"
108
5AFF12
March 6, 2006
President Logan debates Martial Law with Vice President Hal Gardner. Lynn is aghast upon his sister's death. Jack Bauer has to deal with his daughter's return, a former mentor who has critical information he needs, and a terrorist attack intended to cripple CTU.
"7:00pm-8:00pm"
109
5AFF13
March 13, 2006
Jack Bauer and the rest of CTU take action to protect the remaining isolated areas and plan escape tactics. Chloe wrestles with her grief over Edgar Stiles' death, while Tony seeks revenge on Henderson. Martha bolsters Logan's judgment as he faces political pressure from Hal Gardner.
"8:00pm-9:00pm"
110
5AFF14
March 20, 2006
CTU investigates a new lead on Bierko, but finds resistance from German intelligence officer Theo Stoller. Martha Logan is skeptical of the administration's move for a curfew. New Homeland Security officials attempt to change operating protocol involving Chloe O'Brian and Bill Buchanan. Meanwhile, Wayne Palmer has some information he has to get to Aaron Pierce that someone doesn't want getting out.
"9:00pm-10:00pm"
111
5AFF15
March 27, 2006
Jack is forced to interrogate Audrey Raines when he learned that she might be connected to Bierko and the terrorists. Wayne Palmer and Aaron Pierce flee from armed men who have orders from Christopher Henderson to kill them. Vladimir Bierko and his men execute the next phase of attacks by targeting a gas company and releasing the Sentox gas throughout Los Angeles.
"10:00pm-11:00pm"
112
5AFF16
April 3, 2006
Audrey goes along with a plan to remove Bill Buchanan from power in order to keep Chloe O'Brian at CTU to assist Jack. Jack teams up with Wayne Palmer to help David Palmer's source in the White House: Martha Logan's aide, Evelyn Martin. Hal Gardner has a run in with Wayne, and Jack suspects the Vice President might be behind the day's events, which was proven to be much worse.
"11:00pm-12:00am"
113
5AFF17
April 10, 2006
New discoveries regarding the day's horrific events keep Jack Bauer away from CTU, whose agenda is ordered to reprioritize by the White House. Chloe O'Brian and Audrey Raines team together to assist with field operations and the investigation takes an unexpected turn.
"12:00am-1:00am"
114
5AFF18
April 17, 2006
Although President Charles Logan claims the country is no longer under attack, martial law is still enforced and CTU remains under intense pressure to find the remaining fugitives. Meanwhile, Jack Bauer, Audrey Raines and Secretary of Defense James Heller reunite for a pivotal meeting.
"1:00am-2:00am"
115
5AFF19
April 24, 2006
While Jack comes closer to obtaining the recording from Christopher Henderson, tensions at the President's retreat escalate as Martha Logan grows more suspicious of her husband. Meanwhile, Heller and Curtis help in the struggle against Henderson. A surprising new ally joins Chloe and Bill as they continue to assist Jack, and a new antagonist is revealed.
"2:00am-3:00am"
116
5AFF20
May 1, 2006
Although Karen wishes to help Buchanan, he is still taken into CTU to maintain the cover while Chloe escapes. Meanwhile, Jack hijacks a plane in search for the recording that Henderson handed off. At the retreat, Martha grows increasingly unstable, causing further dispute between Logan and Mike. Graem continues to manipulate Logan into taking drastic measures.
"3:00am-4:00am"
117
5AFF21
May 8, 2006
With Graem's help, Logan decides to launch one final attempt to secure the recording that implicates him in the conspiracy surrounding the day's events. At CTU, several agents begin working with Jack, Chloe, and Buchanan. Tensions continue to rise in Logan's retreat as the President contemplates suicide. Meanwhile, Bierko is transported to another facility, and Miles Papazian attempts to further his career by making a key decision.
"4:00am-5:00am"
118
5AFF22
May 15, 2006
Jack, Chloe, Bill, and Karen realize that the recording was erased by Miles. However, CTU is soon forced to switch tracks and focus on a new threat: Bierko escaped, and he plans to seize another powerful weapon. With the new threat quickly approaching, Jack must use Christopher Henderson in a delicate sting operation. Meanwhile, the drama at the retreat turns deadly as Aaron Pierce is set to be killed.
"5:00am-6:00am"
119
5AFF23
May 22, 2006
While Jack and Henderson secure a missile submarine seized by Bierko as Martha and Aaron form an alliance with Mike Novick. Meanwhile, Logan prepares to leave for David Palmer's sendoff, which Jack exploits to his advantage after he settles his other personal vendetta against Henderson.
"6:00am-7:00am"
120
5AFF24
May 22, 2006
After Bierko and Henderson are killed, Mike, Aaron, Martha, and Jack conspire to kidnap President Logan as part of a plan to secure a confession about the original conspiracy behind the day's events. When Jack's gambit fails, Martha and Chloe initiate a back-up plan to incriminate the President. Meanwhile, Jack's plan to disappear again is put at risk when someone from his past re-enters the picture and changes everything.
Background information and notes
[
]
Season 5's season finale is the only season finale across the 10 days to feature no deaths whatsoever.
See also
[
]