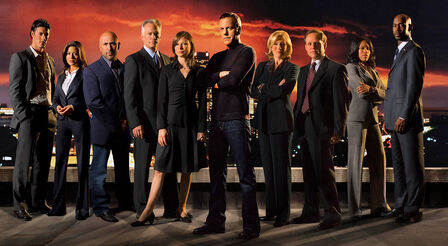 "Jack Bauer's country needs him. Dead."
— Season 6 promotion
Season 6 of 24 premiered in the United States on January 14, 2007 at 8pm on Fox. The premiere was a 2-night, 4-hour event (January 14 and 15 from 8-10pm). Season 6 debuted in the United Kingdom on Sunday, January 21, 2007 on Sky One.
The Region 4 Season 6 DVD set was released on September 19, 2007. The 24: Season Six DVD Collection was released in the UK on October 1, 2007 24: Season Six was released on DVD in the U.S. and Canada on December 4, 2007.
Season overview
Edit
Twenty months have passed since Day 5. After being captured by the Chinese for his involvement in the events of Day 4, Jack Bauer is returned to the United States government a broken, yet honorable, man. To stop a series of devastating attacks on the US, CTU has agreed to hand Jack over to a terrorist mastermind, Abu Fayed, who is bent on revenge. Jack survives and, after a nuclear attack on American soil, vows to retrieve the remainder of the nuclear weapons used in the day's attacks. The White House, meanwhile, suffers from an internal power struggle between President Wayne Palmer and his Vice President Noah Daniels, forcing Palmer's staff to choose sides, which in turn affects CTU and its employees. After eliminating the day's threats, Jack is forced into a personal crusade to save Audrey Raines from those he fears most, and discovers that his family is more involved with the day's events than he ever imagined.
Timeline
Edit
Day 6 begins at 6:00am PST (9:00am EST), taking place 20 months after Day 5 and roughly 9 years, 2 months after Day 1. Wayne mentions that he was inaugurated three months before Day 6, which would place the day somewhere in late April or early May. A scene in Day 7 shows that it takes place on "the second day of November". That sets Inauguration Day in 24: Redemption on August 29. If Wayne Palmer was inaugurated on August 29, this would set Day 6 in late November or early December. In "Chloe's Arrest", Chloe's son's birthday is stated as July 8, supporting a November date for Day 6, where she discovers her pregnancy.
Similar to the first three seasons, Day 6 can be split into two acts:
After nearly two years in a Chinese prison, Jack Bauer works to bring down the terrorist masterminds that threaten to detonate suitcase nukes in Los Angeles, discovering links to his own family in the process. The main antagonists in this act are Abu Fayed, Dmitri Gredenko, Graem Bauer and Phillip Bauer. (6:00am–11:00pm)
After the nuclear suitcases are recovered, Jack is contacted by an old enemy who demands Jack hand over an extremely sensitive component of the nukes in exchange for a hostage's life. Jack's decision to steal the component begins to ignite an international incident with Russia. The main antagonists in this act are Phillip Bauer and Cheng Zhi. (11:00pm–6:00am)
Major subplots
Edit
The principal subplot of the season revolves around a conspiracy in the White House. It initially revolves around internal conflict between the passage of a law that would curtail civil liberties, then revolves around an assassination attempt against Wayne Palmer, the overtaking of Palmer's position by VP Noah Daniels, and the diplomatic incident regarding Jack's theft of the FB subcircuit board. Major characters in this subplot include Palmer, Daniels, Tom Lennox and Karen Hayes. The main antagonists of Wayne's assassination plot are Bruce Carson and Reed Pollock.

There is also revealed to be a spy in Washington's midst.

Jack struggles to readjust to his old life following his imprisonment.
Many characters are confronted by discrimination against Americans of Middle Eastern origin. Nadia Yassir's work is slowed down to how government employees of Middle Eastern backgrounds are faced by heightened levels of scrutiny.
Jack discovers his family's involvement in not only the brokering of the suitcase nukes, but the murders of his friends David Palmer, Tony Almeida, and Michelle Dessler during Day 5.
A mysterious newcomer to CTU, Mike Doyle, faces criticism for his past and present actions, yet sometimes appears more informed and compassionate than expected.
Jack must go against everything and everybody he knows in order to save one of the people who means the most to him.
The day's stress on major characters' relationships—in particular Karen Hayes and Bill Buchanan, Chloe O'Brian and Morris O'Brian, and Nadia Yassir, Milo Pressman and Mike Doyle.
The Bauer family is put to the ultimate test as an endgame is put into play involving Jack's nephew Josh, his father Phillip and the Chinese government.
An attack on CTU, leading to the impeding of the investigation and the killing of several CTU agents.
The events of the day lead to a brewing international incident with Russia, as President Yuri Suvarov threatens a military response if the U.S. cannot avert the incident.
Wayne Palmer is injured after a plot to assassinate him, and his ability to run as President is put into question.
Vice President Noah Daniels rises to the role of President in the middle of the crisis.
Impacts on future seasons
Edit
Season 6's two-night premiere garnered the highest ratings in 24 history, averaging 15.7 million viewers and an overall 33 million viewers over the two nights. Ratings peaked at one point to 16.3 million. Compared to Season 5, however, 24 fell in rank from 24 to 27 (of 142 shows) in the 2006-2007 Nielsen TV season and averaged approximately 13 million viewers per week. In the key age 18-49 demographic, 24 ranked #14 (compared to #15 the previous year) with an average of 5.0/12 (a significant drop from last season's 5.7/13).
Season 6 was nominated for a total of six 2007 Emmy awards, including Kiefer Sutherland for Outstanding Lead Actor in a Drama Series and Jean Smart for Outstanding Guest Actress in a Drama Series. However, the series was not nominated for Outstanding Drama Series, a first in its history.
Main article: Season 6 cast
See also: Recurring characters, Character appearances for Season 6
Guest starring
Edit
Main article: 24 production staff § Season 6
| | | |
| --- | --- | --- |
| Producers | Writers | Directors |
Season 6 entered preproduction on June 19, 2006. It premiered in the United States beginning with a four-hour block across two nights on January 14 and January 15, 2007. Subsequent episodes aired Monday nights at 9pm on Fox in the United States (two episodes were aired consecutively on February 12), and the season finale aired 2 straight episodes to finish off the season. The show on Sunday nights at 9pm in the UK. The season did not start screening until October 28 in New Zealand, starting at 10:25 pm for two hours weekly.
Episodes
Edit
Picture
Title
Number
Production Code
Original Airdate
Season 6 Prequel
Season 5 DVD
Seven months after Day 5, Jack Bauer is being tortured by Cheng Zhi on a daily basis but has not broken. However, he is tricked into giving up the identity of an American spy. Then Day 6 Begins.
"6:00am-7:00am"
121
6AFF01
January 14, 2007
Twenty months after Jack Bauer's capture by the Chinese, terrorist attacks rock America. Jack returns in a deal made by President Wayne Palmer. Jack is handed over to Abu Fayed, who will in turn give the location of the man responsible for the attacks; Hamri Al-Assad. Meanwhile, Karen Hayes and Tom Lennox argue over proposed security measures that could suspend the rights of Muslim Americans.
"7:00am-8:00am"
122
6AFF02
January 14, 2007
Jack finds out that Abu Fayed, not Assad, is behind the attacks, and manages to escape. Jack teams up with Assad to stop a suicide bomber on a subway. FBI agents search the Islamic-American Alliance offices in D.C. under dubious pretenses, to the chagrin of Sandra Palmer. Ahmed Amar implements Abu Fayed's plan in the suburbs.
"8:00am-9:00am"
123
6AFF03
January 15, 2007
Jack and Hamri Al-Assad track one of Fayed's men. Ahmed Amar holds a family hostage and orders the father to deliver a package to Abu Fayed. CTU discovers a wiring schematic for a nuclear device on a terrorist's laptop and learns of an elaborate plan to free a terrorist weapons programmer from the Palmdale Military Facility.
"9:00am-10:00am"
124
6AFF04
January 15, 2007
After CTU stops Ahmed Amar from killing the hostage held family and Jack Bauer races to find Abu Fayed before he is able to detonate a suitcase nuke. Jack must make a difficult choice between Assad and Curtis Manning. The President's sister makes calls her brother on behalf of Rezani, while Wayne Palmer faces the toughest hour of his Presidency, as a nuclear device detonates in Valencia.
"10:00am-11:00am"
125
6AFF05
January 22, 2007
Through Assad's intel, Jack learns of a connection between his father Phillip Bauer and the nuke supplier. Jack contacts his brother, Graem, and demands information. As Abu Fayed searches for triggers for his nukes, IAA director Walid al-Rezani spies on suspicious detention camp inmates.
"11:00am-12:00pm"
126
6AFF06
January 29, 2007
Graem reveals a connection between his company and Darren McCarthy, who brokered the nukes to Fayed. Graem's motives are made clearer when he and Jack find their father. Security measures put in place by Tom Lennox put pressure on the Arab members of CTU. Karen Hayes is blackmailed into resigning by Tom Lennox.
"12:00pm-1:00pm"
127
6AFF07
February 5, 2007
Jack Bauer and Phillip Bauer head to Graem's house to interrogate him. Graem reveals his involvement in the assassination of David Palmer. Wayne Palmer refuses Tom Lennox's controversial plans to deny freedoms to Muslim-Americans. Darren McCarthy kidnaps Morris O'Brian and demands he arm the suitcase nukes.
"1:00pm-2:00pm"
128
6AFF08
February 12, 2007
Jack learns that Graem died as a result of his interrogation. Morris is brought to Fayed. Jack rescues Morris, but not before he is forced into programming the trigger. Fayed escapes with three suitcase nukes, which he is now capable of detonating. Tom Lennox contemplates resigning, when Reed Pollock brings an offer to the table.
"2:00pm-3:00pm"
129
6AFF09
February 12, 2007
Morris is brought back to CTU with Jack. Abu Fayed contacts Dmitri Gredenko, a Cold War General, who is in L.A. and has been planning the day's events. Assad begins work on a statement to address his people in Washington, D.C. Marilyn is coerced into leading Jack into a trap by Phillip, who has taken Josh Bauer hostage.
"3:00pm-4:00pm"
130
6AFF10
February 19, 2007
Jack and Marilyn use one of Phillip's men to find out where he and Josh are. Returning to work puts unwanted pressure on Morris, especially after he hears of Milo's heroism in saving Marilyn. The President prepares Assad's speech, unaware of conspiracy brewing within his own cabinet, and Jack is forced to turn to an unlikely source for help.
"4:00pm-5:00pm"
131
6AFF11
February 26, 2007
Jack meets with Charles Logan to gain information about the whereabouts of Gredenko, who continues with preparations to set off the remaining nukes. Tensions within the White House Bunker come to a boil just as President Palmer and Assad are about to address the nation, and CTU deals with the fallout from one of their employee's experiences earlier in the day.
"5:00pm-6:00pm"
132
6AFF12
March 5, 2007
Noah Daniels assumes presidential duties from the wounded Wayne Palmer. Tom Lennox turns Reed Pollock in for attempting to assassinate Palmer. Jack, with the help of Logan, extracts Gredenko's plot from Markov, but is unable to pass it to CTU.
"6:00pm-7:00pm"
133
6AFF13
March 12, 2007
Jack Bauer escapes the Russian consulate with the help of CTU led by the new head of field operations; Mike Doyle. Charles Logan and Martha Logan are reunited, which ends in tragedy. Noah Daniels puts pressure on Tom Lennox to frame Hamri Al-Assad for the attempt on Wayne Palmer's life.
"7:00pm-8:00pm"
134
6AFF14
March 19, 2007
Jack Bauer learns that Audrey Raines followed him to China and is now dead. CTU is led to believe that there is a mole and Nadia Yassir is the prime suspect. Dmitri Gredenko and Abu Fayed launch the first nuclear drone. Even though CTU successfully subverts the bomb's detonation, Vice President Noah Daniels goes forth with a nuclear retaliatory strike against Fayed's home country.
"8:00pm-9:00pm"
135
6AFF15
March 26, 2007
Jack, through CTU intel, finds and captures Gredenko, who negotiates a deal with CTU. To thwart the Vice President's plans to bomb Fayed's country, Karen Hayes and Sandra Palmer awaken President Palmer from his chemically-induced coma in hopes that he will rescind the order to strike before the missile launches.
"9:00pm-10:00pm"
136
6AFF16
April 2, 2007
Vice President Daniels challenges President Wayne Palmer for the presidency. Overhearing that Vice President Daniels is willing to commit perjury, Tom Lennox blackmails Daniels into dropping out, letting President Wayne Palmer continue his duties. Gredenko reluctantly helps CTU capture Fayed and later dies from his injuries just when President Palmer makes a shocking decision concerning the nuclear strike against Fayed's country.
"10:00pm-11:00pm"
137
6AFF17
April 9, 2007
The threat of a missile strike is revealed to be a ruse in order for the Ambassador to reveal intelligence regarding a high-ranking official inside Fayed's country who is involved. Jack and Mike Doyle devise an elaborate sting operation to trick Fayed into helping CTU get closer to the two remaining suitcase nukes. However not all goes to plan and Jack takes it upon himself to recover the suitcase nukes and kill Fayed just when he receives a disturbing phone call.
"11:00pm-12:00am"
138
6AFF18
April 16, 2007
President Palmer collapses at a press conference, making Vice President Daniels acting president. Against the orders of Vice President Daniels, Jack ditches his partner Mike Doyle and proceeds alone to negotiate with Cheng Zhi, who is willing to trade his hostage Audrey Raines (who was thought to be deceased for months prior) for an FB subcircuit board from one of the nukes, giving access to Russian defense systems.
"12:00am-1:00am"
139
6AFF19
April 23, 2007
Noah Daniels and his assistant Lisa Miller engage in a seemingly-consensual, oval-office romance. Karen Hayes is forced to choose between her job and Bill's. Cheng meets up with Jack Bauer for the exchange, but is intercepted by CTU, resulting in Cheng escaping with the component. While being arrested by CTU, Jack realizes that Audrey, though free, was not returned unharmed.
"1:00am-2:00am"
140
6AFF20
April 30, 2007
The Russians learn too quickly that the Chinese have the circuit board, leading Noah Daniels to suspect a spy. After some investigation, Daniels and Lennox plot to pass misinformation to the Russians through this unsuspecting informant. Nadia struggles with her newfound leadership at CTU when Division and Jack argue on how to handle the traumatized Audrey Raines. Cheng discovers the circuit board is damaged.
"2:00am-3:00am"
141
6AFF21
May 7, 2007
Lisa Miller complies with Daniels' plan to pass false intel through the Russian informant. CTU sends all their field agents to locate Cheng Zhi, not knowing that Cheng has already dispatched Chinese mercenaries to infiltrate CTU and capture Josh Bauer and killing Milo Pressman in the processs. It is revealed that Phillip Bauer is the mastermind behind the attack on CTU.
"3:00am-4:00am"
142
6AFF22
May 14, 2007
CTU recovers from the attack and Jack pursues Cheng and recovers Josh. Meanwhile, Lisa Miller spying on the Russian informant backfires and Russian President Yuri Suvarov threatens to attack a US military base in two hours. Claiming that he no longer works for Cheng, Phillip Bauer calls the White House and says that he will trade the sub circuit board for Josh Bauer.
"4:00am-5:00am"
143
6AFF23
May 21, 2007
Jack seeks Bill's help to retrieve Josh. Phillip's men obtain Josh without living up to their end of the bargain. The situation at the White House becomes increasingly tense as Karen Hayes is arrested for covertly helping Jack and Bill, and Milo's brother reveals to Nadia just how much Milo cared for her. Meanwhile, Chloe mysteriously passes out at CTU.
"5:00am-6:00am"
144
6AFF24
May 21, 2007
Realizing that an airstrike, ordered by Vice President Daniels, will destroy the oil rig and Josh, Jack and Bill race against time to rescue Josh, capture Cheng and leave an injured Phillip behind as the F-18's destroy the rig and the sub circuit board. Bill and Karen are asked to resign without charges Chloe and Morris discover they are going to be parents. Meanwhile, Jack bids a tearful farewell to Audrey Raines.
Day 6 Debrief
May 21 - June 18, 2007
Fifteen hours later, Jack Bauer is taken to District to debrief The White House on the events of the day—or so he is told. Jack is instead questioned for giving information to the Chinese while he was in a Chinese prison.
Background information and notes
Edit
See also
Edit
External links
Edit
Community content is available under
CC-BY-SA
unless otherwise noted.