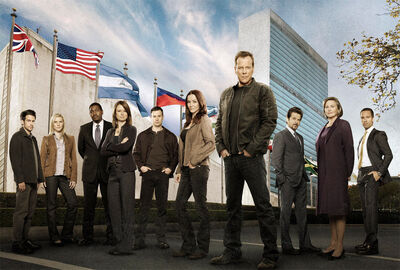 "New York Gets Jacked."

— Season 8 promos
Season 8 of 24 premiered in the United States on January 17, 2010 at 8pm on Fox. The premiere was a 2-night, 4-hour event (January 17 and 18 from 9-11pm/8-10pm on FOX/Global).
On 26 March 2010, it was announced that Season 8 would be the show's final season.
Season overview
In the eighth season, CTU has been reinstated, upgraded, and is run by MBA-schooled and razor-sharp head honcho Brian Hastings in New York. Cole Ortiz, an ex-Marine who wants to follow in Jack Bauer's footsteps, runs the division's Field Operations. Expert data analyst Dana Walsh collaborates with systems analyst Arlo Glass inside CTU. Rob Weiss serves as President Allison Taylor's new chief of staff, and Meredith Reed is an ambitious journalist with ties to the unfolding situation.
As President Omar Hassan of Kamistan comes to the United States on a peacemaking mission, he is targeted by a group of Russian terrorists, led by people from within Hassan's own country. CTU has to stop the impending threat, with the help of a reluctant Jack Bauer.
Series conclusion
In the afternoon of 26 March 2010, a statement was issued from FOX explaining that Season 8 would conclude 24's run on television. Kiefer Sutherland gave a statement:
| | | |
| --- | --- | --- |
| " | This has been the role of a lifetime, and I will never be able to fully express my appreciation to everyone who made it possible. While the end of the series is bittersweet, we always wanted 24 to finish on a high note, so the decision to make the eighth season our last was one we all agreed upon. This feels like the culmination of all our efforts from the writers to the actors to our fantastic crew and everyone at Fox. Looking ahead to the future, Howard Gordon and I are excited about the opportunity to create the feature film version of 24. But when all is said and done, it is the loyal worldwide fan base that made it possible for me to have the experience of playing the role of Jack Bauer, and for that I am eternally grateful. | " |
Executive producer and showrunner Howard Gordon was also a part of the decision. He was quoted saying:
"
"Kiefer and I have loved every minute of making 24, but we all believe that now is the right time to call it a day. I echo his sentiments of gratitude toward the show's amazing creative team, as well as the studio and network who have always believed in us and shown us unbelievable support."

"24 is so much more than just a TV show – it has redefined the drama genre and created one of the most admired action icons in television history," said Peter Rice, Chairman, Entertainment, Fox Networks Group. Kevin Reilly, President, Entertainment, Fox Broadcasting Company added, "We are extremely proud of this groundbreaking series and will be forever thankful to Kiefer, the producers, the cast and crew for everything they've put into 24 over the years. It's truly been an amazing and unforgettable eight days."

"
Plans to continue the show on in feature film form are now being explored, with Billy Ray being contracted to write a screenplay, and plans for shooting to commence in late 2010 or early 2011.
Timeline
Day 8 begins 18 months after Day 7 at 4:00pm EDT (1:00pm PDT), the latest in the day of any season. This is the second season to use Eastern Time as opposed to Pacific Time. According to Operation Hero, it takes place on May 20-21. Day 8 takes place roughly 14 years after Day 1.
Format
As with many previous Days, Season 8 can be divided into three acts.
Jack is unwillingly dragged back into the world of CTU, trying to help them stop the assassination of Kamistani President Omar Hassan during a conference at the United Nations with U.S. President Allison Taylor. The main antagonists of this act are Davros and Farhad Hassan.
Jack and Renee try to acquire nuclear fuel rods from a Russian crime syndicate called Red Square, but the rods are stolen by IRK terrorists, who use the rods to make a dirty bomb to detonate in New York City. Jack and Cole fight to stop them but their efforts are greatly hindered when CTU is struck with an EMP. The terrorists threaten to use the dirty bomb to force the President Allison Taylor to turn over President Omar Hassan. The main antagonists of this act are Samir Mehran, Tarin Faroush, Sergei Bazhaev, Vladimir Laitanan and Dana Walsh.
With Hassan dead the peace process begins to fall apart. IRK minister Jamot gives President Taylor the suggestion of having Dalia Hassan take Omar's place. Everyone at the accord approves of the idea except Foreign Minister Mikhail Novakovich who is determined on taking Russia out of the process. Former President Charles Logan aids President Taylor in bringing Russia back into the agreement, but an emotionally devastated Jack, upon finding out about Russia's involvement in the day's previous events, aims to expose Russia and their activities once they become responsible for the murder of Renee. Logan complicates the situation by sidelining Ethan Kanin and persuading President Taylor to cover up Russian involvement to protect the peace treaty. The main antagonists of this act are Yuri Suvarov, Charles Logan, Jason Pillar, Dana Walsh, Mikhail Novakovich, and Pavel Tokarev.
The main antagonist of the season is Yuri Suvarov.
Major subplots
Cast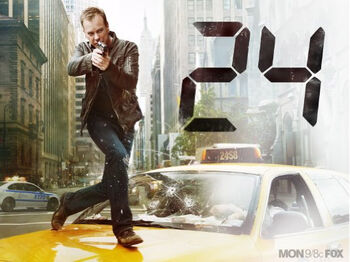 See also: Recurring characters, Character appearances for Season 8
Guest starring
Airings
The following episodes were broadcast as back-to-back as two-hour episodes:
Episodes
Picture
Title
Number
Production Code
Original Airdate
"4:00pm-5:00pm"
171
8AFF01
January 17, 2010
At the United Nations in New York City, US President Allison Taylor and Kamistan President Omar Hassan are putting the finishing touches on an historic peace treaty. With a new lease on life, Jack Bauer plans on moving back to Los Angeles with his daughter Kim and granddaughter Teri, but his plans are put on hold when an old informant comes to him with information on an assassination plot against Hassan.
"5:00pm-6:00pm"
172
8AFF02
January 17, 2010
CTU New York arrests a journalist for breaking into the UN database, but Chloe O'Brian suspects a frame job and asks for Jack's help to find the real culprit. Meanwhile, a secret from Dana's past comes back to haunt her.
"6:00pm-7:00pm"
173
8AFF03
January 18, 2010
Hot on the assassin's trail, Jack finds himself set up as a cop killer and endures torture by a corrupt NYPD officer. President Omar Hassan argues with his brother about telling CTU about his affair with Meredith Reed, even though it will help prove her innocence. Presidents Taylor, Hassan, and the rest of the United Nations building are evacuated due to a bomb threat.
"7:00pm-8:00pm"
174
8AFF04
January 18, 2010
President Hassan takes temporary residence in the CTU New York building in the aftermath of the motorcade bombing. Uranium-235 particles are discovered on the dead body of Davros, indicating that his organization has possession of weapons-grade nuclear material. A damaged Renee Walker returns and is given an undercover assignment in the Russian mob, but not everyone thinks she's ready.
"8:00pm-9:00pm"
175
8AFF05
January 25, 2010
Renee, with Jack following close behind, takes Ziya Dakhilov to meet Vladimir Laitanan in order to reestablish her cover. President Omar Hassan must decide what actions he will take against traitors in his country. Concerned for his brother's safety, Josef takes him to a medical clinic to seek radiation treatment.
"9:00pm-10:00pm"
176
8AFF06
February 1, 2010
Kevin Wade coerces Dana into getting him into an NYPD evidence lock-up worth more than a hundred thousand dollars. President Omar Hassan's harsh measures against dissenters continue to raise eyebrows at the United Nations. After a brush with death, "Renee Zadan" gets the sting operation back on track, but not without a horrifying concession to Vladimir Laitanan.
"10:00pm-11:00pm"
177
8AFF07
February 8, 2010
As Allison Taylor struggles to hold the peace process together, her administration's paranoia about Omar Hassan continues to grow alongside the number of people he orders arrested. Meanwhile, Jack's undercover meeting with criminal Vladimir Laitanan concerning the stolen nuclear fuel rods quickly unravels due to Renee's fraying mental state.
"11:00pm-12:00am"
178
8AFF08
February 15, 2010
When it becomes clear that Kevin has no intention of upholding his end of the bargain, Dana Walsh prepares to take drastic action. Kayla Hassan attempts to intervene against her father on Tarin's behalf. Jack Bauer brings Sergei Bazhaev into custody, but an unforeseen betrayal derails the operation, placing the nuclear rods back in enemy hands.
"12:00am-1:00am"
179
8AFF09
February 22, 2010
Farhad Hassan seeks the aid of CTU when his associates commandeer the nuclear rods for their own deadly purposes. Jack Bauer makes a deal with Brian Hastings to protect Renee from taking the fall for a failed mission. Cole Ortiz discovers his fiancee's secret and quickly puts an end to Kevin's plot.
"1:00am-2:00am"
180
8AFF10
March 1, 2010
Jack prepares to go to Farhad Hassan's last known location to rescue him. President Taylor warns President Omar Hassan that war may be declared on his country. Hassan is dealing with his own issues when he realizes that his daughter has run away with his former head of security. Cole and Dana have to figure out how to solve the aftermath of the confrontation with Kevin and Nick.
"2:00am-3:00am"
181
8AFF11
March 8, 2010
Racing against the clock, Jack Bauer tries to persuade Marcos Al-Zacar to turn himself in before he can arm an explosive vest. Dana Walsh and Cole Ortiz arrive back at CTU New York, only to be reprimanded, and in Dana's case demoted, by Brian Hastings. In the midst of planning to start a new life with Tarin, Kayla Hassan receives some disturbing news from her mother.
"3:00am-4:00am"
182
8AFF12
March 15, 2010
Tarin Faroush manages to kidnap President Hassan's daughter Kayla while Jack Bauer and CTU try to stop him from using her to accomplish the terrorists' devastating goals. Dana Walsh is backed into a corner as Bill Prady attempts to find out what happened to Kevin Wade.
"4:00am-5:00am"
183
8AFF13
March 22, 2010
CTU New York struggles after its systems are destroyed in the aftermath of the EMP explosion, forcing Chloe O'Brian to take drastic actions to get it back up and running. Jack Bauer, along with three CTU agents, are pinned down by sniper fire and are unable to radio for backup. Kayla Hassan is finally reunited with her parents.
"5:00am-6:00am"
184
8AFF14
March 29, 2010
Samir Mehran demands that the United States government hand over President Omar Hassan within one hour or face a radiological attack in the heart of Manhattan. Defiantly, President Allison Taylor instead orders Jack Bauer to escort Hassan to Fort McGuire Air Force Base, while members of her inner circle conspire to subvert her decision.
"6:00am-7:00am"
185
8AFF15
April 5, 2010
President Omar Hassan forces Jack Bauer to let himself be turned over to the terrorists in order to avoid an attack on Manhattan. Jack, in addition to CTU New York, close in on Hassan's location, but are cut short by an insider. President Allison Taylor learns of the corruption taking place within her inner circle and the steps they took to ensure its success.
"7:00am-8:00am"
186
8AFF16
April 5, 2010
After her cover is blown, Dana Walsh agrees to give up President Hassan's location in exchange for full immunity, but only if Jack Bauer leads the assault team. Cole Ortiz is forced to face the fact that Dana is the mole. Samir Mehran makes his final plans to execute Hassan live over the Internet, but not before torturing him.
"8:00am-9:00am"
187
8AFF17
April 12, 2010
President Taylor urges Dalia Hassan to take up the mantle of her murdered husband, and enlists former President Charles Logan to investigate the withdrawal of the Russians. Brian Hastings is removed as director of CTU New York, leaving a nervous Chloe O'Brian in charge. After a long night, Jack Bauer and Renee Walker consummate their growing attraction, unaware that someone is plotting to kill them.
"9:00am-10:00am"
188
8AFF18
April 19, 2010
Charles Logan is able to convince Mikhail Novakovich to return to the peace talks, but refuses to tell President Taylor how he was able to do so. In order to solve Renee's murder, Jack Bauer heads to federal court to interrogate Sergei Bazhaev, who confesses to a much larger enemy in the midst of today's events.
"10:00am-11:00am"
189
8AFF19
April 26, 2010
President Taylor is forced to compromise her principles in order to keep an historic peace agreement on track. On the run from the law, Jack Bauer turns to a former ally for help on a mission to break Dana Walsh out of custody and obtain evidence against the Russian government.
"11:00am-12:00pm"
190
8AFF20
May 3, 2010
Jack Bauer and Cole Ortiz try to break Dana Walsh out of the custody of a private security firm, so that she can give them the location of a video file incriminating the Russians' involvement in the conspiracy. With President Taylor's approval, Charles Logan instructs Jason Pillar to infiltrate CTU New York and relay information on the whereabouts of Jack Bauer to Mikhail Novakovich.
"12:00pm-1:00pm"
191
8AFF21
May 10, 2010
With the evidence in hand, Jack Bauer contacts Meredith Reed and asks to meet her, so that she can help expose those responsible. However, CTU intercepts the call, which allows Jason Pillar to assist Pavel Tokarev and his men plan an ambush for the two of them. Arlo Glass secretly teams up with Chloe O'Brian in order to find the identity of an old contact who is aiding Jack.
"1:00pm-2:00pm"
192
8AFF22
May 17, 2010
With only an hour to go before the signing ceremony, Jack Bauer mounts a one-man assault on Charles Logan's motorcade in his continuing mission to avenge Renee Walker's murder. Meredith Reed takes steps to break the story on the Russian conspiracy. Chloe and Arlo identify Jack's contact in the city, and dispatch Cole Ortiz to track him down.
150px
"2:00pm-3:00pm"
193
8AFF23
May 24, 2010
Cole, Arlo, and Chloe make a final attempt to expose the coverup at the UN. Kayla Hassan relays to her mother the information Meredith Reed gave her concerning the people really behind her husband's death. She precedes to confront President Taylor about this alligations and is given disturbing news. After sneaking past the security perimeter, Jack Bauer aims a sniper rifle at a building across the street...
"3:00pm-4:00pm"
194
8AFF24
May 24, 2010
Chloe O'Brian shoots Jack Bauer to divert the FBI from the fact that Jack had given her the data card implecating the Russian President Taylor stops the treaty process after realizing Jack Bauer was right all along about the greater good and that peace made on a foundation of lies could never last. aims a sniper rifle at a building across the street...
See also
Community content is available under
CC-BY-SA
unless otherwise noted.