We should needing pictures from those actors who played a role in season 2. Maybe Tom can find out who played them. Just a thought. --Station7 01:45, April 3, 2011 (UTC)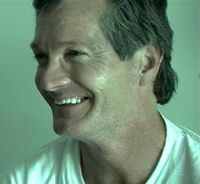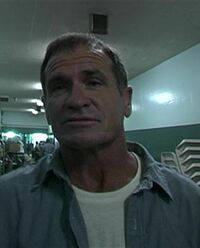 Good idea station7, wherever did u think that up :P The man on the left is called "Teddy", he plays a prison guard that gets shot by Peel. The man on the right, I don't know his name, he plays an inmate in the riot as well as one of Kingsley's henchmen in Season 2.--Acer4666 21:27, April 3, 2011 (UTC)
I did remembered it :) I didn't forgot that part ;) --Station7 21:31, April 3, 2011 (UTC)
On the left is stuntman Ted Barba. On the right is John Meier. ;) Tom 21:36, April 3, 2011 (UTC)
Performers
Edit
When we first saw Peel in the aired episode he was using a shotgun to blow away a guard. But from the feature we can see that they filmed a scene of him beating down Matt Taylor's character. My question is should we add Matt to the Deleted section of the episode credit?
Also this stuntman who was knocked out by Ramon wasn't seen in the aired episode either. I think he could be the same guy who doubled for John Meier during the SWAT raid, though I have no idea of the identity of the man. --William (talk) 10:50, February 28, 2020 (UTC)
I think Meier's double is actually Mike Smith, indicated by his unique triangle-shaped hair/sideburn near his temple.
The Ramon inmate Mike Massa maybe? --William (talk) 11:26, February 28, 2020 (UTC)
Well the fight between Peel and Matt took place in that corridor where lots of guards (including Barba) got beaten by irritated inmates. If that was meant to be the Peel and Jack fight why didn't they do it at the C Block entrance (second pic)? But that doesn't really matter anyway as we will probably never find out. I think we leave the episode credits as it is and maybe fill up the credits for the feature later. --William (talk) 13:59, April 18, 2020 (UTC)

If you rewatch the On The Loose documentary you can see that the move that Lobo Sebastian and Matt Taylor are practising (Matt knocks shotgun out of hand, Lobo grabs Matt by neck) is then shown being performed by Kiefer and Lobo in the other room. It's the same move, they just happen to be practising it in a different room. They cut it together back to back in the documentary to show the practice then the real thing!
Hard to know who that Ramon inmate is, given the low quality of the shot we see of him. If it's not this guy, then it could maybe be Chris O'Hara, possibly? Unsure.
I'm on the fence on whether the guy knocked out by Ramon in the laundry room is Mike Smith. I'm not sure the triangle of hair is enough to definitively say it's him, and the ear looks like it could maybe be different, but maybe not. Again you see so little of him to be sure--Acer4666 (Talk) 23:16, April 19, 2020 (UTC)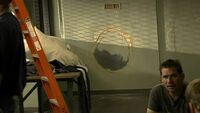 Also, do you think that the stand-in for Ramon Salazar looks like Greg Hartigan?--Acer4666 (Talk) 10:02, April 20, 2020 (UTC)

I was about to say that! I took the same screenshot for him, though I didn't really realize he was a stand-in for Ramon. I thought he was happened to be on set. So I guess Emile Williams was probably also Dennis Haysbert's stand-in for sure. --William (talk) 10:13, April 20, 2020 (UTC)
Community content is available under
CC-BY-SA
unless otherwise noted.