Scott Waugh played him?[edit source]
Here is a possible actor who portrayed this Omar compound guard. I'm not sure what he looks like in the episodes where his character's ID photo is shown to Audrey during the picture match-up scene in follow-up episodes but it's worth a shot finding out who this stuntman played and since there's lots to go on (although I'm not sure if he had a contact number):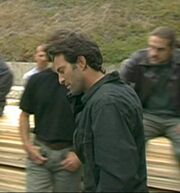 --Gunman6 (talk) 19:53, April 14, 2013 (UTC)
Waugh's updated his IMDb profile picture, might slightly bare more similarity to the role now.--Gunman6 (talk) 17:46, February 5, 2014 (UTC)
I think Ross Scharphorn somehow looks like him. No? --William (talk) 15:53, January 4, 2020 (UTC)
Does Faress have any lines?--Sampson789 (talk) 17:37, July 30, 2014 (UTC)
Did somebody just hear the character's name and spell it phonetically, or has somebody seen his name in print? Because the DVD subtitles spell it "Farez".--Sampson789 (talk) 19:58, September 13, 2014 (UTC)
So there's no evidence to back up the current spelling? All right, let's vote on whether or not to change it.--Sampson789 (talk) 18:52, September 14, 2014 (UTC)
No need to vote, this is definitely an instance for moving/renaming. Good catch Sampson. It was spelled "Faress" simply because, when I created the article back in 2007, I did not have any awareness of captions/subtitles for the DVDs. Just double-checked and indeed you're right, both subtitles and CCs spell it "Farez". Making the move now... Blue Rook  talk  contribs 04:45, September 16, 2014 (UTC)
Community content is available under
CC-BY-SA
unless otherwise noted.