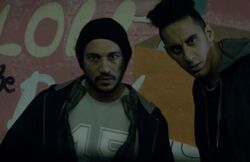 The Tamil Boys were a British gang that operated in the London area.
About a year before Day 9, heroin dealer Aron Bashir had a problem with the Tamil Boys. Apparently, Bashir tried to trick the Tamil Boys with a deal. As a result, one of the Tamil Boys gang members ended up dead.
During Day 9, Bashir was detained for being involved in a shootout with fugitive Jack Bauer. CIA agent Kate Morgan, who had read about the feud on Bashir's file, drove Bashir into the Tamil Boys territory and threatened to leave him there if he didn't tell him what he knew about Bauer and Derrick Yates. As two members of the gang made their way towards the car, Bashir started talking while begging Kate to drive away from the rival territory.
Community content is available under
CC-BY-SA
unless otherwise noted.