Tony Almeida arrives at Lee Jin Yu's apartment.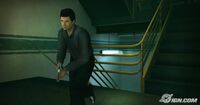 Tony gets out of the car and receives a call from Michelle, asking if he has arrived at Lee's apartment. He tells her that he just arrived, and Michelle informs him of Lee's specific apartment number, 628. Tony thanks her and heads inside. He heads up two floors, running into several hostiles who engage him. He takes them out, and restrains a few hostages.
11:34:15
Michelle calls Tony informing him that a team is on the way to his location. He tells her to send the team to Lee's room, and she complies. Tony heads up another flight of stairs and comes to a communal area where some hostiles are attacking some civilians. Tony manages to save the civilians by taking out all the hostiles from a distance. He proceeds to take their weapons and supplies.
11:43:54
Tony heads further into the complex, eliminating more hostiles, until he reaches the top floor, room 628, where Lee's apartment is. Armed with a large assault rifle, Tony manages to take out all the hostiles in the apartment, including one who is taking Lee hostage.
Tony introduces himself to Lee as the field team arrives, and informs him that he is taking him into custody. Tony cuffs Lee up as the hour draws to a close.
11:59:57...11:59:58...11:59:59...12:00:00
Mission targets
Edit
Enemies Restrained: 5
Civilians Restrained: 2
Enemies Killed: 7
Accuracy: 80%
Background information and notes
Edit
Lee's apartment is on the sixth floor.
On Floor 3 there is a shot of Adrenaline through a smashed wall.
Just before the clock strikes 11:34, Tony is coming to the stairwell on Floor 3. If you shoot right, the hostile at the staircase can be knocked backwards down the stairwell.
Floor 4 is completely blocked off.
On Floor 5 there is a health station at the stairwell.
Community content is available under
CC-BY-SA
unless otherwise noted.