Travis Cutner
Born:
August 11
Role:
CTU field agent
Travis Cutner (born August 11) is an actor who portrayed a CTU field agent in 24: Legacy.
Travis Cutner started his acting career in 2016. That year, he appeared in various TV shows. He had a recurring role on several episodes of the TV show Devious Maids (with Tom Irwin), as well as guest appearances in Greenleaf (with Merle Dandridge) and MacGyver (with Sandrine Holt and Lobo Sebastian), among others.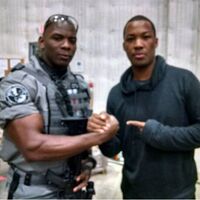 Aside of TV shows, Cutner has appeared in films like Logan Lucky and Spooked.
Cutner played a CTU field agent during "Day 10: 4:00pm-5:00pm" and "5:00pm-6:00pm". He can be seen briefly in the aftermath of the raid on Gabriel's warehouse, walking out the door of Gabriel's main room as Eric Carter talks with Thomas Locke. In the following episode, he partakes in the raid on 1003 Chesapeake Bridge Lane.

Grandma Boyz (2019)
Spooked (2017)
Logan Lucky (2017)
Television appearances
Legends & Lies (2016)
MacGyver (2016)
Greenleaf (2016)
Devious Maids (2016)
Community content is available under
CC-BY-SA
unless otherwise noted.