Ty Valkanas
Behind the scenes of The Raid
Role:
U.S. Army Ranger
Ty Valkanas played a U.S. Army Ranger during The Raid, the prequel to 24: Legacy.
Ty Valkanas started practicing martial arts in 1979. He holds a second-degree black belt in Tae Kwon Do and Hapkido. In 1986, Valkanas started training in boxing and Muay Thai Kickboxing, becoming North Carolina, South Carolina, and Virginia State Kickboxing Champion from 1988 to 1990. His amateur record was 19-1-1.
Valkanas turned down an opportunity to turn professional to join the US Navy to become a US Navy SEAL. He graduated Basic Underwater Demolition/SEAL Training (BUD/S) as Honor Man of Class 195 and served in the military for 11 years in the military. He was primarily stationed at SEAL Team One and then Naval Special Warfare Group One as a Sniper Instructor.
During his time as a Navy SEAL, Valkanas trained Muay Thai Kickboxing in Thailand. He went undefeated in thirteen fights in Thailand. He was also introduced to Brazilian Jiu Jitsu while in the SEAL Teams. After his service, Valkanas served as a Chula Vista Police Officer.
Valkanas now works as an entrepreneur and investor, while also teaching and training in Boxing, Muay Thai Kickboxing and Brazilian Jiu Jitsu. He is also director of the MMA Training Program at Team GFL.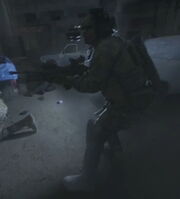 Ty Valkanas played a U.S. Army Ranger during The Raid, which served as a prequel to 24: Legacy. His character was one of the seven rangers who exited the helicopter at Ibrahim Bin-Khalid's compound. He was armed with an M4 carbine with an underslung grenade launcher, and was the third man to enter the northeast gate. Once through, his character moved right with Eric Carter, shooting one of the terrorists dead. At Carter's instruction, he fired a grenade into the door of Bin-Khalid's building, blasting another terrorist into the air.
Like the other actors in the short, Valkanas role was not credited. Also, despite his role on The Raid, Valkanas image wasn't featured on 24: Legacy when we're shown the pictures of the Army Rangers involved.

Community content is available under
CC-BY-SA
unless otherwise noted.