Since a few other guys have started day-to-day bad guy pages detailing all of the various baddies, from mastermind to moron, I thought I'd get in on the action with what is my favourite season, Day 2. So put on some Rammstein, and let's get into it.
Joseph Wald's Gang of "Patriots"
Joseph Wald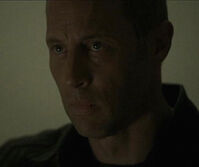 Wald was the boss of the bunch. A man who self styled himself as a "true American patriot", he was thrown in jail after Jack went undercover in his gang, without Wald knowing. After getting out, Nina got him involved in the oil consortium's kooky and twisted plan, which involved bombing the CTU building. Wald had his boys led by Eddie Grant bomb the HQ in what Wald believed was "giving power back to the people". Unfortunately, Wald was too forgiving of Jack, who killed Eddie and his boys and tracked Wald to his pad in the Simi Valley. Wald locked himself in a panic room in his shed, but after realizing that he was conned by Nina, he told Jack all he knew, before turning the gun on himself.
Eddie Grant
Grant was Joe Wald's right-hand man. Operating out of a garage, he and his men planned for the bombing of CTU that day, when Jack "Roush" walked in, looking like a million bucks. Eddie was understandably distrustful of Jack, whom he believed (rightfully so) was responsible for getting Wald locked up. But Eddie was proved wrong when Jack procured the severed head of one Marshall Goren, and it was like old times. Hoping that Jack was on their side, he defended Jack from the accusations of Chris and Dave, and didn't even seem to care when Jack broke Dave's ankle (though who would?). After he, Chris, and Scott were successful in blowing away CTU, he realized his griveous series of errors when Jack pulled a gun on him. He met his end when, trying to run Jack down, he was shot multiple times in the head by Jack, who then proceeded to steal his car. Classy.
Chris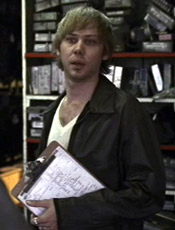 Chris was Eddie's own #2 man. He was working at the garage's desk when Jack confronted him, and sensed immediately that Jack wasn't some faux Klansman. But his complaining to Eddie went unanswered, and the bombing of CTU went according to schedule. After the gang found that Cam Strocker had escaped Jack's care, Chris and his usual paranoid self got into a fight with Jack before Eddie broke it up. When Jack tried to arrest Eddie afterwards, Chris was the first who noticed, and took a shot at Jack, whom promptly returned fire and shot Chris several times when the latter tried to run off.
Dave
Man, I hate this guy. Anyone played by Gregory Sporleder is someone I'm bound to dislike. First it was bitching to Ed Harris in The Rock, and now it's trying to be another tough guy. Adolf, as I like to call this guy because of his crappy haircut, is the gang's technical expert. He's also the loudest critic of Jack, whom he believes is a fed and not someone who likes to go around, taking down the Zionest conspiracy. Eddie finally gives into Dave's bitching and has him check up on Jack, and it turns out that Dave is just another naysayer when the results come back in Jack's favour. The last straw for Dave is when Jack hangs around afterwards despite Eddie telling him there's nothing to do that day. Dave admirably takes a swing at Jack, who then, tired of Dave's whining, breaks his ankle. Eddie doesn't seem to care that much, nor does anyone else. As a result, Jack takes Dave's place on the bombing team.
Scott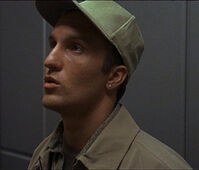 Ah, my personal favourite of Wald's crew. Why is he my favourite? Because he doesn't do a damn thing. I don't even recall this guy saying a word. The only other member of Eddie's team who comes close to being as stoic is Frank. So, Scott is clearly the heavy of Eddie's team. He, along with Chris, helps Eddie rig CTU HQ to blow, and then accompanies the team back to the hills outside of town. When Jack pulls a gun on Eddie, Chris is the one who takes the initative and fires at Jack, while Scott looks more like a deer lost in the headlights, and proceeds to fumble around. Jack puts two in Scott's chest, and he keeps that same dopey look on his face as he goes down.
Frank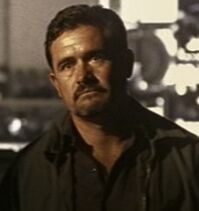 This guy is my second favourite, after Scott. Look at the guy, he just looks like a big badass. That is, until Eddie asks him to check the bag Jack was carrying and proceeds to nearly pass out when he finds Marshall Goren's severed head. I think this is why he's not seen afterwards, because Eddie probably fired him for not showing any strength. He and his muscle-bound friend are the only two of Wald's guys to not feel the pain, but I doubt Frank would've have gone far before being pulled over and arrested for his clear lack of intellect.