Just some little bits and pieces of info I collected and haven't fully checked yet. Anyone can add in information they find, if it's from a source other than those listed please let me know!
The "Polish Treasure Trove" can be found here (All credit for discoveries from that goes to Blue Rook).
The "German Treasure Trove" can be found here.
Uncredited actors
Edit
Old IMDB
Edit
The IMDB credits for 24 used to be housed on a generic "guest appearances" page for the whole series, until around January 2006 (see here). In 2006 the guest credits then got split out into separate episode pages, and some uncredited appearances got lost in the move. Note that the Season 5 credits are probably less accurate/reliable as in Jan 2006 the episodes hadn't aired yet.
Treasure troves
Edit
The Polish and German "treasure troves" were copies of the above IMDB stuff that remained online after IMDB got rid of it. As the "guest starts" page got split out around 2006, some credits from episodes after then aren't on the above IMDB link but were on the treasure troves:
See here.
Live Another Day
Edit
Sonny D'Angelo as terrorist source (2 episodes, 2003?)
Chad Israel as CTU field agent in seasons 3-5
Ruth Ricks as CTU extra in season 4
Carrie Kim as Jade Paik (Wikipedia), Bric Tenorio as Carl Adams in Season 3 (Wikipedia nonsense?)
Naomi Kirkpatrick as Meredith Atterson, Shannon Becker as Allison Nichols in Season 4 (from Maya11 edit on Wikipedia)
Billy Chamberlin as Fitzpatrick (CTU agent) in Season 5 (Wikipedia)
Thomas Howell as Henry (CTU agent) in Season 5 (Wikipedia added as Harry Swinton then changed to Henry)
Greg Richards as CTU agent Will Thomas in Season 5 source
Pavel A. Serov as Russian Sailor in Day 5: 6:00am-7:00am
Trisha Carman as President's Aide (19 episodes) (2006)?
Jaleel White as Turk. L Stevenson in Day 5: 4:00am-5:00am. (Was on imdb but since been removed. Name obviously a play on Steven Urkel, but might he have appeared in the background somewhere? Probably not.) source
Ron Livingston as Peter Gibbons in Day 5: 9:00pm-10:00pm (again, this is a reference to office space, he probably never appeared on the show but listing here just in case) [from German Treasure Trove]
Omar Wilder as military officer filming in office building in Downtown LA. Judging by resume probably season 7 or 8...my guess is at Andrews Air Force base in Season 8 source in comments of this video
Ronin Gray as CTU agent in Season 8 source
Kevin Lee Carvell as background CTU agent in Day 8: 3:00pm-4:00pm (confirmed by the guy, he was production assistant for the whole series then had a farewell cameo)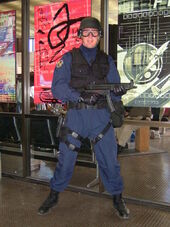 LA Casting
Edit
Military
Edit
Phil Kovac, Eric Byre, Brian Robins, Jason Calvert, Pete Cromer, Michael Cavanaugh, Michael Borgschulte, Michael Retzlaff, HMLA-775 (Pilots in Season 4 Heller rescue)
James Fox, Dave Gaul, El LeBlanc & Ron Cannizzo (pilots for Season 6 Assad's house destroyed)
Shad Tucker and Brett Lynch as Navy SEALs in 7x16
Casting groups
Edit
Swat4hire
Gunmetal group
Street Heat tactical speciality group, run by Jesse Escochea
Character names given
Edit
Garret Sato plays "Wu San"
Ludwig Manukian plays "Nasir Bashir" (historical)
Dominic Comperatore plays "Nicolai" (historical)
Mandy June Turpin plays "Heather" (contradicted below)
Marc Scizak plays "Ackers"
Polish Treasure trove
Edit
Michael Placencia plays "bad boy Evan"
German Treasure trove
Edit
Lewis is in fact spelled "Luis"
Carmen Mormino plays "Douglas"
Mandy June Turpin plays "Grace" (contradicted above)
Elyse Marie Mirto plays "Elizabeth" (IMDB too)
Dean Cudworth plays "Mike Hart"
Locations
Edit
Live Another Day
Edit
Filming on Bermondsey Wall East with flame & smoke
Albert Square & Mursell estate (~ Feb 20) in Lambeth according to this
Two Chairmen pub ~May 1 with Chloe O'Brian [1]
Filming on Cobb Street just north of Aldgate with flipped taxi outside Empire Textiles, filming for a promo vid source
Day 1, 26th Jan, filming at the Athenaeum Club on Pall Mall
Day 2, 27th Jan, filming at Montreal Place WC2 also block of flats in Woolwich
Day 3, 28th Jan, filming by the Vauxhall Griffin on Wyvil road (maybe The Lauriston in Hackney or outside British Museum later on)
Day 4, 29th Jan, Greenwich on the Thames, (maybe back at Woolwich north of the river or Charing Cross underground)
Day 5, 30th Jan, in the Studio (with fire)
Day 6, 2nd Feb, RAF Northolt
Day 7, 3rd Feb
Day 8, 4th Feb, at studio, possibly at Great Russell Street
Day 9, 5th Feb, possibly Hyde Park, Wardour St
Day 10, 6th Feb, possibly near Buckingham Palace. In Ruislip this week maybe too. With Pres. Heller in studio
Day 11, 9th Feb, on Upper Bank Street in Canary Wharf [2]
Day 12, 10th Feb
Day 13, 11th Feb
Day 14, 12th Feb, Brentford
Day 15, 13th Feb, Chloe outside Job Centre on Uxbridge Road and also on Macfarlane Road [3]
Day 16, 16th Feb
Day 17, 17th Feb (finished ep 1&2)
Day 18, 18th Feb
Day 19, 19th Feb
Day 20, 20th Feb, filming at Kennington Tube Station, alley opposite, and Braganza Street [4]
Day 21, 23rd Feb, filming just off The Mall
Day 22, 24th Feb, filming at Dorney Court in Buckinghamshire (scene with Margot)
Day 23, 25th Feb
Day 24, 26th Feb
Day 25, 27th Feb
Day 26, 2nd Mar, filming on The Strand/Fleet Street
Day 27, 3rd Mar, filming at Middle Temple
Day 28, 4th Mar
Day 29, 5th Mar, filming in Walton Court
Day 30, 6th Mar, perhaps outside Waterloo station
Day 31, 9th Mar, outside Charing Cross Station and Waterloo/Leake Street
Day 32, 10th Mar, Waterloo & The Strand again
Day 33, 11th Mar, back in Walton Court
Day 34, 12th Mar, Syon House in Brentford, also Swakeleys House & Milton Rd in Ickenham
Day 35, 13th Mar, Swakeleys House & Milton Rd in Ickenham
Day 36, 16th Mar
Day 38, 18th Mar
Day 39, 19th Mar
Day 40, 20th Mar
Day 41, 23rd Mar, filming car chase 7-11 on road beside Gillette Building/Sky Campus
Day 42, 24th Mar
Day 43, 25th Mar
Day 44, 26th Mar
Day 45, 27th Mar
Day 46, 30th Mar, St. James's Square/Athenaeum Club on Pall Mall again
Day 47, 31st Mar, number 44 Reverdy Road SE1 (possibly also near pub at 72 St. James's Road)
Day 48, 1st Apr, south bank perhaps (finished eps 5&6)
Day 49, 2nd Apr
Day 50, 3rd Apr
Day 51, 6th Apr, car chase on Warple Way just off The Vale in Acton. Were setting up at Ealing hospital (outside Moorfields eye centre) on 5th
Day 52, 7th Apr, filming on Camden Canal and Untitles Motorcycles at 49 Kentish Town Road
Day 53, 8th Apr, possibly somewhere near Gunnersbury
Day 54, 9th Apr
Day 55, 10th Apr
Day 56, 13th Apr, possibly ealing hospital
Day 57, 14th Apr, in the countryside somewhere
Day 58, 15th Apr
Day 59, 16th Apr
Day 60, 17th Apr, possibly helicopters & men scaling onto rooftops in NW4. Callsheet, has ext. street scene in Charing Cross ("Chloe, do you have him?") scene in abandoned cafeteria ("Chloe, I'm gonna need...") and Heller's office, and US embassy
Day 61, 23rd Apr
Day 62, 24th Apr
Day 63, 26th Apr, rail bridge on Miles Street & Bondway, SW8, and corner of Lincoln's Inn fields for car flipping over, Kiefer Sutherland in Pimlico at lunchtime
Day 64, 27th Apr, filming at The Mall
Day 65, 28th Apr, filming at/near Wembley Stadium
Day 66, 29th Apr, at Wembley stadium again, also outside the Stay Club in Camden (Episodes 9 & 10 start shooting today)
Day 67, 30th Apr, at Wembley stadium again
Day 68, 4th May
Day 69, 5th May
Day 70, 6th May, old parade ground in Aldershot with explosions
Day 71, 7th May, Aldershot again
Day 72, 8th May
Day 73, 11th May, Liverpool Street Station [7]
Day 74, 12th May, Clink St, Stoney St/Winchester Walk, Covered market (Borough Market), Southwark St/Borough High St
Day 75, 13th May, Stoney St/Rochester Walk, Stoney St under bridge, covered market, St. Thomas St [8]
Day 76, 14th May, Old Street for 2nd unit car & bike chase, at night shooting at MacBean St, Woolwich [9]
Day 77, 15th May maybe on Rhoda Street, Shoreditch (during day, Nightjack Ltd production), and Battersea Heliport (poss at night?)
Day 78, 18th May, Charing Cross tube station, Elstree Aerodrome
Day 79, 19th May
Day 80, 20th May, possibly in Hounslow ("Jack opens door, bullets fly")
Day 81, 21st May
Day 82, 22nd May, possibly at Waterloo station (start shooting 11&12)
Day 83, 25th May, at Shelley Kavanagh's house on Woodlands Road West in Wentworth, Surrey (also outside to Caroline Stanbury's house here, nearby)
Day 84, 26th May, Longcross Studios, Surrey (with soldiers)
Day 85, 27th May, Isleworth West London (TAC team)
Day 86, 28th May, Lasham Airfield
Day 87, 29th May
Day 88, 1st June, Bucknalls Lane, Bricket Wood, Garston/Watford (TAC team)
Day 89, 2nd June
Day 90, 3rd June, Battersea Park (Kate + Audrey)
Day 91, 4th June, 207 security lodge, 204 western docks, southampton So15 1DA
Day 92, 5th June, again in Southampton docks/Marchwood
Day 93, 6th June
Day 94, 8th June, maybe Euston station
Day 95, 9th June, in studio with USAF, USMC, US Navy people
Day 96, 10th June, North Gower Street possibly. Again in studio with military
Day 97, 11th June, in studio with military
Day 98, 12th June
Day 99, 13th June, in studio with military and at Farnborough
Day 100, 15th June, last day (on ferry) & pickups in studio
Weapons from the Game
Edit
Handguns
Rifles
Shotguns
Submachine guns
Other
Weapons used by other characters
Edit
Live Another Day actors
Edit
Rosie Day (twitter) - extra on first day
Matt Rentell background extra in episode 2 (block of flats scene in Woolwich)
Howard Henry AKA Junior Di Don 2nd-3rd Feb [10]
Tyrone Love as Moroccan Businessman [11]
Matt Quantrill at RAF Northolt [12]
Doug King on 2nd Feb [13]
Fez Sayed as protestor [14]
George Hewer as Protester [15]
Larissa Jones as Protester [16]
Joelle Koissi as Protester [17]
Kevin Matadeen as Protester
Martyn Mayger as Protester
Leila Wong as protester [18]
Maybe Andre Harvey and Yeohan Kim
Andy Wareham, Mens-Sana Tamakloe, Douglas Robson, Ian van Temperley, Steen Young, Rob Pavey (stunts)
Hugh O'Brien as MP
Adam Prickett as TV crew
Mick Slaney as passerby
Paul Blackwell as train passenger/ passerby
Luke Howard as CIA agent
Keith Larkin as CIA agent
Beau Allen on 9th March
CIA agents: (actor names used on ID cards) Darren Hope, Davina Leonard, Lee Plumridge, Stewart Barham, Dolly Ballea, Charles Bouch???, ???(maybe Charles) Grant, Harry Welling/Melling
Julio Vollono as commuter
Fabio Vollono as commuter
Eddie Ruben as US Embassy executive
Aisling Hughes as MP
Ancuta Breaban as MP
Nicon Caraman as Major Winston
Raed Abbas as Protester
Lasco Atkins as Protester
Helen Banks as Protester
Richard Banks as Protester
Bluehomie as Protester
Carrie-Anne Bowyer as Protester
Jay Brown as Byrne soldier (as well as Garcia)
Erica Melargo [19]
Emmanuel Akwafo as Policeman
Kazi Dinsmore as US Marine
Nicholas Marshall as rival gang member #1
Adrian Palmer as Malcolm Jacobs
Leah Perkins as police sergeant
Evelyn Rei as Military (in episode 10 but cut out)
Frida Zo as commuter
Surah Swaleh as protester
Eddie Bagayawa as US embassy executive
Dilyana Bouklieva as nurse
Nick Donald as Lt Lucas Miller
Michael Haydon as patient
Rafael Pereira-Edwards as protester
Selva Rasalingam on 8th May
Kwamena Brace as Colin Salmon's stand in
Kat Ketley as passenger
Maxwell Cavenham as Politician
Judit Novotnik as commuter
Dean Mitchell as CIA agent
Stuart Matthews at Syon Park ~Mar 6 perhaps, did a scene with Kiefer Sutherland [22]
Vincent Wang & Ian Van Temperley were on set with Rob Ho apparently (protest scene at embassy?)
Damien Tobin [23]
Richard Smith [24]
Steve Morphew [25]
[28] Marcus Langford
Tom Blount 13th June US officer [29]
Blaks Marshal on June 10 [30]
Michael Jinks as stand-in for Ross McCall on last day
Twins Mehmet & Erdo as protestor (with Kiefer Sutherland)
Tony Pankhurst as MP
Steve Fox (possibly CIA worker)
Aaron Ly at southampton docks
Shahbaz Sheikh as Secret Service/stunt driving
Live Another Day crew
Edit
Stunt co-ordinator: Mark Mottram
Assistant stunt co-ordinator: Nicole Chapman
Alan Rast - BTS [34]
Kathy Nettleship - Line Producer
Meagan Rinn - writers' assistant [35]
Amy Hubbard - UK casting [36]
Jeffrey C. Mygatt - DP [37]
Alexis James - accommodation agent [38]
Sophie Williams - unknown [39]
Tom Blount - camera operator [40]
Jenny Valerie Rhodes - make up [41]
Mary Boulding - runner [44]
Dai Hopkins - key grip [45]
Kelly Williams - costume [46]
Clare Glass - [47]
Legacy filming locations
Edit
Ep 23 & 24
Edit
F 4 - Day 1 Kingsley's office killing Eve
S 5 - /
S 6 - /
M 7 - Day 2
T 8 - Day 3 CTU scenes
W 9 - Day 4
T 10 - Day 5
F 11 - Day 6
S 12 - /
S 13 - /
M 14 - Day 7 Brian Jacobs scenes
T 15 - Day 8 Palmer press conference
W 16 - Day 9
T 17 - Day 10
F 18 - / (good friday)
S 19 - /
S 20 - /
M 21 - Day 11
T 22 - Day 12 Coliseum action
W 23 - Day 13 Coliseum day 2
T 24 - Day 14
F 25 - Day 15
September
Edit
Ep 5 & 6
Edit
M 1 - /
T 2 - Day 1
W 3 - Day 2
T 4 - Day 3
F 5 - Day 4
S 6 - /
S 7 - /
M 8 - Day 5 USC
T 9 - Day 6 Prison misc
W 10 - Day 7 Prison laundry room
T 11 - Day 8 Prison action shootout
F 12 - Day 9
S 13 - /
S 14 - Day 10 Downtown helicopter landing
M 15 - Day 11 Poor man's C.. CTU/Secure room
T 16 - Day 12
W 17 - Day 13
T 18 - Day 14
F 19 - Day 15
S 20 - /
S 21 - Emmy Awards
Ep 7 & 8
Edit
M 22 - Day 1
T 23 - Day 2
W 24 - Day 3
T 25 - Day 4
F 26 - Day 5
S 27 - /
S 28 - /
M 29 - Day 6
T 30 - Day 7
W 1 - Day 8
T 2 - Day 9
F 3 - Day 10
S 4 - /
S 5 - /
M 6 - Day 11
T 7 - Day 12
W 8 - Day 13
T 9 - Day 14
F 10 - Day 15
S 11 - /
S 12 - /
Ep 9 & 10
Edit
M 13 - Day 1
T 14 - Day 2
W 15 - Day 3
T 16 - Day 4
F 17 - Day 5
S 18 - /
S 19 - /
M 20 - Day 6
T 21 - Day 7
W 22 - Day 8
T 23 - Day 9
F 24 - Day 10
S 25 - /
S 26 - /
M 27 - Day 11
T 28 - Day 12
W 29 - Day 13
T 30 - Day 14
F 31 - Day 15
November
Edit
Ep 11 & 12
Edit
Imdb stunt listing
Edit
Added before 2004
Edit
These performers potentially had a role in Seasons 1-3.
Added 2004-2005
Edit
These performers potentially had a role in Seasons 1-4.
Added 2005-2006
Edit
These performers potentially had a role in Seasons 1-5.
Added 2006-2007
Edit
These performers potentially had a role in Seasons 1-6.
Community content is available under
CC-BY-SA
unless otherwise noted.