Hello all, my name is Matthew, I hail from North Wales and I am a 24 fan (obviously, why else contribute here?). I've been watching the show since Day 2: 3:00am-4:00am. After Season 3 and Season 4, I caught up on Season 1 and the remainder of 2 by purchasing the first three seasons on DVD. My favourite season is either 4 or 5.
Collection
[
]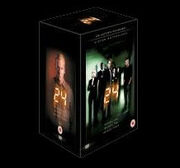 Contributions
[
]
I mainly go and correct stuff, but often taken part in expanding the wiki as well. At one point I was a recipient of the admin Blue Rook's "Dead-on" barnstar.
Created pages
[
]
Written episode guides
[
]
Star gallery
[
]
Below are images of some of the 24 characters, with names of major characters from other films and TV shows that I know them from.
Season 1
[
]
Season 2
[
]
Season 3
[
]
Season 4
[
]
Season 5
[
]
Season 6
[
]
Redemption/Season 7

[

]
Season 8
[
]
Live Another Day

[

]
Legacy

[

]
Kiefer Sutherland's interview in Friday Night with Jonathan Ross
[
]
On 16 April 2010, Kiefer Sutherland was interviewed by Jonathan Ross in his BBC talk show. Here are some of the highlights from what I remember;
Other wikis you can find me on
[
]