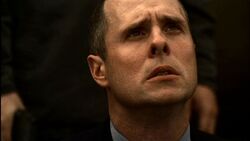 Hello all, my name is Matthew, I hail from North Wales and I am a 24 fan (obviously, why else contribute here?). I've been watching the show since Day 2: 3:00am-4:00am. After Season 3 and Season 4, I caught up on Season 1 and the remainder of 2 by purchasing the first three seasons on DVD. My favourite season is either 4 or 5.
Collection
Edit
Contributions
Edit
I mainly go and correct stuff, but often taken part in expanding the wiki as well. At one point I was a recipient of the admin Blue Rook's "Dead-on" barnstar.
Created pages
Edit
Written episode guides
Edit
Star gallery
Edit
Below are images of some of the 24 characters, with names of major characters from other films and TV shows that I know them from.
Redemption/Season 7Edit
Live Another DayEdit
Kiefer Sutherland's interview in Friday Night with Jonathan Ross
Edit
On 16 April 2010, Kiefer Sutherland was interviewed by Jonathan Ross in his BBC talk show. Here are some of the highlights from what I remember;
Other wikis you can find me on
Edit
Community content is available under
CC-BY-SA
unless otherwise noted.