My Proud Hug
Rank
Co-Founder & Administrator
First Seen
1978
Last Seen
2010
Status
Alive
"If a thing's worth doing, it's worth doing to ridiculous excess."

— Qov
Proudhug is a co-founder and administrator at Wiki 24. While not much into writing long sprawling articles, Proudhug tends to stick to minor edits and maintenance of the site's rules and format. He loves to chat about the minutiae of the show and Wiki 24 itself on Talk pages. Proudhug monitors nearly every edit to Wiki 24, keeping his eyes peeled for vandalism, and is constantly brainstorming ways to make the site even better than it already is. His second biggest fantasy is that the creators of 24 use this site as a reference when writing the show. His biggest fantasy is that the creators secretly contribute to Wiki 24 itself.
Known information
[
]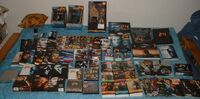 Proudhug was born and raised in south-western Ontario, where he currently works in a casino. He began watching 24 in November of 2001 when the show premiered on Fox and has watched religiously ever since. In addition to the show itself, Proudhug has amassed a collection of all available 24 books, comics, DVDs, and games, and has begun work on an extensive timeline of events, parts of which he plans to begin incorporating into Wiki 24 as soon as he can. Also, he's recently undertaken a project to map out every location ever seen or mentioned in the 24 canon.
He has been fortunate enough to have talked with two members of the 24 production team. In January of 2005, he made it through on the fan phone on his very first try, and spoke to KC Warnke who was out scouting locations. And in September of 2008 he attended the Canadian premiere of Glenn Morshower's motivational seminar "The Extra Mile" and was able to meet and speak with the man himself.
But Wiki 24 itself is his proudest achievement. Three years in and he marvels every day at how amazing this site has become. He is deeply grateful to every contributor to the site and hopes they all share in his amazement with everyone's collective accomplishment here.
In addition to 24, Proudhug's other obsessions include Dark Shadows, The Blair Witch Project, He-Man, Earth 2, Roswell, Stephen King, and Dallas.
Proudhug has been active in local community theatre projects for the past ten years. His CV includes two roles previously portrayed by Željko Ivanek; Mark Dolson in Mass Appeal, and Stanley Jerome in Brighton Beach Memoirs. If there's ever a stage production of 24, Proudhug is first in line to play Andre Drazen.
Recently, he's begun venturing into amateur filmmaking. He's currently finishing principal photography on his first script, and starting work on writing his second.
Turn-Ons

intelligence and logic
redheads
Trey Parker
John Mayer
movies with far too many sequels
Zooey Deschanel
collecting complete sets of anything
women who play musical instruments

Turn-Offs

faith without evidence
rednecks
Oprah Winfrey
Cats/Moths
Disney
onions
Muppets
ABBA
sports fans
JFK conspiracy theorists
Current status and agenda
[
]
Proudhug loves the off-season, as it gives Wiki 24 a chance to get caught up on things and leaves only the true 24 fans sticking around to work on the site. However, this off-season has gone on long enough.... Bring on more 24!
Some of his current plans include:
completing his 24 timeline and incorporating some of it here
completing and verifying the list of character appearances (how you can help)
mapping out every location seen or mentioned in the 24 canon
overhauling the site's disambiguation system to make it more consistent and complete
See also
[
]