SignorSimon
Rank:
"Image Expert"
Status:
Alive
I'm Simon, and have been a big fan of 24 since 2004 when I saw Season 4 (about episode 3/4 - Sky One was having a marathon!).
My biggest claim to 24 fame is meeting Carlos Bernard at the Season 7 Region 2 DVD release party at HMV on Oxford Street, London, on 19 October 2009. What's more, three copies of the Season 1-7 boxset were available to be won upon answering a tough question about the show. Naturally I put my hand up and came home with the 48-disc set, signed by Tony Almeida himself! I also got a photograph with the man.
Favourites
[
]
Characters
[
]
Picture
Character
Favourite Recurring Character: Aaron Pierce
Aaron Pierce Rocks! He always manages to come at the right time to save everyone's ass!
Favourite Regular Character: David Palmer
Palmer was my favourite character from the start: it killed me when he was assassinated!
Favourite Regular Character: Bill Buchanan
Buchanan replaced Palmer after he died as my favourite character. He helped Jack out on numerous occasions - what a great guy! I want to kill these bastards.
Least Favourite Character: Lisa Miller
She just irratated the hell out of me... I just thought she was a shit actress! And the whole affair storyline with VP Daniels was ridiculous.
Worst Character Change: Wayne Palmer: Season 5 - Season 6
In Days 3 & 5, Wayne Palmer was great! He was a real action guy, especially helping Jack in Day 5. But what a stupid President in Day 6 - worst decision in 24.
Episodes
[
]
Picture
Episodes
Favourite Season: Day 2
It's a real toss-up between Day 2 and 3, but I'd have to pick Day 2. The return of Jack, David Palmer as the President, Kim and the cougar (LOL!), George Mason going nuclear, the shocking return of Nina (and of Sherry), its all great! Also, Tobin Bell (Peter Kingsley) was a great actor for the bad guy!
Least Favourite Season: Day 6
It's not that I thought it was bad... I could never think 24 was bad! It just didn't live up to the standards of the others. Some bad storylines, thats all (i.e. Wayne Palmer as President (see above), the Lisa Miller/Noah Daniels storyline, Curtis' death etc.)
Favourite Episode: Day 2 10:00pm-11:00pm
This episode just had it all: the death of a great character, the sad goodbye between Jack and Kim, the nuclear explosion... this episode epitomises why I love 24.
Favourite Silent clock: Ryan Chappelle's death
This has to be the saddest and most moving silent clock there has been on the show in my opinion, made more so by the lack of a split screen as the episode came to an end...
See also
[
]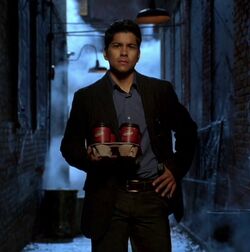 Thanks for reading
[
]
If you'd like to contact me, leave a comment on my talk page. Thanks for reading!