This is an archived talk page with discussions from Nov 2016 to Feb 2021. Feel free to peruse this and the other archives for reference:
However if you need to contact me about anything, please use my current talk page rather than this one. Thanks!
Tense
[
]
For the Mark Gelson since he is still alive, I feel it should be "Mark Gelson is a former movie star" instead of "Mark Gelson was a former movie star." The past tense implies he's dead. (RangerSmith (talk) 23:52, November 21, 2016 (UTC))
Message Reply
[
]
All right, well if you haven't figured it out yet I forgot whether or not it's better to reply to messages on my talk page or to respond on yours. >__< But anyways. Yeah, I did have an account here many years ago. But after the show "ended," I kinda lost interest in Wikis in general, including this one. Seeing the trailer for Legacy got me back into 24 again, plus I discovered that the Omnibus bundle and Underground comics were on sale over the holiday, so I bought them. Then I discovered that the Expanded Universe deaths list was incomplete, and that several characters don't have their own pages. So I'm here to rectify all that. ;) Anyway, thanks for the tip about the images; I forgot to license and categorize them as well. I'll be sure to ask you or Rook any questions in the future if need be. TykTrope59 (talk) 12:09, November 30, 2016 (UTC)
Amtrak
[
]
Any idea what category should be used on Amtrak? BattleshipMan (talk) 16:27, December 10, 2016 (UTC)
Charlie Grisham in 24
[
]
The image of Charlie Grisham is needed since Fernando Chien told us about that stuntman alongside Jalil Jay Lynch who portrayed CTU security guards on "Day 6: 2:00am-3:00am". BattleshipMan (talk) 23:00, December 12, 2016 (UTC)
New 24: Legacy behind the scenes trailer
[
]
I found the 24: Legacy behind the scenes trailer that is on the link here. It has some new additional scenes and reveals the full name of Bailey Chase's character as Thomas Locke. I made a redirect from Locke to Thomas Locke. But the only slight problem is that the redirect link of Locke is still there because I don't have admin rights to this wiki. Other than that, I think I did everything right about the discovery of the full name of Bailey Chase's character. BattleshipMan (talk) 21:46, December 22, 2016 (UTC)
News of the 24: Legacy prequel
[
]
This is the news of the 24: Legacy on the link here that tells you the name of it, what it's about and when it will come out. BattleshipMan (talk) 19:25, January 9, 2017 (UTC)
Day 5 timeline
[
]
Is there any issue with what I've added in regards to the possible date of Day 5? I actually went on www.timeanddate.com to specifically find out the information. I'd also like to point out that Day 2 used sunset time to suggest the date of it. Denny Tsang (talk) 21:31, January 23, 2017 (UTC)
Hey man, thanks for reaching out! Basically the info is fine, you are using a clue from the show to try and work out the date, but that is possibly not the right place for it (I didn't notice about the Season 2 info, I think that should probably be removed too). If you check out Timeline#Day 5 you'll see there are a few different clues about what the date/year is, but many of them are contradictory! Listing them all on the season pages would be quite unwieldy, but please feel free to add the info to that "theories about the timeline" section I just linked to. That way we can keep all the different possibilities together in one place, rather than placing one as an "assertion" on the Season page. Hope that makes sense - apologies I was not more communicative after I removed your edit!--Acer4666 (Talk) 21:44, January 23, 2017 (UTC)

I went ahead and added your info to the Timeline#Day 5 section :)--Acer4666 (Talk) 00:35, January 24, 2017 (UTC)
Terrorist Category
[
]
I'm back! :) Also, why do we have a terrorist category (i.e. for Ibrahim Bin-Khalid) it seems unneeded.--SuperbowserX (talk) 20:28, February 17, 2017 (UTC)
Hey, welcome back! As for that category, on the talk page it seems like we were waiting for Pyramidhead to reveal his intentions for it, as he created it. I presume it would have been a parent category for the various terrorist organisation categories, as well as a catch all for any that weren't part of those, but seems like it hasn't been implemented yet. You may be better off asking Pyramidhead if he plans to utilise it further--Acer4666 (Talk) 22:34, February 17, 2017 (UTC)
Create a slideshow of westgate mall
[
]
Please, I went to a lot of trouble to capture the slides, it has historical significance
Let the reader decide on its relavance, if they do not like it they do not have to look at it
Nemo2012 (talk) 20:08, March 8, 2017 (UTC)
Spotlight Request
[
]
Hello. Wiki 24 looks good; I realize that the delay in the requested spotlights puts it past the premiere of the new show. Are you still interested in a spotlight? If so, please let me know on my talk page and I will be happy to add it to the approved spotlight list. -- Wendy (talk)  04:08, March 14, 2017 (UTC)
Problem of year
[
]
Hey there Acer4666. I just noticed a mistake on the site. Claudette Mink has his birthdate message linked on het page as 4 April 1971. Yet, on the template On This Day her year is listed as 1975.
Something should being fixed, because one of them is incorrect. --Station7 (talk) 22:04, April 4, 2017 (UTC)
Unnamed security guard
[
]
I'm not 100% sure if This CTU Aide belongs to the unnamed security guards, although I did noticed that he was in the CTU security uniform when he came in to see Andy Shalowitz in the infirmary. That's why I put that unnamed character on there. If you think it should be moved, go ahead. BattleshipMan (talk) 06:00, April 8, 2017 (UTC)
Script info
[
]
Hey Acer, wondering if you have script info regarding the finale episode. Would like to know how much they've changed between the original script and the aired episode. Thanks! --William (talk) 02:27, April 19, 2017 (UTC)
Gregory J. Barnett
[
]
I think that fourth Coral Snake soldier is definitely Gregory J. Barnett. Same facial looks at the image of that soldier and the image of his behind the scenes interview of him on 24: Exposed, as well as the other images of him. BattleshipMan (talk) 20:49, June 20, 2017 (UTC)
Stunt team's behind the scenes on Legacy
[
]
Acer, You might want to check out this video. It's about the behind the scenes of the stunt team's action on Legacy. BattleshipMan (talk) 04:57, June 27, 2017 (UTC)
Hey thanks, yeah I saw that. Unfortunately doesn't have much useful info/shots of any stunt performers :( I wonder why they're releasing videos on the youtube channel after the show has been cancelled?--Acer4666 (Talk) 21:48, June 27, 2017 (UTC)

Yeah, that's what I've been wondering too. I think we will have create articles of the ones that were interviewed, including the stunt coordinator Eric Norris. BattleshipMan (talk) 22:14, June 27, 2017 (UTC)
Featured article nomination
[
]
I added an nomination for featured article if you want to look at it. BattleshipMan (talk) 00:00, July 17, 2017 (UTC)
Amazing stuff
[
]
Hey dude! Sorry I've been away, working on the Twin Peaks wiki and - I won't lie - I was kind of disgusted with the state 24 is in so I've kinda checked out. You've been doing amazing stuff on all the India pages though, I'll try to pitch in where I can. --Pyramidhead (talk) 00:02, August 9, 2017 (UTC)
Just wanted to add: I never imagined I'd be looking forward to the next season of the Bollywood version more than the U.S. one lol :/ --Pyramidhead (talk) 00:10, August 9, 2017 (UTC)

No worries, and thanks! Yes, I too have been neglecting the "Legacy" stuff, due to my general fatigue with it all... but hopefully will get around to it at some point.
In regards to the Indian stuff - I was a bit stumped on how to deal with the season 2 images all having watermarks. I've managed to get a hold of some copies of episodes without watermarks, but not all of them annoyingly! It'd be good if we could get non-watermarked images for the season 2 stuff--Acer4666 (Talk) 00:11, August 9, 2017 (UTC)
24 India
[
]
Hey, Acer. Hope you're doing OK. I see you making a lot of updates on the Indian 24. How do you like the show? Is it any good? Do you recommend it? :-D Thief12 (talk) 01:20, September 11, 2017 (UTC)
Hey! Yeah, I think it's alright, although it's probably because I'm such a fan of the first series of the American show I find it interesting to see how they did it and what little differences there are. It's certainly no cheesy bollywood thing, the acting isn't too shabby, and it's interesting to see the differences in culture - no on-screen kissing, let alone sex scenes, but a lot looser with bad language compared to American version. I wouldn't say it's particularly worth going to too much trouble to watch, but it's not bad.--Acer4666 (Talk) 20:42, September 12, 2017 (UTC)

Acer, any chances of updating more of Season 2/India stuff? BattleshipMan (talk) 23:41, December 28, 2018 (UTC)
24 Legacy DVD release date
[
]
This is the DVD release date of 24: Legacy, according to this link. BattleshipMan (talk) 06:54, October 17, 2017 (UTC)
Trivia help?
[
]
Hello. I am Lady Aleena from the Tommy Westphall Universe wiki. I am doing my best to catalog all of the connections made by them, however, I can't find anything on the connection 24 has with Lou Grant. The connection they made is that someone on 24 read the LA Tribune, the paper from Lou Grant. I need help proving or disproving that connection. So, is there a place here I can go to ask about trivial matter such as this? 24 has an establish connection in Westphall just because someone in "Day 8: 9:00 p.m. — 10:00 p.m." smoked Morley cigarettes.
Any help would be appreciated, though I will understand if such a trivial thing is not a priority. Lady Aleena (talk) 23:51, October 27, 2017 (UTC)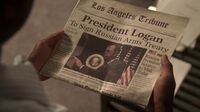 Hey Lady Aleena! Thanks for getting in touch :)
You are right in that the Los Angeles Tribune was used in 24 - it appeared in Day 5: 7:00am-8:00am, the premiere of Season 5, and was being read by David Palmer shortly before he was shot and killed. The paper described the treaty that was happening that morning. Hope this helps!--Acer4666 (Talk) 01:17, October 30, 2017 (UTC)

Thanks Acer! Would you please be so kind as to leave the photo there for a while? I still haven't found what the LA Tribune looks like on Lou Grant, but you have been a tremendous help! Lady Aleena (talk) 02:09, October 30, 2017 (UTC)
By the way, the articles about the 24 family of series needs a little bit of help on the TWU. We have 24 spinning off 24: Live Another Day, 24: Legacy, and CNB News appearing on Tyrant andHomeland. If you know someone who would be willing to write up series summaries on the TWU, I would be grateful again!
Word of caution, the TWU is insane! Lady Aleena (talk) 02:15, October 30, 2017 (UTC)

Hmm.. would it be accurate to say that according to TWU, the events of 24 are simply the fantasy of a boy with autism? Blue Rook (talk) 05:31, October 30, 2017 (UTC)

Blue

 

Rook

  

talk

  

contribs

05:31, October 30, 2017 (UTC)

Yes, but let's not clutter up Acer's talk page with this. Let's just say I know how ridiculous the theory is. See my profile. 8) Lady Aleena (talk) 06:49, October 30, 2017 (UTC)

Ah cool! Yeah I will leave the photo around so you can use it. The Lou Grant version looks like it has a different font for the title, but potentially the 24 version could be what it looked like in 2006, and there was a slight style adjustment between the 70's and then. But, I'll leave the theorising to you! :)--Acer4666 (Talk) 10:19, October 30, 2017 (UTC)

You are wonderful, thank you! By the way, I am just a person cataloging the theory not writing it. I leave that to others. There is so much in the theory that does not make sense. Lady Aleena (talk) 16:59, October 30, 2017 (UTC)

Hello again! Recently I had to make a decision on the legitimacy of another crossover based on the appearance of another newspaper, the San Fransisco Register. I decided it was legitimate because one community seems to accept it. So, I would like to leave it up to your community to decide whether or not the LA Tribune creates a legitimate, or even quasi-legitimate, connection between Lou Grant and 24. What do you think about leaving it up to your community? Lady Aleena (talk) 07:24, November 6, 2017 (UTC)

Hey there! For me, I would leave that kind of decision up to people more knowledgeable about the Tommy Westphall Universe as they will have context of the other kinds of connections that have been allowed/disallowed. However, you are welcome to consult the community here by making a post on the forum - personally, I probably can't comment one way or the other as I don't know enough about the TWU!! Hope that makes sense--Acer4666 (Talk) 19:26, November 6, 2017 (UTC)

Forum discussion with thanks for allowing it. Hope to see you there, unless the topic has worn thin for you. Lady Aleena (talk) 07:58, November 7, 2017 (UTC)
Hi sorry, I was just going to random pages and seeing what I could fix. What is the talk page for it? Thanks
Interlanguage links CSS
[
]
Hey there! I'm sure you were expecting us to contact you about this at some point, as we noticed you are hiding the language dropdown.
We're okay with the icons you have at the top right corner, so I'm not sure why this need to be mutually exclusive with the dropdown. Why would you want to remove the standard interlanguage links to avoid showing the dropdown?
Thanks for your time! -- Kirkburn (talk) 17:13, January 5, 2018 (UTC)
Couple of things
[
]
A couple of things. Designated Survivor has been cancelled by ABC, so that's another show by Kiefer Sutherland cancelled in two seasons, like Touch.
Second thing. We need to change the quarterly featured article since I got one nominated. BattleshipMan (talk) 21:25, May 11, 2018 (UTC)
Almost at 9,000 articles
[
]
We're almost at 9000 articles. I created some of the actors from 24: The Game and two background actors on Legacy, one of them unfortunately doesn't have the IMDb link. What and how do you think we should create to reach that milestone? BattleshipMan (talk) 20:24, June 14, 2018 (UTC)
I don't think we should make articles just to reach an arbitrary milestone; if you have articles you want to create in order to improve the wiki's completeness, that's great!
And besides, 9,000 is only a milestone for those people who count in base 10! ;)--Acer4666 (Talk) 17:31, June 15, 2018 (UTC)

Alright, that wasn't easy for me to find the right articles to create in order to get to 9,000 articles. But I did it as you know. BattleshipMan (talk) 00:55, June 20, 2018 (UTC)
Chris Sorrell
[
]
Hey, sorry about the flop with the Chris Sorrell article. Like you said, it was an edit conflict and I missed it. I'm currently chatting with Chris on LinkedIn, and he's giving me a lot of cool information about the development of 24: The Game. Thief12 (talk) 23:55, July 23, 2018 (UTC)
Dailyn Matthews
[
]
What do you think of what I did for Dailyn Matthews? BattleshipMan (talk) 22:21, August 5, 2018 (UTC)
Chino Binamo
[
]
According to Memory Alpha (Star Trek) wiki, Chino Binamo appeared in 24, based on ThomasHL's previous edits on that wiki. Also, this is his IMDb link. The filmography and profile states that he portrayed Arabic roles in movies and shows. It's likely too difficult to proof he appeared in 24, despite that edit on Memory Alpha wiki. BattleshipMan (talk) 06:43, August 27, 2018 (UTC)
Henry Taylor
[
]
The reason I redid both edits (one including yours) was I think incarcerated is irrelevant to the family member's status, since I think living, deceased and divorced is relevant for the family members of those characters. BattleshipMan (talk) 17:16, September 2, 2018 (UTC)
Designated Survivor revived
[
]
Designated Survivor has been revived by Netflix. This is link to it. https://ew.com/tv/2018/09/05/designated-survivor-saved-netflix-season-3/ BattleshipMan (talk) 02:42, September 6, 2018 (UTC)
Cool. Do you watch Designate Survivor, or contribute to their wiki? I got a bit bored of it and stopped watching--Acer4666 (Talk) 06:38, September 6, 2018 (UTC)

Oh, no. I never watched that show. I just thought I should update the Kiefer Sutherland article about it since he will be returning to it. BattleshipMan (talk) 17:09, September 6, 2018 (UTC)
You better take a look at this.
[
]
You need to look at this. https://community.wikia.com/wiki/User_blog:TOR/Join_us_in_protecting_the_freedom_of_user-generated_content
Fandom migration
[
]
Any feedback on this? Thanks! Thief12 (talk) 00:18, October 16, 2018 (UTC)
Request to enable Discussions
[
]
To follow up on this, Fandom support has requested me to ask all active administratos (in this case, you and Blue Rook) if they consent to enabling Discussions, and then e-mail them a link to your responses. Thanks! Thief12 (talk) 13:43, November 5, 2018 (UTC)
Paul Howell
[
]
Hey, isn't the armed mercenary in Jurassic World: Fallen Kingdom on the left side here the LAD stunt performer Paul Howell? BattleshipMan (talk) 19:42, January 28, 2019 (UTC)
I don't think so. It looks more like Douglas Robson to me (who also appeared in LAD - I'm pretty sure as a SWAT team member, but I can't remember which episode, I can picture him in it but can't find the scene!)--Acer4666 (Talk) 20:41, January 28, 2019 (UTC)
Two 24 spinoff plans not going to happen
[
]
The two planned 24 spinoffs, including the Jack Bauer prequel, are not going through. Here's the link below.
https://deadline.com/2019/02/24-offshoot-deadl-franchise-may-return-1202551109/
BattleshipMan (talk) 01:27, February 7, 2019 (UTC)
Well I guess I better take that poll down. :/     Nitromancer  (Talk)    06:09, February 7, 2019 (UTC)

Ah well. I'm still holding out for The Wacky Adventures of Phil Parslow, myself--Acer4666 (Talk) 20:00, February 7, 2019 (UTC)
The first Cheng operative killed in 6x19
[
]
Acer, I think I found out who did Cheng's first operative Jack killed before Jeff Imada is on Day 6: 12:00am-1:00am. I think it's stuntman Andy Cheng, based on facial recognition on the 3:32 on this video with the flash of gun fire from his weapon and his page on the Olympus Has Fallen wiki. See what you think? BattleshipMan (talk) 19:11, February 16, 2019 (UTC)
Deepak Dutt Sharma
[
]
Acer, someone is adding additional information of actor Deepak Dutt Sharma, but he doesn't seem to have the experience and doesn't know the rules of this wiki. He uploaded a photo that is not 24-related and the layout of the page is messy and inconistent. See what you can do when you see this. BattleshipMan (talk) 05:06, February 23, 2019 (UTC)
Hey, I've put back the information he added, and fixed the styling. In general, if you don't want to fix the styling yourself, please just leave it and don't delete people's legitimate content; see our policy, saying "Rework and rewrite as much as you want, but try to find a place for everything rather than cutting it out completely". Thanks.--Acer4666 (Talk) 09:48, February 23, 2019 (UTC)

I would add that you need to find less "confrontational" ways to address these concerns with guest editors, which is also part of the policy that Acer linked. Like he said, fix what you think it's wrong, but also redirect the guest editors to our policy page and our Manual of Style so they are aware of how we do things, while always being civil and respectful. Unless the editor is blatantly vandalizing, "assume that the other person is acting in good faith". Thanks always for your help. Thief12 (talk) 21:00, March 19, 2019 (UTC)
Acer, in the 2:50 timestamp of this video, Simone passes by on the poster of the 2014 Liam Neeson movie Non-Stop at Charing Cross Station. By coincidence, Corey Hawkins was also on that movie. BattleshipMan (talk) 00:11, March 19, 2019 (UTC)
Chad Randall
[
]
I added the article of Chad Randall since William.Y.Fremont added his name on "Day 3: 2:00pm-3:00pm". It will need some expansion. BattleshipMan (talk) 20:57, April 10, 2019 (UTC)
Mitchell Dean
[
]
How did you find out that Mitchell Dean was on Day 2: 2:00pm-3:00pm as one of the SWAT agents? BattleshipMan (talk) 23:17, April 27, 2019 (UTC)
I contacted him to ask--Acer4666 (Talk) 23:24, April 27, 2019 (UTC)

Good to know. BattleshipMan (talk) 23:26, April 27, 2019 (UTC)
Backstory of the characters who portrayed Gaines' henchmen
[
]
I added the background stories of Gaines' men played Dustin Meier and William H. Burton, Jr. on their pages, as well as Chad Randall's character in season 3. I just haven't added the images of Meier and Burton's characters or Randall's character's background in season 1.
Possible ID of stunt guys
[
]
Hey, Acer. What did you about some of the possible finds of stunt guys in your stunt talk pages? BattleshipMan (talk) 04:22, June 21, 2019 (UTC)
Hey! Sorry, I've been away + offline for a while now, but am back - are there any particular ID's you are thinking of (as I've probably missed a load!!)--Acer4666 (Talk) 10:01, July 7, 2019 (UTC)

Nice to see you back! I've even sent an email to your email address asking about you haha. Anyway maybe you can start with the Wiki 24:Unknown performers page? --William (talk) 11:25, July 7, 2019 (UTC)
Your Wiki Manager!
[
]
Hey there! My name is Mandy, and I'm the Fandom Wiki Manager assigned to the 24 Wiki. No worries, I am not here to take over. My job is to help the community and serve as a liaison between contributors and full-time Fandom staff. I will be your primary point of contact should any assistance be needed, so if you ever have a question or issue relating to the wiki, editing, etc., don't hesitate to leave a message on my talk page and I will do my best to help. If I am unable to solve your issue, I will be able to get in contact with a staff member that can. I will also be getting in contact with the rest of the active admins in this community to introduce myself and inform them of my position. In the meantime, please let me know if there's anything I can do for you or if you have any further questions regarding my role, and I will get back to you as soon as I can. Looking forward to working with you in the future! —idekmandy 16:15, June 26, 2019 (UTC)
Featured article
[
]
I think it's time to change the featured article to John Meier since we agreed to it. BattleshipMan (talk) 23:25, July 8, 2019 (UTC)
Fandom Discord Server
[
]
Hey! Just in case you don't know, I'm excited to inform you that Fandom now has an official Discord server for Fandom and Gamepedia editors! If you're interested in joining, you can learn more about it in this blog post. Ultimately, the server allows for better communication with staff and fellow editors, and I will be easily accessible there if you ever need any help. Let me know if you have any questions. Hope to see you there! —idekmandy 17:43, July 10, 2019 (UTC)
Your stunt pages
[
]
Acer, I think you work on your stunt pages and add stunt pages from season 7, season 8, LAD and Legacy. So please, get to it when you can. BattleshipMan (talk) 16:12, July 30, 2019 (UTC)
Keith Woulard
[
]
Hey, Acer. William.Y.Fermont and I think that Davies in season 3 might be Keith Woulard, just like we think it's home as Cimbe in season 7. BattleshipMan (talk) 17:28, August 9, 2019 (UTC)
New Analytics Dashboard
[
]
Hi! I'm here to bring you big news from Fandom! The new Analytics feature has just been released for admins, which you can read more about in this blog post. This feature is particularly exciting because it will give you access to insightful statistics that allow you to see what areas are doing well and how to best capitalize on them in order to strengthen the community. You can visit Special:Analytics to access the data, and if you need any help, you can check out the help page for additional information. Please let me know if you have any further questions or feedback and I'll be happy to answer :) —idekmandy 20:12, August 14, 2019 (UTC)
I actually had the exact same concerns as you. Fandom uses several different sources to pull data on page views, which is why you might see some inconsistencies via Insights, etc. And of course no data can ever be 100% reliable, but Special:Analytics is the closest you're gonna get, as it pulls stats directly from Google. Also Analytics is updated daily whereas Insights are not, and we all know that sometimes the page view section of the admin dashboard breaks and shows 0 views. So as of right now, Analytics is hands down the most useful and accurate of the three. —

idek

mandy

05:00, August 15, 2019 (UTC)
Editor Rewards
[
]
Hello! Just in case you haven't heard, Fandom has launched a new Editor Rewards Program to thank hard-working users for their contributions to the platform. You can check out all of the information in this blog post. Feel free to comment on the blog if you have any feedback, questions, or concerns, and the Editor Experience Team will be happy to answer! —idekmandy 09:21, September 5, 2019 (UTC)
Feature articles
[
]
Hey, Acer. Since November 1st is at Friday, we should change the featured articles with the one that is nominated. BattleshipMan (talk) 17:11, October 30, 2019 (UTC)
Checking in
[
]
I'm just checking in on you. You were away for a month. I'm hoping you're still want to help with this wiki in anyway possible. BattleshipMan (talk) 03:53, December 30, 2019 (UTC)
Wiki Manager change
[
]
Hi Acer, I'm Lostris, and I will be taking over from Mandy as your Wiki Manager. I also contacted your fellow administrators, Thief12 and Blue Rook, to alert them as well of this change, though nothing in terms of support has changed, just your point of contact.
I would also like to take this opportunity to highlight two blog posts regarding the "Unified Community Platform" (UCP for short).
Although the message wall system is not in use here, the update regarding the profiles is still an interesting read. One of the biggest changes on the UCP, the one to the wiki editor, will be introduced somewhere next week, so that's definitely something to look forward to!
Please do not hesitate to reach out to me to let me know any and all problems you may have on the wiki, I am here to help. Kind regards, Lady Lostris /

18:39, March 7, 2020 (UTC)
Cops in 7x09
[
]
Those two cops in 7x09 do resemble Norman Howell and Scott Wilder. Also, you should add your stunt pages of seasons 7 and 8. BattleshipMan (talk) 17:09, March 22, 2020 (UTC)
Adding gif
[
]
Hey Acer, I was thinking about adding gif pics for some of the stunt driver roles or other stunt roles that we can't really see their faces. For example we may add this gif, which is two stunt drivers making a swerve in "Day 7: 5:00pm-6:00pm", to your user page so if we send it to the pros someday they may actually remember after seeing these "mini stunt reels" instead of some blurry pictures. --William (talk) 16:00, April 25, 2020 (UTC)
I don't think we should use gifs in main articles and we should only use them for necessary proposes like identifying unknown performers and such. BattleshipMan (talk) 16:06, April 25, 2020 (UTC)

Well I've added a few on my userpage here, though I've also took the liberty of inserting a gif of Daniel Dow as he doubled for Branko Tomović climbing down a shaft. I don't want to debate what is necessary purpose and my only goal back then was to make others have a better idea of which part did Dow really double for Belcheck. Do you think that I should remove it?
Still, I definitely think that some gif pics speak louder than blurry/out of focus/face-covering stunt drivers. --William (talk) 16:22, April 25, 2020 (UTC)

That's what I meant. Gifs are necessary to help ID unknown performers. BattleshipMan (talk) 16:23, April 25, 2020 (UTC)
CTU agents at Felsted (4x07)
[
]
Hi mate, hope you're well. Just a quick query about images re: the CTU agents in 4x07 at Felsted Security.
We know there was Craig Erwich and Rick plus at least two other agents. The deaths on 24 page implies there was 5 (inc those two named) but I've only picked up four (Craig Erwich, the black guy who goes to the reception, the driver, and the agent who gets out of the front after Jack).
Two dead agents are shown on the CCTV, the black guy and a white guy, I'd assume he's the one that got out of the SUV after Jack, or could that be the fifth one? Hard to tell haha! And Craig and the driver agent were somewhere else.
Came across your photobucket and saw screencaps of those (a lot better than mine that I uploaded yesterday!) - was wondering if I could use yours instead for a userpage I'm working on? My screenshots aren't as high quality tbf, I've tagged mine with fairuse and the correct episode so I think (but not too sure) that should be fine, but feel free to remove if they're not okay.
Also left another comment in reply to my first on your CTU staff talk page, not sure if you've seen already but I formatted wrong the first time so don't know if you got a notification! (Sorry still a bit new to all this)
Thank you!
LeeCastle24 (talk) 18:40, May 25, 2020 (UTC)
Hi, maybe you can refer to this discussion on Felsted for more info on the CTU agents. Now I have some problem accessing photobucket so I can't really verify what I have posted back then. I vaguely remember that the guy in the shotgun seat (left SUV right after Jack) wore a black jacket, while the white agent seen on CCTV feed was in a green jacket and plaid shirt. So we think they are different people and the CTU field team was consisted of 5 persons excluding Jack. --William (talk) 13:51, May 31, 2020 (UTC)
Hi William, hope you're doing well mate!
Yeah I was looking through that discussion. Not sure if you can access the Photobucket links there but that's what I was referring to! Didn't notice that the jackets are different, great spot! Even still, there's cases for both ways:
Evidence "for" that there's five agents = the difference in jacket between the "shotgun" agent and the body next to the black guy, Craig mentioning there's four in the team
Evidence "against" = possibility that could be a Felsted employee? How many people can fit in the SUV? There'd be Jack, Audrey, Craig, driver + shotgun agents, the black guy as just one car pulled up. That's six, unless it's a 7 seater so green coat guy could be there too. Also the debate on whether Craig meant four including or excluding him!
Thanks for bringing that up! Guess it's hard to be sure hahaha! - LeeCastle24 (talk) 21:29, May 31, 2020 (UTC)
Actually two SUVs (light blue and grey) arrived at Felsted, so there's no worry on capacity of car, and it's safe to say that at least 5 CTU agents were killed. --William (talk) 04:41, June 1, 2020 (UTC)

I think this is possibly something to reconsider (sorry currently I am having computer issues so my access to the wiki is sporadic atm!!)
When Craig talks about the numbers in his team he says there are "4 of us" which unambiguously counts himself as one of the four, which is possibly something to square away against the numbers we see in person. From the photobucket photos, I'm not convinced that the shotgun agent is definitely a different person to the white dead agent seen on CCTV (jacket colour appears a little different but the shotgun agent is barely seen in shadow when getting out the car). I would need to revisit the episode but can't right now!--Acer4666 (Talk) 11:11, June 1, 2020 (UTC)

From this shot we can see the shotgun agent from Jack's SUV, the black agent and a white agent who got off from the escort SUV. Though Jack did mention a "Craig" over the radio, production wise speaking I think the three guys in the above linked pic and Jack's SUV driver were the only agents there, and Kelvin Han Yee was simply not present at the location. --William (talk) 15:15, June 1, 2020 (UTC)

Wow, that's a great spot there! So from Jack's SUV it was just Jack, Audrey, the shotgun and driver agent (which makes sense as there was no evidence of Craig, the black agent or any other agents in the shots inside the SUV). The escort SUV must have had Craig, the black agent and I'm assuming the Caucasian agent (very hard to see him in that photo you posted, do you think he could be the green agent?) Kelvin Han Yee must not have been there production wise which is strange given that he seemed to be the team leader. Given that canonically we can assume he was in the same SUV as the black agent who I thought would be Rick, that could possibly mean that Rick could then be the shotgun agent? - LeeCastle24 (talk) 15:52, June 1, 2020 (UTC)

Yeah I guess canonically Craig was supposed in the escort SUV, though we didn't really see him and Kelvin probably just filmed his (only) scene in the CTU bullpen, which was somehow strange. It's indeed hard to see the caucasian guy in the photo, but I think he's white (doesn't look Asian) and is the green jacket agent. --William (talk) 16:02, June 1, 2020 (UTC)
Also I don't really think Rick is identifiable as there are several other agents and there is no proof that Rick definitely rode with Jack in the same car. In my mind I believe Rick is the black agent as he seemed most prominent and he did escort Jack and Audrey inside to the metal detector, but it's speculation anyway. --William (talk) 16:14, June 1, 2020 (UTC)

Hey don't get me wrong. By saying he's white I was trying to establish the connection between him and the dead white guy seen on CCTV feed, and eliminate the possibility that he was Craig (Kelvin) who was Asian. And the photo is just supporting evidence as you will definitely make out that guy's ethnicity by watching the actual scenes. My point is mainly about the total number of CTU team:

1) Craig said there were 4 of them in his team so we interpreted that a 4-men team arrived at Felsted including Craig.
2) we saw Jack's driver, shotgun agent and the black guy at Felsted, and later we saw an agent lying dead with black agent on CCTV feed, whose identity is the main point of this discussion.
3) he is very likely to be the guy exiting escort SUV with black guy, as their ethnicity matched and we don't really see any other white agent.
4) he wore a green, or at least a light color jacket, so he's not the shotgun agent who was in a dark jacket like Jack's, which makes the number of CTU team already 4. So if we count Craig, who's canonically should be there (maybe backseat of escort SUV, though we didn't see him as Kelvin wasn't on location), the number of the team will be 5. Hence the 5 deaths (Craig, Rick and 3 agents) on the Deaths on 24 page.
--William (talk) 09:59, June 2, 2020 (UTC)
Having watched the episode I'm not sure on the labels you've put on the reflections seen in that photo. I agree with the black agent label, because he runs into frame, but as for the other two, they could be either Jack's driver, shotgun agent or someone else, and I can't make out ethnicities or jacket colours.
The crux of this argument seems to be about whether the colour of the jacket of the dead agent seen is different from that of shotgun agent. This stacked up against the fact that dialogue states there were 4 people in the team that went to Felsted (including Craig Erwich). I'm still not convinced that the times we see shotgun agent's jacket, it is definitely different to that of the dead agent seen on CCTV (given differing light levels)--Acer4666 (Talk) 11:50, June 2, 2020 (UTC)

I don't see a problem in jacket colors... First of all, do you agree that the shotgun agent is wearing a black (dark) jacket? If the dead agent on CCTV feed is the shotgun agent and there is a differing light level problem, then the car tire's color should change with the shotgun's jacket. Instead, the tire is still black in the pic, while the dead agent's jacket appears to be green or light-color, so I think that did rule out the possibility of him being the shotgun agent.
True, Craig did mention there are four people in the team inc himself. But it's also true that four agents besides Craig (CCTV pair, shotgun agent whose body was never seen, and the driver whose body was seen in the corridor here) arrived at Felsted. I think the dialogue contradicts with the actual facts, and we should go with the facts. --William (talk) 13:43, June 2, 2020 (UTC)

I don't agree that the shotgun agent's jacket is black - I think it's grey, and the darkness of the grey is the issue - I think in the car shots he is more in shadow, so it could appear darker. It's hard to be certain, as it does look a lot darker, but I think it's a (pardon the pun) grey area, and not cut and dried.
There's no such thing as "fact" here: it's all fiction, we just have to try to find the version that is most likely of all the fiction presented. If the costumes are different, then there are other ways to square away the team size of 4 - as LeeCastle mentions above, potentially the dead guy with the lighter looking jacket was a Felsted employee rather than a CTU agent. We have to take some care when we are mixing together mentioned, off-screen kills with physical bodies seen on-screen. For example, of the 8 dead Felsted employees counted, one is just a pair of legs wearing black trousers: that could easily be Craig Erwich or shotgun agent's legs, so the total deaths may still need to be revisited.--Acer4666 (Talk) 20:30, June 2, 2020 (UTC)

There have been cases where the dialogue has contradicted the amount of agents - as I explained here (Day 3, Chandler Plaza Hotel operation. So although Craig said there was "four of us", I suppose we can't go by that alone. Personally I'm inclined to think that there was actually four inc. Craig - two agents in each SUV, but there's always a chance that off screen a fifth agent was added to the team for extra security. Given that was Craig's only on-screen appearance, it could be possible that he requested another agent - the guy seen alongside the black agent on CCTV. If the driver agent is definitely seen in the hallway too, that would probably mean that he and Craig must have been also stationed somewhere in the building, and the black agent on reception with either the shotgun agent (which would make more sense, two at the front and two elsewhere) or another fifth agent (can't remember how big the building was, so shotgun agent could possibly be somewhere in the building). But given we see him leave the SUV I think it's likely that it was him outside with the black agent. LeeCastle24 (talk) 10:20, June 3, 2020 (UTC)
Weapons on Legacy
[
]
Alright, Acer. We should sometime complete Weapons on 24/Legacy page since the article of weapons used in the show is incomplete. BattleshipMan (talk) 14:14, June 2, 2020 (UTC)
All of the Legacy stuff on this wiki is incomplete; you are free to work on any of it yourself if you think it needs doing!--Acer4666 (Talk) 20:31, June 2, 2020 (UTC)

I know. I think when there's time, we should work on Legacy related articles and get them completed. BattleshipMan (talk) 20:44, June 2, 2020 (UTC)
Checking in and SEO improvement suggestion
[
]
Hey Acer, I hope you've been doing well! Considering it's been a while since my last message, I wanted to drop by and check how everything is going around here and if you feel like there is something you'd wish to discuss or need some assistance with. I also wanted to see if you had perhaps any questions or thoughts about UCP (Unified Community Platform) and Fandom's move to migrate all its wikis to the new platform, as that will undoubtedly change your user experience. You know you may always just send me a message on here or even Discord if you prefer that medium.
Additionally, I wanted to ask if you'd be okay with me implementing a piece of css coding to hide the "home" heading from view on the main page? Data has shown that Google doesn't like it and that doing something simple as just hiding it from view will already improve on your SEO (Search Engine Optimization) ranking. Take care and I hope to hear back from you! Lady Lostris /

12:40, August 5, 2020 (UTC)
Hey, no don't think there's anything I need to discuss! I didn't know about the Unified Community Platform, seems like a Mediawiki upgrade? Even if everything gets horribly broken, I doubt there's much we can do to influence how it is implemented, if my past experience with Fandom is anything to go by.
I have no problems with you removing "Home" text from the home page if it helps with SEO!--Acer4666 (Talk) 11:19, August 7, 2020 (UTC)

Hi Acer! Sorry for the late reply. You can find out more about UCP and its scope in this blog, but in short, it is indeed a MediaWiki upgrade and a change in editor. It may require some getting used to, but if you have any questions or feedback, I'd be happy to find an answer for you or relay any feedback to staff. So while this change is definitely coming, you can influence it by giving feedback and help fix and improve on certain features. The migration of this wiki will happen shortly, so if you find there to be any coding issues afterwards, please do let me know so I can help sort those out.
Another thing I wanted to bring to your attention now that I'm here is the fact that Special:Chat will not be ported over to UCP. I noticed that you still have the feature enabled on the wiki. Is it still used much? If you wish to create another place for the community to hang out, perhaps you can look into the possibly of creating a Discord server?

L

ady

 

L

ostris

/ 10:05, August 16, 2020 (UTC)

I'm sorry for the message spam lately. I just wanted to check in after the forums were deprecated and moved to Discussions to see if everything went well, no broken posts and all. If so, please do let me know, so I can get in touch with the technical team to get it fixed. I do encourage you, in case you haven't done so already, to give Discussions a look over and set the categories, so everyone can easily navigate the posts. If you have any more questions, don't hesitate to ask!

L

ady

 

L

ostris

/ 21:32, August 18, 2020 (UTC)

Well the change has happened - there's kind of too much broken on our live site without any preview provided beforehand - so there's sort of too much to list. I'll list what I've noticed so far:

Tables of contents now have bullets and numbers on them. Don't know how to make it just one or the other.
Every section now has an intrusive "edit" and "edit source" option on it. Editors will have one preference for all of their editing which is set in their user preferences, there is no need for the option on every section especially as it interferes with the viewing experience for every reader, even those who will never edit. How to remove this?
Putting italics inside of html tags in image captions breaks the tags and inserts a "time" html tag which makes no sense. As a demo (compare the wiki source with what is rendered as html):
Apologies for the late reply.

TOC's having bullets and numbers is a known issue.
Having both the edit and the edit source buttons being redundant is also a well-known feedback.
The center tags seem to work fine for me, even with the italics. Perhaps it got fixed in the meantime?
The disappearing categories are also a known bug.
I'm not sure what you mean with "the pictures on the related page previews are wrong"? Could you provide me with a link?
24 Japan
[
]
Hey Acer, good work on the 24 Japan synopsis! As for the show itself, just meh... --William (talk) 04:22, 18 October 2020 (UTC)
Thanks! The version I saw was sub-DVD picture quality so I'm holding off on uploading lots of pictures until a better quality version may come available. Do you have access to the Abema TV version of the episode? I think that may be the hour-long extended version with the extra flashback scenes, but I can't access the website from the UK.
As for the show - yeah agreed - the dialogue is just a straight translation and it's almost a shot for shot remake. I much preferred what the Indian version did with it. I'm hoping their may be other differences, possibly in the Asakura family plot, but who knows...--Acer4666 (Talk) 11:02, 18 October 2020 (UTC)

I can't get access to that either. Looks like it's only accessible for people in Japan. Maybe we'll have to wait til the show is finished six months later. But given the show's quality and the ratings, I wonder whether this will even last that long.
To be frank, I didn't even finish the complete episodes and was only skimming through. One difference I noticed in episode 2 (hopefully not a spoiler) is that they killed off their version of Mr. Nowrasteh, but it's probably done by Gaines' people to prevent Teri from tracking down Dan and Rick. --William (talk) 15:13, 18 October 2020 (UTC)
End of year check-up and Fandom review
[
]
Hi Acer, it's been a while, I hope you've been doing well. Since the year is nearly coming to an end (finally, cause I don't know about you, but 2020 has gone on long enough for me ...), Fandom is reflecting back on the past year in order to move forward in 2021. To help us do that, I was wondering if you could spare a little time to fill out the 6 questions on this feedback form, which will help us get a sense of how we did, where we can improve, and what our focus points should be for the next year. This survey will be totally anonymous, so please be as honest and constructive as possible.
Another good way to give feedback on the working of Fandom as a whole and be more involved with what's happening is to joing the Fandom/Gamepedia Discord sever (and case you haven't already). This server is frequented by users from all communities, as well as staff members from different departments, with whom you can interact either through scheduled AMAs or just general everyday conversation.
If you have any additional questions, comments, or concerns, (not just about this, but in general) don't hesitate to ask, I'd be happy to help you out. Thanks beforehand for any feedback you'd be willing to provide, and I already wish you a happy holiday season! Lady Lostris /

 SOAP 13:23, 8 December 2020 (UTC)
New Wiki Representative
[
]
Hey Acer, it's been a while, I hope you're doing well. I just wanted to take a moment to give you a last update: while I loved being there for you and this community, a new Wiki Representative will take over from me to look after this community, namely ReverieCode. This means that he will from now on be your point of contact for whatever it is you previously reached out to me and will assist the best he can to help this community grow.
I do want to thank you for the pleasant cooperation and being so welcoming to me. I hope we'll run into each other from time to time again! Cheers! Lady Lostris /

 SOAP 20:02, 14 February 2021 (UTC)
Hey, Acer4666! Just to introduce myself, I'm ReverieCode, and as Lostris said, I'll be taking over from her role as Wiki Representative for the 24 Wiki. So, if you experience any technical issues, need a feature/extension enabled, or have any other questions (about templates, wiki design, etc.), feel free to drop me a message.
I've actually been waiting for 24 to drop on Disney+ here in the UK to get back on it, as I've only watched a few seasons. It's great to be here, and I hope I can be of help :) ReverieCode 10:27, 22 February 2021 (UTC)