Welcome!
Edit
Hi, welcome to Wiki 24! Thanks for your edit to the Sven Lindstrom page.
If the links above do not provide the answer to any of your questions, please leave a message on my talk page if I can help with anything! -- SignorSimon (Talk) 19:20, 9 August 2010
Welcome indeed! If you wouldn't mind: "go nuts" on our missing actors. You're probably the premier and most expert of all American-TV-background-actor spotters and your work is invaluable. Nice catches so far with Gene LeBell and Simon Rhee.

Blue

 

Rook

  

talk

  

contribs

21:09, August 9, 2010 (UTC)

Thank you. I've just went through a few pages and saw Rhee and LeBell...thought I'll add their names. Btw, have a look for Thom Williams. He was also a stunt actor in many episodes. ;) 92.224.98.155 21:14, August 9, 2010 (UTC)

Sorry, forgot to log in. Tom 21:41, August 9, 2010 (UTC)
Dude, your list is literally awesome. I have no idea how you found all that stuff out but it's going to be great to incorporate it into the Wiki. If we can cite specific episodes it will be an invaluable resource! --SignorSimon (talk/contribs/email) 21:03, August 14, 2010 (UTC)
Stunt Performers
Edit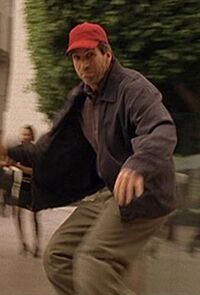 Hey man, just to add to the above comments, I love that list of stunt performers you have on your user page. Can I ask if you are the one who has added some stunt performers to 24 episodes on imdb? How do you figure out who played on 24, is it by recognising their faces or are they credited somewhere? Also I have a small favour...:P I'm wondering if the guy pictured on the right is stuntman Bob McGovern or not... it sure looks like him in this photo [1] I dno what you think? Thank you for listening, and again massive respect for that awesome list!--Acer4666 12:56, April 1, 2011 (UTC)
Hey, thanks for the words. I would say yes, that is Bob McGovern although it could also be his twin brother Don McGovern. I've sent him a mail and asked him about this part. For the list: I've collected information from various official sites, resume sites like stuntmen.com or v10stunts.com or the StuntPlayersDirectory before its changes. Not so long ago many of the listed stunt performers had resumes viewable for everyone. As I said I've collected them and wrote them down, for 24 and other series and films as well. Tom 20:16, April 1, 2011 (UTC)
Ah mate, thank you so much for the response! I am getting quite interested in the stunt performer's roles in 24, and may start sending them messages on fbook (once I've worked out exactly what I want to know of course!) Massive respect for the knowledge base you have already from Memory Alpha and for answering my query, so thanks! I may come back to bother u again :P but until then thank you so much for taking the time to help me out :)--Acer4666 00:14, April 2, 2011 (UTC)

You don't bother me. I'm glad when I can assist or help. The stunt community is a very interesting group and without them many films and series won't be what they are. Tom 12:57, April 2, 2011 (UTC)
Ok, I've got an answer from Bob McGovern. This is his twin brother Don McGovern. Tom 22:00, April 2, 2011 (UTC)
Thanks man that's a fantastic find. Not that we wanna bother him (:P) but did he say if he has been in 24 at all? Also, would you mind casting your eye over Talk:Lock and Load for me please? Cheers!--Acer4666 22:33, April 2, 2011 (UTC)
My guess would be Don McGovern. It could be definitly him. Tom (talk) 10:52, October 27, 2014 (UTC)
Interesting
Edit
I saw that you liked coming in contact with performers. You should ask for their signature. I asked Monti Sharp for a signature and did get one ;) These people are amazing. --Station7 23:23, April 2, 2011 (UTC)
Hoe you can do something with this ;) --Station7 11:56, April 3, 2011 (UTC)
Another stunt performer [2] [3]. --Station7 18:37, April 3, 2011 (UTC)
Identification
Edit
Hi Tom, I just had a quick identification query that I wasn't sure about and wondered if you could help. I was scouring some season 6 episodes to find Jon Braver, and saw this guy pop up. I thought it was him, but then thought it could possibly be Marco Khan, or perhaps someone else? I was wondering if you had any opinions on who it could be (or anyone else who sees this)? Thank you!--Acer4666 00:23, May 6, 2011 (UTC)
I don't think this is Braver or Khan. It could be Theo Kypri but I am not sure. Tom 19:18, May 6, 2011 (UTC)

This is a white guy so it isn't Khan, and I concur with Tom. I feel that it's an 80% chance to be Theo Kypri. Tom is the champ at this!

Blue

 

Rook

  

talk

  

contribs

04:49, May 7, 2011 (UTC)

Yes, I think you could be right - thank you! I really should have got that, seeing as I've seen the opening scene of Tomorrow Never Dies about 50 times.
Tom, one of my little missions is to turn that massive list on your userpage completely blue (once I've verified appearances). Would you mind if I went down it and altered some of the names to link to their already-existing articles (ie, Henry Kingi Jr to Henry M. Kingi, Jr.), just so I can see how far I am with it?--Acer4666 12:09, May 7, 2011 (UTC)
Fbook pics
Edit
Hey Tom, thank you for linking me to Thom Williams fbook pics, I've had lots of fun spotting people using them! I was wondering, is that also similar to how you know that Tim Mikulecky, Jeff Brockton and Randall Archer shared a scene together playing SWAT members? Do you remember where that info came from, and do you possibly have a link to a pic of it? Thank you!--Acer4666 22:02, May 22, 2011 (UTC)
Hey. Here is the link to that pic. But I don't think it is really Jeff Brockton. Tom 22:07, May 22, 2011 (UTC)

Awesome, thank you! Is that not Jeff Cadiente? And is the guy on the far right J. J. Perry do you think?--Acer4666 22:09, May 22, 2011 (UTC)

That's not Cadiente. J.J. Perry....possible. Tom 22:12, May 22, 2011 (UTC)
...another ident...
Edit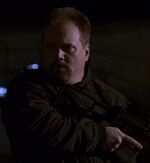 Hey Tom, it's me again! I just wondered if you recognised this guy here, I think I've seen him in a few stunt roles on 24. No probs if not!--Acer4666 16:07, June 3, 2011 (UTC)

Sorry, I don't know him. I've also asked a few people from the industry and the thought was he is not a stunt performer. :( Tom 17:44, June 10, 2011 (UTC)

Hey Tom, we eventually managed to track this guy down - according to Erik Rondell, it's William H. Burton, Jr. (who also appeared in Star Trek!).
I had another query which you may be able to help me with: This guy pictured here seemed really familiar to me, probably from all of the imdb pages and stunt websites I've been on haha! But I can't remember who it is - I don't suppose you recognise him at all do you? No worries if not! Thanks--Acer4666 (talk) 18:18, July 12, 2012 (UTC)

I am almost sure this is Christopher Leps. Tom (talk) 23:53, July 12, 2012 (UTC)

I'm sure you're right - as ever, thank you for your help! And also the Mark Riccardi ident on my userspace. What would we do without you?
I noticed above that you were able to contact Bob McGovern by e-mail - are you still in contact with him? I found a stunt performer in one of his imdb-listed episodes that I thought was him, and wondered if it was possible to confirm. If you don't mind passing his address to me, you can email it to acer4666 (at) gmail.com, or I could upload photos of the guy I think it is. No worries if not though! Thanks again--Acer4666 (talk) 23:39, July 16, 2012 (UTC)
Pavel A. Serov
Edit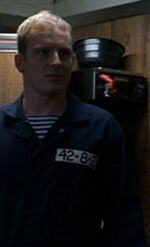 Hi Tom, I hope you're well. I just had a quick question about Pavel A. Serov playing a russian sailor - I was just trying to confirm it, but couldn't find anything on the internet about the guy! Do you recall your source for him being in that episode? I've got a pic (right) of who I think it could be (but not from the episode you added it to), I was wondering if you were able to confirm or deny that this is Pavel A. Serov? Thank you!--Acer4666 23:23, June 8, 2011 (UTC)

Thank you for the replies! No problem about the above performer, and cheers for the links to Serov's pic and page. I'll check that episode out and look for him.
If you get the chance, there were a couple more queries we had on the site that you may be able to help with: Talk:Aaron, we were thinking we might have found the actor but aren't sure. Also there is a recurring performer with some pics here, and we're not sure if all the pics are the same guy, but just wondering if you recognised any of the faces. Just if you have time though, not that I wanna take advantage of your good nature haha!--Acer4666 18:16, June 10, 2011 (UTC)
Stunts, extras, etc.
Edit
Hey, just wanted to congratulate you on the great work you're doing with your list of stunts, extras, background actors, etc. Feel free to drop by this page to see if you can identify any of the terrorists with anyone you can remember on your list. Let me know! :-) Thief12 04:01, June 29, 2011 (UTC)
John Ashker
Edit
Don't know if you had tried to contact him, but I sent him an e-mail about a week ago asking him about the extent of his work on the show. He was very brief, but he confirmed to me that he only did stunt work, "gun fights and explosions", as he said. However, he didn't mention any season (although I mentioned in the e-mail that he was credited for Season 5). Thief12 12:44, July 8, 2011 (UTC)
Orlando Ortega credit
Edit
Hey Thomas. Sorry to bother you, but quite a while ago you added a credit to an episode of 24 here saying Orlando Ortega played a "hotel guest" in the episode. I was wondering if you possibly remember the source of that credit? I ask because several years before that, imdb listed him as playing an "inmate" - since then it's changed to say "hotel guest" but I think that is actually copied from this site after you added it. I'm just trying to unpick what came from where as many websites duplicate info from other websites, and for this particular credit I found an inmate that looks like him and couldn't find a hotel guest that looks like him. Thanks!--Acer4666 (Talk) 14:45, August 17, 2019 (UTC)
Community content is available under
CC-BY-SA
unless otherwise noted.