Valencia is a planned community created by Newhall Land Company between the 1960's and 1990's. The community voted in 1987 to merge with three other planned communities to become part of a new city of Santa Clarita.
Location
Valencia, within the city of Santa Clarita, is located on West (Pacific) Coast in California. It is approximately 40 miles northwest of the city of Los Angeles.
Valencia uses the Pacific Standard Time (PST) which is UST-8.
Valencia is within Los Angeles County and under the jurisdiction of the Los Angeles branch of the Counter Terrorist Unit.
Day 3
After Day 3, Chase Edmunds moved to Valencia and got a job for a private security firm. Kim Bauer moved in with him, and looked after his daughter Angela.
Day 6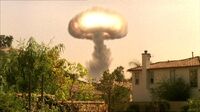 351 Old Mill Road, in Valencia, was the location where one of Abu Fayed's terrorist cells prepared attacks in the Los Angeles area. Suicide bomber Nasir prepared for his attack on the Los Angeles Subway from this warehouse. This warehouse was also the location of one of Fayed's five suitcase nukes. At 9:58AM, during a CTU raid, Hasan Numair detonated the bomb leveling everything in a 1/2 mile radius and killing at least 12,000 people.