Vanessa Ferlito (born December 28, 1980; age 41) played Claudia Hernandez in season 3 of 24.
Biography and career
[
]
Vanessa Ferlito was born in Brooklyn, New York to Italian-American parents. Her father died of a heroin overdose when she was two. Her mother married again later, and owns a hair salon in Brooklyn, with Vanessa's stepfather. Ferlito gave birth to her son Vince in September 2007.
Vanessa began her acting career in 2002, when she appeared in the show Third Watch (with Kim Raver). After that, she has appeared in shows like Law & Order and The Sopranos. She was also part of the lead cast of CSI: NY from 2004 to 2006. She starred on USA Network's Graceland (with Vincent Laresca). She currently stars in NCIS: New Orleans (co-starring with Necar Zadegan).
Aside of TV, Ferlito has appeared in films like 25th Hour, Spider-Man (with Daniel Dae Kim), Death Proof (with James Parks), Julie & Julia (with Mary Lynn Rajskub), and Wall Street: Money Never Sleeps.
24 credits

[

]
Selected filmography
[
]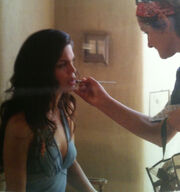 All Mistakes Buried (2015)
Stand Up Guys (2012)
Wall Street: Money Never Sleeps (2010)
Julie & Julia (2009)
Madea Goes to Jail (2009)
Nothing Like the Holidays (2008)
Grindhouse: Death Proof (2007)
Shadowboxer (2005)
Man of the House (2005/I)
The Tollbooth (2004)
Spider-Man 2 (2004)
Undefeated (2003)
25th Hour (2002)
On-Line (2002)
Television appearances
NCIS: New Orleans (2016-present)
Graceland (2013-2015)
CSI: NY (2004-2006)
CSI: Miami (2004)
The Sopranos (2001, 2004)
Law & Order (2003)
Third Watch (2002)
External links
[
]