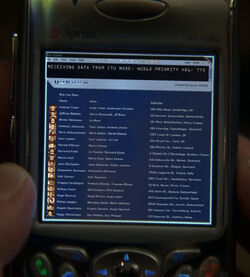 The Western European Terrorist (WET) List was an NSA-curated list of terrorist operatives in western Europe who were being tracked by the authorities of the United States of America.
During Day 5, agents at CTU discovered that Collette Stenger, an important collaborator of Vladimir Bierko (their main target) was being covertly followed by German intelligence agent Theo Stoller. Jack Bauer, without permission from his superiors, promised Stoller the entire WET List in exchange for his help in apprehending Stenger. Bauer then had Chloe O'Brian steal the list from the NSA's mainframe and send it to his PDA. Theo, who knew some names that were expected to be on the list, reviewed it for a moment and was satisified it was authentic.
Once Stenger was apprehended, Bauer gave Theo a computer chip with the List. However, this copy was destroyed because Jack had rigged the chip to self-destruct, before Theo could upload it to Heinrich, his superior in Germany. Jack called Stoller to apologize, promising that he would help him rebuild his investigation, but Stoller, furious, said he couldn't trust Jack's word anymore. ("Day 5: 8:00pm-9:00pm")

Names
[
]
Name
Alias
Address
Andrew Tudor
Andy Tudor, Anderson Thrydor

100 Hills Road

, Cambridge, UK
Jeffrey Newton
Jerry Newcomb, JR Went

56 Gurrum

, Amsterdam, Netherlands
Olivier Benamou
Le Moux

194 Blvd. Malesherbez

, Paris, France
Anthony Johnston
Tony Jones, Antonio Jones

196 Atterdag

, Copenhagen, Denmark

Sara Jinkoramnian

Sara Jinkor, Sarah Ramus

1357 Lamp Street

, London, UK
Kurt Lesker
Curt Lestner, KJ Les

354 Druid Ter.

,

York

, UK
Harold Filleran
Harry Finner

285 Wittley St

, Dublin, Ireland
Bernard Valet
Le Touche, Bernard Hyatt

4 Chemie De L'Hermitage

,

Antibes

, France
Martin Kail
Marty Kain, Matin Kaimer

410 Abbeyville Rd

,

Bethel

, Scotland
Jens Skulspiler
Jens Skulerun, Peder Jensen

6 Dunston Rd

,

Skagen

, Denmark
Alesandro Guissepe
Alesandro Marcona

3455 Lingorno Bl

, Venice, Italy
Holt Gunter
Holt Gustave

685 Tivoli St

,

Heidelberg

, Germany
Francis Ferdinand
Francis Orande, Frances Olram

16 Blvd Murat

, Paris, France
William Koch
Bill Kochern, Will Kinders

455 Hero Bl

, Geneva, Switzerland
Hugo Riveras
Hugo Rivera, Hugo Lalos

843 Hastingsmill Via

,

Seville

, Spain
Melisa Jesper
Mariana Jones, Mara Johnson

6548 Swindon Rd

, Zurich, Switzerland
Angelo Spartakas
Angelo Spratin, Angel Spartok

851 Adamst Ter

,

Vorarlberg

, Austria
Higgy Philwippit
Hig Phillips, Guy Whippit

137 Kilnaron St

, Valletta, Malta
Background information and notes
[
]
The real National Counterterrorism Center (NCTC) maintains a list of known and suspected terrorists as well as people who allegedly aid them. The list is officially called the Terrorist Identities Datamart Environment (TIDE) list. The TIDE list comprises over 540,000 names, but due to aliases and "name variants", there is an estimated 450,000 different identities. U.S. residents (including citizens and permanent legal residents) only hold less than 5 percent of the spaces on the TIDE list. This database is a shared knowledge database compiled from reports supplied by 16 different agencies including the CIA, the FBI and the National Security Agency (NSA). The NSA is a key provider of information for the TIDE list.